Personality
Jumaane Williams isn't worried about the state of the governor's race
The New York City public advocate talked with City & State about why lackluster polling and fundraising numbers aren't discouraging him.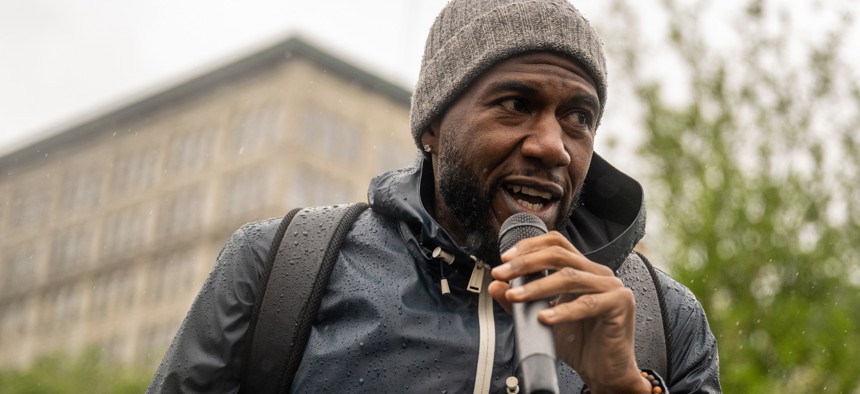 Proud leftist and New York City Public Advocate Jumaane Williams is running for governor in the Democratic primary with just about $131,000 on hand, according to the most recent fundraising numbers. That's measly compared to incumbent Gov. Kathy Hochul, who has $18.6 million in her campaign account. And Moderate Rep. Tom Suozzi has $2.73 million on hand. The New York Times recently reported that Williams and his wife India Sneed have decided he will stay in the race despite Sneed's battle with cervical cancer and the recent premature birth of their daughter. But Williams has beat the odds before. In 2018, he ran a closer than expected campaign for lieutenant governor against Hochul – coming within 7 points of beating her and cementing his status as a statewide progressive rising star. We caught up with Williams to talk about his chances, the state of the race and how he views the Democratic Party. This interview has been edited for length and clarity.
How do you see the state of the governor's race at this moment? 
I think people are just now starting to pay attention to the governor's race, which I think is helpful to our campaign because it's not a sprint, as opposed to a long campaign. I think it plays to our strengths. I also know that we're going into June in a much stronger position than when we went into June in 2018, so we're really excited about this month and sharing our vision for the state.
There was some recent coverage that discussed some of the struggles that your campaign was having up to this point and some of the family struggles you've been encountering. Could you speak about how that was impacting your race and what you're doing in this final sprint of the campaign?
I think there are things in every campaign that impact it.  One of the things that I always tried to do is to use anything I'm dealing with to uplift other New Yorkers, or use whatever position I have or are the tools I have to lift up what others are going through. And my family decided to do that here.
We're moving forward with the campaign. So as I mentioned, every campaign has some things they have to go through. I thank God every day for my family and what the outcome has been and that a lot of folks that we are fighting for can have the same outcomes. So that's what's most important to me. We're ramping up, we actually have more support than we did when I ran in 2018. 
We actually raised more money than we did in (the race for lieutenant governor in) 2018. We're going in with more cash on hand. We were on TV for three days in three boroughs. And this time around, we're going to be going on TV for multiple weeks all across the state. We also have debates that we weren't afforded when we ran in 2018. 
As a citywide elected official, I think that gives some additional boost than when we ran as a city council member. We did excellently against all odds in 2018. And this time, we don't even have to reach that mark. We just need a plurality because there's more than one person in the race, and we're looking good.
Zephyr Teachout running for governor got 33% of the vote in 2014. Gubernatorial candidate Cynthia Nixon got about 35% in 2018. Is that a ceiling for progressives? What are you doing differently to beat those numbers  and counter this feeling of inevitability that Hochul might have?
I'm not running against someone who's ever been elected for governor of the state of New York. I think those are great campaigns I ran with Cynthia Nixon. We both ran I think very strong campaigns. We're very proud of the campaign we ran. Vastly outraised, vastly out-supported. 
We've always outperformed the polls. So I have been honored that even when leaders, institutions have not supported our campaign. We've gotten the support of the voters and it's made a difference.
We're at the end of the session right now. What bills would you be supporting if you were governor? 
I'll tell you right off the bat in the budget we asked for a billion dollars to be put in the budget for gun violence prevention and victim services. We didn't get that. What we did get was a billion dollars for a stadium to be built in Buffalo, outside of the city actually dealing with the most problems. Good cause protection and evictions is something that is the baseline. It's astonishing to me that you'd have to fight for the baseline. We don't want anyone to lose their house–a tenant or anyone who is a small homeowner. We didn't have any money in the budget for housing vouchers. So there's a number of things right away that we have to jump on to help the city, the state deal with the issues.
There has been a lot of talk about a red wave in 2022. And in 2021, here in New York, we had a mini red wave in the suburbs and a lot of Democrats were swept from power in swing counties. Do you see progressives gaining traction this year with all of the issues with redistricting and incumbents fighting each other?
It's interesting when people say progressive, because there are certain folks that use it as a weapon, weaponize it. But this current governor would say that she was progressive. Governor Cuomo would say that he was progressive. So what does that mean? That means you have people who are at once trying to weaponize the word progressive while saying that they are progressive.
It also means that the things that people are talking about are things that all New Yorkers care about. Every human being in New York state wants to have a safe and affordable home. They want to feel safe and they want to be safe. They want to have food to put on a table. They want their children to do better than they did, and they'd like to go school and get an education without being saddled with debt. And so those are what quote unquote progressives are pushing. What is actually the difference are status quo elected officials. Who don't want to change how decisions are made. So people would like to continue to get millions and millions of dollars in their coffers to pass bad policies that allow those things not to happen.
You don't view the elections that happened last year as a warning sign of that, there's going to be a voter wave against progressive priorities that the Democratic majorities were passing over the last two, three years?
The party I belong to, we have to stop giving people a bogeyman to vote against. And start leaning into a vision to vote for. We're in this position as a country and a state because since 2016 to now, the party is trying their best to get people to vote against the bogeyperson, (rather than) lean into a vision. And so many of those losses were people trying to be Republican lite, trying to use Republican lite talking points. Republicans are better at their own talking points. But we have a vision that's actually better for New Yorker's to make sure they're safe, they can afford their home, they can afford to have food on the table, to get health care.
That vision resonates. If we have people who have the courage to get it done. But we don't. We usually have people who are more interested in telling a billionaire that we won't ask you to pay your fair share so that you can cut me a big check and I can make sure I get reelected. That has a cost. The way that the Cuomo-Hochul administration ran New York has a cost, and we're feeling that cost right now.
In this last month are you looking to draw those contrasts? And do you think that will give you more momentum that's not reflected in the polling right now? 
We definitely want to show our vision, our vision by its nature is different than the current governor. As I mentioned, we have always, everywhere, overperformed in polls. What we do see is our poll numbers have begun to grow, even as we haven't even begun to spend any money on advertisement. And so what we saw happen in the past was as we got on the TV and  communicated, the numbers started to change. Not only that we're going to be on TV a lot more, whereas the governor has in the past, refused to debate, is going to be debating.
And we have other televised debates she unfortunately won't be a part of. And we're going to have very good opportunities that we didn't have in 2018 to show the difference.