LGBTQ political clubs are a nexus of organizing power in New York City
We sat down with the leaders of four clubs to discuss their goals – and shortcomings.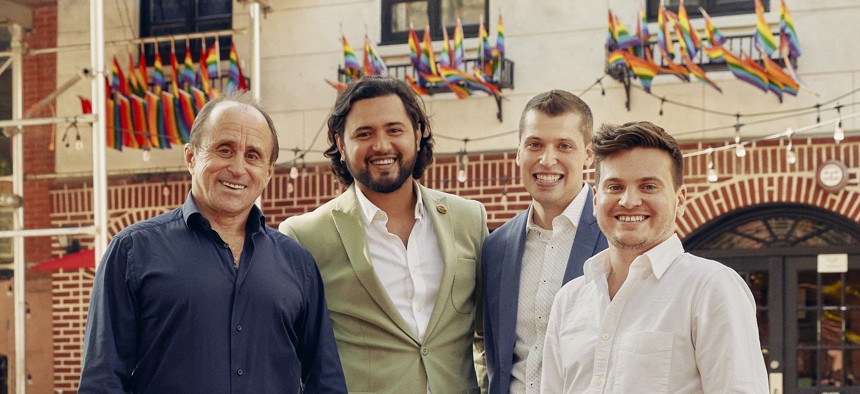 The best way for an LGBTQ New Yorker to get involved in politics with the community? Joining a political club. And that's now been true for five decades. The Gay & Lesbian Independent Democrats, or GLID, was founded in 1972 as the city's first gay political club, at a moment when the LGBTQ community was finding its political voice. GLID has faded away, but other LGBTQ political clubs have grown around the city and are thriving. Now, efforts to secure – and maintain – rights for the LGBTQ community, and especially transgender people, have taken on a new urgency in the year 2022, amid a rash of homophobic political rhetoric and an uptick in anti-LGBTQ legislation getting taken up across the country.
Ahead of Pride Month, City & State brought together some of the leaders of the city's preeminent LGBTQ political clubs at the Stonewall National Monument in Greenwich Village. Justin Sanchez, a gay man from the Bronx, has been president of the Stonewall Democratic Club of New York City since February. Derek Gaskill, a queer trans man, has been co-president of Lambda Independent Democrats of Brooklyn since January. Allen Roskoff, a gay man, founded the Jim Owles Liberal Democratic Club in Manhattan, and has been its president since 2004. And Michael Czaczkes, a gay man from Queens, sits on the board of the Lesbian and Gay Democratic Club of Queens, as well as the board of Jim Owles, and is a former president of LID. 
It was the first time they'd all been together, but it won't be the last. They talked about organizing a women and femme+ outing for club members. And weeks after getting together, three of the clubs collaborated to boycott New York City Mayor Eric Adams Pride reception, unless he would fire anti-gay appointees and stop sweeps on homeless encampments, among other asks. 
After meeting at the monument, they moved to the sun-drenched patio outside of The Duplex, a gay bar across the street, for a warm, friendly and poignant meeting of the minds. That included the sometimes contentious history behind their groups, their legislative and political priorities for New York and advice for candidates seeking to avoid Andrew Yang-like flubs when seeking their endorsements.
The conversation below has been edited for length and clarity. 
City & State: Just an hour ago I saw the Assembly just passed the bill that allows nonbinary folks to run for party positions.
Allen Roskoff, president of the Jim Owles Liberal Democratic Club: Lambda worked very hard on that.
Derek Gaskill, co-president of Lambda Independent Democrats of Brooklyn: I sued the Brooklyn Democratic Party, for county committee! This is for district leader.
Roskoff: I mean, we all support it! It emanated from Émilia (Decaudin, a trans Democratic district leader in Queens). 
Gaskill: Two years ago I ran for county committee in Brooklyn. I was denied a seat on county committee, me and six other folks, because I didn't declare my gender as male or female. The seats were divided between male and female seats, for no reason. And I was running in a district that, to my knowledge, has never been filled. We ended up suing the Board of Elections and the county party. But that's for county committee! This bill is for district leaders, but same thing applies. 
C&S: Was anyone else involved in the litigation?
Justin Sanchez, president of Stonewall Democratic Club of New York City: Not personally, but working up in Albany (as chief of staff to Assembly Member Nathalia Fernandez) and seeing those conversations, it's really great! A lot of work happens behind the scenes, and one of the really important things is that a lot of the staff is from the wide plethora of the LGBTQIA+ community. Having all these folks behind the scenes helps a lot of these bills push through and helps a lot of the work actually get done, but it does come down to folks bringing these issues forward and putting them on the map, which is exactly what happened in this situation. This was JGR's (Assembly Member Jessica González-Rojas') bill and it is the combination of the inside and outside game that helps this legislation and these achievements move forward.
Gaskill: I think that's where LGBT political clubs come in right now. They're not going to celebrate this at Pride, right? There's not going to be a We Passed This Bill float. This is wonky and internal stuff, but has real consequences. And using these clubs as access points for folks that want to get involved with local politics or have aspirations for bigger office, whatever purpose we serve, we've eliminated one barrier. Not going to get a parade, but this is why we exist, to keep eyes on these things and point them out.
Michael Czaczkes, board member of the Lesbian and Gay Democratic Club of Queens: Clubs serve a perfect purpose – we have all the elected officials and candidates that come before the clubs. To be able to ask them where they are on issues, why haven't they done something, why aren't they doing more, if they're going to support it. Every person that's come before Jim Owles, for instance, has been asked about (whether they support renaming) the Ed Koch Bridge, and it's on the record. It seems mind-numbing, it's thankless work to organize these meetings and facilitate them with elected officials that are cranky and sometimes won't answer a question. But it's getting them on the record and (asking), "why aren't you a sponsor of the Trans Equity Bill" or whatever it is, and having them answer in front of people that they probably don't think about until, every two years, when they come before the Lesbian and Gay Democratic Club of Queens or Lambda or whatever.
They're not going to celebrate this at Pride, right? There's not going to be a We Passed This Bill float. This is wonky and internal stuff, but has real consequences.
– Derek Gaskill, co-president of Lambda Independent Democrats of Brooklyn
Sanchez: At the same time – you said that's one of the benefits – I also think that's one of the drawbacks of our political clubs. The fact we operate in such political circles that it's a hard time expanding to folks who are not necessarily politically tapped. I think this is where our leadership needs to reach the next level. Because if we look around this table, we have no Black people. We have no women. There are communities like the ballroom scene, all of these places where community is thriving but they haven't been tapped into politically. And I think that is where we really need to take this next step. If we were able to take communities of color that have been disenfranchised by the systems that we are fighting to open the doors to and really get them engaged and energized, I think we would be taking our clubs to the next level. While we're so connected politically, I also think it's a drawback of our clubs because it almost isolates us from the wider, broader community that deals with so many issues. The majority of the folks that we're looking at when we're talking about homelessness are people of color, are people from the LGBTQ+ community, and we have yet to really find ways to integrate all sides of the community. 
Gaskill: 100%. 
Roskoff: I think where we've reached a level of great success is that Jim Owles is multi-issued. Like Bella Abzug served on the women's commission for Jimmy Carter and got fired because she considered all issues women's issues. We're actually responsible for changing policy on clemency. We got live people out of prison, out of their cages. And I believe we're going to have a great many more out after the election, unless we're going to have a Republican governor. 
We have a 60-some question questionnaire that people when they're running for office have to answer to be considered. And we talk to candidates for 20 minutes minimum to go through all these issues. So for the first time, they have to put down on paper whether or not they believe in decriminalization of sex work. Whether or not they're against the Nordic model. Whether they're for elder parole. Whether they're for fair and timely release. Whether they're for taking Ed Koch's name off the bridge. 
C&S: What's the history of your clubs? How'd they start, when and why?
Sanchez: Stonewall has a very illustrious history. Stonewall was born out of what all gays love, petty drama. But not really. (Now-Assembly Member) Deborah Glick took over GLID (Gay and Lesbian Independent Democrats) and there was a whole schism and then in 1986, Stonewall was born out of that schism. And what ended up happening to GLID was – from the tales told down by presidents past – a bunch of DSA (Democratic Socialists of America) folks took over GLID and ran it into the ground. The old DSA which had a bunch of homophobia that is not representative of the new DSA. However with the older members, that old DSA still lingers with them so they have this massive aversion to anyone that may seem a little "too lefty" without sometimes giving them a real shot. But I think that is evolving and changing. Because I do agree it got a little centrist, a little corporate. But that's because I think people were afraid of losing their rights they had worked so hard to build. And now there's a new generation of folks coming up within those (LGBTQ) groups that is saying, 'We're the ones that fought the police, and now we're here not fighting back the way that we should be?' And the new leadership is reinvigorating the older guard into not being afraid to really take a strong stand and really fight back.
Roskoff: Justin, can I chime in, because you're a lot younger than me.
Sanchez: Oh yeah.
Roskoff: I lived through the conception of Stonewall. And Stonewall was formed because the progressive gay Democrats were supporting Mario Cuomo. And the Stonewall Democrats – and this has nothing to do with the people today, but this is history – the Stonewall Democrats were for Ed Koch.  
C&S: How do you feel about Ed Koch?
Roskoff: (laughs) Our favorite straight ally! The whole invention of Stonewall was their supporting Ed Koch, that is what invented Stonewall. And proof of the pudding – back then, no reflection now – but Stonewall endorsed Rudolph Giuliani over Ruth Messinger (in 1997). GLID was taken over by Deborah, so the people I was associated with weren't in GLID, but we also couldn't go to Stonewall because of the conservatism of the founders. It was repugnant when Stonewall came out for Giuliani. That's part of the history that should be told, with all due respect. 
C&S: And when was Jim Owles founded?
Roskoff: Jim Owles was founded 2004. And when we formed, I wanted to do everything within my power to not make it about one person. So we got a 100-person board of governors. Every lefty politician, lefty celebrities, lefty activists, lefty this. We had an incredible base of support because people knew who Jim Owles was and who I was and Bella Abzug was. What we fought for in the '70s and we continued to have that energy and that voice, and I think Jim Owles still has that totally progressive, 1960s liberal, progressive, radical voice.
C&S: Tell me about Lambda.
Gaskill: LID. Not Lambda, not Lid. L-I-D. There's too many Lambdas out there. L-I-D! So LID was founded in 1978 in Gary Deane's basement after Gary Deane, Virginia Apuzzo and Robert Mehl, they tried to get a city gay and lesbian civil rights bill passed. And then Gary Deane ran for a City Council at-large seat and very narrowly lost. They gathered together in a Boerum Hill basement, it was about 20 folks, and LID was born. Alan Fleishman, one of our former presidents, became the first out district leader from Brooklyn in 2001. We've had people from our board and leadership go on to elected office. We've had folks go on to be commissioners at the state level. We have people in City Hall. We really run deep. That's why, in part, why LID is my home. 
My mentor in the club, the only person whose opinion I truly care about, whose approval I seek, is Renée Cafiero, who organized the first gay protest in New York City pre-Stonewall. I've had feelings about being involved in the Democratic Party, with everything going on, and one of the reasons I've stuck around is that this nitty-gritty work is important. And when I was going through my lawsuit, what came out of the lawsuit was the Brooklyn Democratic Party put together this advisory group, which originally had no trans people on it. We had to protest to get trans people on the taskforce about including trans people. They had this public hearing and LID submitted a statement. I read the statement and it was copywritten by Renée Cafiero, a Mattachine Society veteran. That's one of the reasons I stick around, this relational organizing with older folks in our club. Younger folks who are out here, they kind of throw our LGBT elders to the side. And maybe they don't know everything that's going on in this moment, maybe they don't have Twitter, so they can't read 500 hot takes about it, but that doesn't mean that they don't want to know, and that their values aren't in the right place. 
To bounce back to Justin, our clubs look the way they do for a reason, and this sort of inner political work is really inaccessible to folks. Who knows what a district leader is? Who knows what county committee is? No one. None of my friends did. I barely knew and I have a master's in urban policy. We talk about criminal justice, we talk about economic justice, but our clubs don't reflect the people that are living these experiences. And it trickles up, too. I'm the first trans president of LID. We have no trans City Council folks. What's up with that? Why have other cities gotten to the jump before us? It's bringing people into this process that they might have resistance to, but you can't really escape. You can be outside the system all you want, but at some point, you're going to have to petition, you're going to have those petitions checked by the BOE, you're going to have to campaign. At some point, you're going to hit the system. So having more folks in there, having more voices in there, is just going to make us stronger.
Roskoff: I just want to say Alan Fleishman, who LID meant everything to, was a great leader.
Gaskill: Unfortunately, he passed right before I joined LID. But I am very honored to be in his footsteps. I actually found a picture of him the other day getting arrested for walking in the St. Patrick's Day parade before they allowed gays – 
Roskoff: With me! With me!
Gaskill: You were in that picture too?! There you go!
Roskoff: Me, me and him! It was his first arrest! We were in the police station putting on the captain's hat and taking pictures of each other.
Sanchez: It was in black and white, you didn't notice (laughs).
Gaskill: Stories like that make it important to keep these places alive.
Sanchez: I think you bring up a really great point, and I think that's why there is such a diversity of thought in Stonewall. You have to meet people where they are, and not everyone is where, necessarily, everyone wants them to be. So it's finding those people that are in all these different places but with a common goal of equity. And if you can have a baseline of saying we all deserve equity – and not equality, equity – and find ways to get people there, I think it brings together such a diverse group of thoughts and minds and feelings that can frustrate the shit out of you. But at the end of the day it takes everyone all together, and it really is a microcosm of what it looks like not only in New York state as a whole but the country as a whole. Getting everyone together on one bandwidth to push for certain fights really is a hallmark of what people try to do at Stonewall.
It goes to your issue (Derek,) that all clubs have: Where are we incorporating the larger community, especially Black, brown, trans femme –  
Gaskill: Elders!
Sanchez: – into our political world? And yes, there's a huge problem with ageism, that a lot of the older members feel that they're afraid as they get older their standing in the club doesn't have as much strength. But I think one of the things older members fail to realize is they teach us so much history about where we are and where we came from to understand where we can go.
Listen. Listen. Literally, listen. I think this happens in so many progressive spaces. A lot of folks love stepping up but few people love stepping back.
– Justin Sanchez, president of the Stonewall Democratic Club of New York City
Gaskill: One of my favorite lines from Renée Cafiero – again, the only person whose approval I seek – is, once in a while she'll pull out: "When I was a McGovern delegate, when I was one of five out LGBT delegates at the National Committee." And you're like wait, there's only five gay folks there? And like now, how many are there? There's probably after-parties. 
Czaczkes: I don't think we can be having this conversation without the (former New York City Council Member) Danny Dromm version of history. In the early 90s, Julio Rivera was murdered in Jackson Heights. Danny was a public school teacher. And at the same time, a couple years later, the city tried to implement some sort of curriculum about equality in general, and it included LGBT issues. And there was significant pushback in Queens. It was similar to what you're seeing with Don't Say Gay, where there were people saying, "Oh my God, you're going to indoctrinate my children and make them gay." It was also at a time where communities like Jackson Heights were opposing the AIDS Center of Queens County. So Danny started the Lesbian and Gay Democratic Club of Queens but he also started the Lesbian & Gay Pride Committee, which has the second-largest Pride parade in the city now and runs through Jackson Heights and the most diverse neighborhoods in the most diverse county in the country. 
I think it's really interesting to see where we've come and where we have to go. I think it's three steps forward and two steps back. We're proud (of) the work that all the clubs have done and now that we're the four that are working together on issues and on candidates and making sure that we have the right people in office.
Gaskill: But we also exist with our core purpose which is to push gay policies, LGBT policies in particular. Which, if you talk to folks from outside of New York, outside New York City, they're like, "What could New York be doing more?" And the answer is: a lot. Comprehensive sex ed, LGBT history in schools, pushing for funding for trans equity, money going to trans health in particular. We're there to make sure those show up to. 
C&S: One thing that was interesting to me was state Sen. Brad Hoylman's bill about making New York a safe haven for trans people. There's been a lot of discussion around abortion and making New York that safe place for people. But where do you think, in the context of the broader United States getting more hostile to trans people, to gay people, that New York can be doing more to be that resource for other people across the country?
Czaczkes: I think that New York has to do 10 times more than it's doing right now. Yes, we're on the forefront, but it's like when we're in comparison to Tennessee or something. Looking at the Roe v. Wade thing, I think it was two weeks ago or so that Connecticut passed comprehensive protection so that individuals, doctors, or medical providers can't be sued from other states. Why hasn't New York done that yet? When we look at protecting the trans community, I think it's making sure that every single "i" is dotted, every "t" is crossed.
Gaskill: Heh, "T." (laughs)
Czaczkes: So that when they come for us, which they will, we haven't been, "Oh we didn't look that through, oh, we don't know what we're doing or, oh, we never got to that."
Sanchez: It cannot be overstated, that the most vulnerable population in the state of New York is the Black and brown trans community, eespecially Black and brown trans femme community. And if we're not doing everything in our power to make sure that we're uplifting and defending that community, then how can we sit here and say that we are at the forefront of LGBTQ equality? I think one of the first things that we need to be pushing forward is yes, the Trans Equity Fund, which was a fantastic job done by the NEW Pride Agenda and their leadership, by Elisa Crespo and Shear Avory. They have been a powerhouse dynamic team that has really changed this state for the better. But it really also takes us sitting here at this table to look and see how we as clubs are making sure that we're uplifting the community that needs us the most.
C&S: I'm thinking back to Andrew Yang's famous appearance before the Stonewall Dems and I'm wondering how politicians – members of the LGBT community or not – can be friends and allies.
Sanchez: Listen. Listen. Literally, listen. I think this happens in so many progressive spaces. A lot of folks love stepping up but few people love stepping back. What my advice to any candidate, any person outside of the LGBTQ community that really wants to understand the issues, is step back. Listen to those folks. And if you really want to learn, find some folks from the trans femme community that are Black and brown, and listen to their struggles and understand what's it like to live a single day in their shoes. They're fabulous shoes, but they are hard to walk in.
Gaskill: My favorite ally has a loud checkbook and a quiet voice. (laughs)
Roskoff: You know way back when in the early '70s, we knew our friends, we knew who really got the issue. Now it's really difficult to tell because it's to everybody's advantage to be pro-gay, to be supportive of the community. You often think about elected officials, where they would be if they represented an area of Long Island, whether or not they would be taking the same positions. No matter how supportive you are of gay rights, if you're not pro-choice, if you're not for people having second chances, if you're not good on so many other issues, if you're for the death penalty, we won't talk to you. Can't just be good on gay rights and get our support because the world doesn't revolve around us.