Personality
Yuh-Line Niou helped to usher in a new era in the New York Legislature
Niou gave up her Assembly seat to run for Congress, but she'll continue to represent her community in "a lot of different ways." Whether that could mean a future run for office is unclear.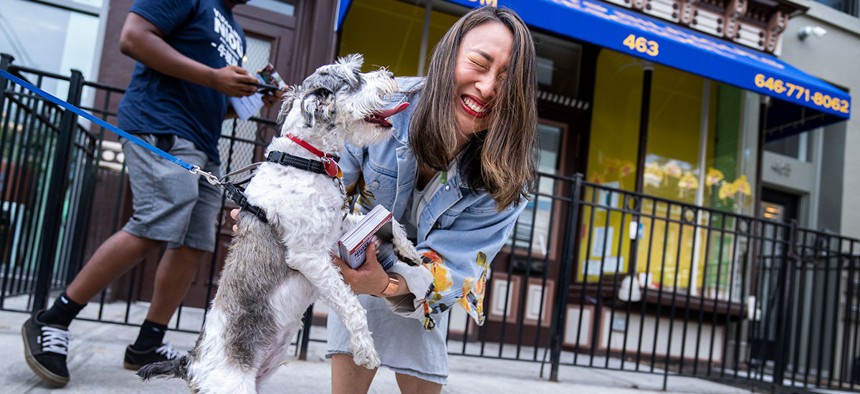 When Assembly Member Yuh-Line Niou leaves the state Legislature at the end of the year, it might feel like the departure of a lawmaker who has been around for longer than six years.
That might be because Niou was a presence at the state Capitol for a few years prior, coming on as chief of staff to Assembly Member Ron Kim after his election in 2012.
Or it might be because Albany – with its Cuomo-less halls, its Democratic state Senate, its infusion of progressive Democrats in both chambers, and its slightly less homogeneous membership – feels like it's in a different era than when Niou came on the scene. In her 2016 election, Niou took over the seat that had been held by former Assembly Speaker Sheldon Silver – who was known to rule the chamber with an iron fist and had been serving a prison sentence for fraud, extortion and money laundering when he died earlier this year. 
The current era of Albany is one that seems to better suit Niou, who ran to the left of incoming Rep. Dan Goldman in this year's Democratic primary for the 10th Congressional District.
City & State caught up with the lower Manhattan Assembly member as she reflected on her career, giving up her seat to run for Congress and what comes next. This interview has been edited for length and clarity.
How are you feeling about leaving the Assembly soon?
I'm really proud of the work that I was able to do. On the last day on the floor, I said goodbye to my colleagues and thanked the speaker and thanked everyone for giving me the opportunity to be able to represent my district. It's been the honor of my life to be able to represent my district for the last six years. I think that I was able to change Albany in a lot of ways. I think I changed the culture of Albany, and I think that I changed the way that Albany looks and feels.
How so?
When I came in first as a staffer, there were a lot less women electeds at the time. My very first time going into the chambers, I was mistaken for (former Assembly Member, now Rep.) Grace Meng. And I also had my ass grabbed in the elevator. I think that there were a lot of changes to Albany as we've elected more women, we've elected more people of color. I stood on the shoulders of some giants – Ellen Young, Grace Meng – who came before me, but I was the first Asian American to represent my district, which included Manhattan's Chinatown. That, I think, was a very needed lens in Albany.
How long was it before you started seeing those changes in Albany? And how much further does Albany have to go?
I think that there's so much to go. We have changed a lot of things with the Sexual Harassment Working Group. We were the first legislators to really listen to the folks who were affected by the culture of Albany. We have a lot more awareness, and a lot more to grow, but I think that we opened the door. We have never had a very good pay scale on the Assembly side. You've seen more staff band together to ask for maybe a union or some kind of protections. We have a very antiquated pay scale. I have suggested a very different model, but it never became a part of the discussion. (Editor's note: Niou, along with other lawmakers, has been criticized about low salaries on her own staff, and her chief of staff said the office couldn't operate with fewer staffers, partly due to language access.) We should have a centralized human resources system – other states do – where it's not based on the seniority of the member what a staff person gets paid but it gets decided by the centralized HR system based on your experience, what you're bringing education-wise, if you have extra language skills, or other things that you're bringing to the office. I remember when Ron was a freshman, the entire staff budget was $85,000 that I had to work with.
For how many people?
For the entire office, for whoever we decided to hire. I would argue that I wasn't even paid enough if the whole thing was for me.
When you consider what you wish you had gotten done but didn't accomplish, what was at the top of your list?
Issue-wise, there was a lot. I think that one of the key accomplishments that I was able to get was that I fought and delivered for my constituents on public housing. I really led the push to get state funding for public housing, and now there's over a billion dollars in critical funding to really fix a lot of our broken public housing system. The Legislature, we passed the (New York City Public Housing Preservation Trust). I won't get into the details here, but I made my opposition to the plan known on several occasions. I believe it's a way to deflect the responsibility of our government to introduce real solutions. Instead, it introduces a great deal of risk for our tenants. I understand when you look at how they're living, ultimately you want people to live better, and the residents will decide for themselves whether or not to join the trust. But a lot of times you see that our government withholding resources from folks is making it so that the decision gets harder and harder every single day. I just hope that regardless of how those votes go, we don't give up on fighting more for our city, state and federal dollars to be able to make things better.
Do you have any regrets about giving up your seat to run for Congress?
No. I wish that the folks coming in will take care of our district, and that's not necessarily a guarantee. (Editor's note: Incoming Assembly Member Grace Lee ran against Niou in District 65 in 2020.) I love my district, I love my community, and I love the people I serve. My crew, me – we did a good job, I think. We were able to secure $30 million in dedicated funding for community organizations in the state to fight anti-Asian hate and antisemitism. We fought to expand rent regulations, we were able to pass the Child Victims Act, which was one of the most significant pieces of legislation that I feel I took a vote on.
What advice would you give new lawmakers in Albany?
One of the biggest things that I would probably want to tell people is when faced with a tough vote, I don't think that you should ever compromise on your values or your principles. I think that you have to fight for your district. Our vote is our voice for our community, and one of the most important responsibilities that we have. The other thing I would say is constituent services should be the biggest priority. It should never be an afterthought.
What was the toughest vote you had to take in the Assembly?
There were a couple of things that I think that I got a lot of flack for. But I've been very proud of taking the right vote, and one that I believe is right, every single time. None of them were tough for me in that sense. The one I got the least amount of criticism for – after I explained it – but the most amount of pressure to vote for, is (voting against) the budget bill in 2020. Gov. (Andrew) Cuomo had cut social services, education and health care. It was the beginning of the pandemic, and I was very worried that in this moment, we needed to invest in health care, invest in social services and invest in education.
What will you do once you leave the Assembly?I haven't decided yet.
Is representing your district in elected office again a possibility?
I think I will always, in a lot of different ways, represent my district and the people who live here because that is who I am. My mentor (the late Seattle activist Bob Santos) has always told me – and I firmly believe it, and I tell this to all of my mentees – "You can lead from anywhere."