New York State
City & State's Responsible 100 event celebrates New York's most outstanding leaders
The event gathered notable figures from government and business, as well as the nonprofit and academic communities who are working at the forefront of the corporate social responsibility movement.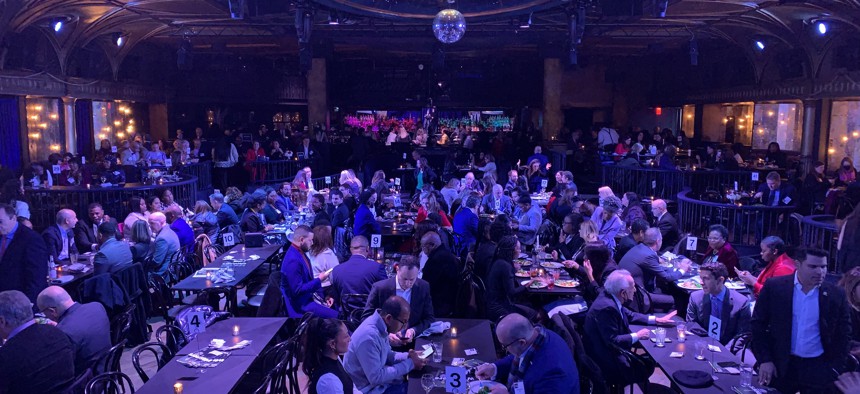 City and State hosted its annual Responsible 100 Reception on Thursday, gathering New York's most influential executives, industry leaders and government officials to celebrate their dedication to improving communities through conscientious and transformative change. 
New York City's first-ever 'Nightlife Mayor,' Ariel Palitz, executive director of the city's Office of Nightlife at the Mayor's Office of Media and Entertainment, opened the event stressing the importance of collaboration and corporate social responsibility in maintaining New York's vibrant nightlife industry.
"We work to support the nightlife ecosystem to navigate city bureaucracy, promote and protect nightlife culture, support harm reduction and safer spaces, and improve quality of life and neighborhood relations between venues and residents," she told a packed room at Sony Hall off Times Square. "Overall, we're here to help support a safer, greater and more responsible environment that helps to ensure that nightlife for all New Yorkers and visitors." Public Advocate Jumaane D. Williams congratulated nominees and stressed the importance of taking risks and when advocating for meaningful change: 
"I deeply respect, and appreciate the work these people do in these companies, who are trying to use the resources at their disposal," he said during a keynote speech. "To be socially responsible, means to do as much as we can, as long as we can, for as many people. It's important to do what we can, not what we're comfortable with … All of us are responsible for the systems we leave behind."
Williams also acknowledged the dedication of those who continue to enact change and the importance of corporate leaders in uplifting new visionaries:
"Many (people) are doing the work without fanfare, hopefully humbly and quietly getting the job done. I truly appreciate that," he said. "At the same time we have to magnify the impact of this work. We magnify the volume which is done to bring more people in to push for more difficult, transformational changes. That will truly be reckoning the responsibility we have for one another."
Brooklyn Borough President, Antonio Reynoso also delivered a keynote where he urged for public private cooperation when tackling long-standing social issues.  
"The way we do that [change] is through true public private partnerships. None of these issues that we have before us can be solved in a vacuum," he said. "And if we're going to do something about it, we have to be bold, and we can see incrementalism as a solution, because it isn't one." 
Reynoso stressed the shared social responsibility between government and the private sector.
"We need to work together and spread our responsibility to others who can do so much more than we realize. You've got to ask yourself, what you can invest in?  Whether its resources, expertise, space or the platform you built, and commit to," he said. "We're all gathered together across industries, across communities, across the public and private sectors. And that's when we'll realize that we'll be able to drive the future."
Bronx Borough President Vanessa Gibson, delivering the event's third keynote, reflected on the challenges brought about by COVID-19, and touched on the tenacity displayed by New Yorkers. 
"We know that our city is facing challenging times," she said. "We have learned that life is so precious that no one is guaranteed tomorrow. We have to live life, cherish life and do as much as we can to give back to be agents of change that are necessary in our city to be the leaders that step up when we see justice."
Echoing the sentiment of the event, Gibson congratulated the dedication of attendees and their various contributions towards the city's development. 
"No matter what sector you represent, public, private civic education, commercial finance, education, higher education, you are so valuable to our community," she told the crowd. "And it is with that value that we are here to recognize you for all of your great work, for your commitment, for your consistency, for your dedication, for your compassion for New Yorkers, for your labor of love, and what you do every day to invest in our great city."
Powered By
NEXT STORY: Take the Eric Adams administration personality test