New York City
Ingrid Lewis-Martin is NYC's higher power
"When they go low? We drill for oil." She's a Christian chaplain, Eric Adams' closest adviser – and no one is crossing her.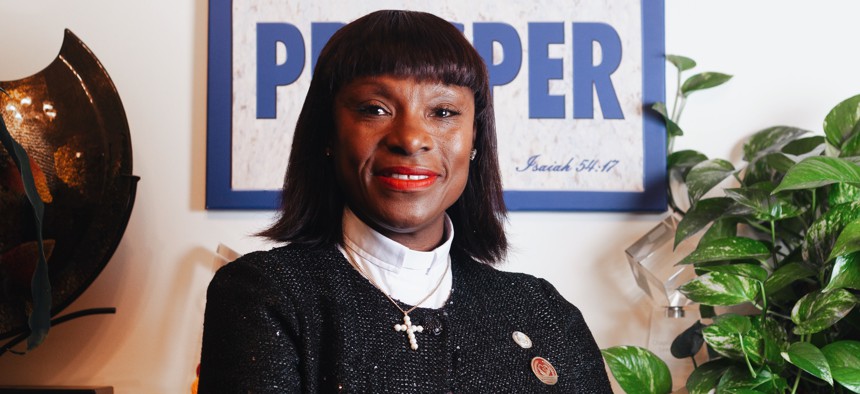 Walk into Ingrid Lewis-Martin's office in City Hall, and your eye will be drawn to a framed poster behind her crowded desk. It's her, the chief adviser to New York City Mayor Eric Adams, posing in pink and smiling widely – and behind her, a full-grown female lion. Some tri-state area graphic designer placed the pair in front of City Hall and surrounded them with cherry blossoms. At the bottom: "The Lioness of City Hall."
"There's a group of Latino bishops," Lewis-Martin explained, in a November interview with City & State. "And they gave me the nickname, 'The Lioness of City Hall,' because they feel like I really protect the mayor. And I safeguard him."
Lewis-Martin has earned other titles over her 17 years working with Adams. She's "the gatekeeper." "The fixer." "The glue." For "Scandal" fans, she's the "Olivia Pope of City Hall." If that wasn't enough, she was ordained a few years ago, earning the title of chaplain.
She's the person closest to Adams in City Hall, according to interviews with more than a dozen people who have worked with her and the mayor. And there's no question that she's the most loyal. She's a friend of four decades – her husband was in the police academy with Adams – whom he picked to mastermind his unlikely ascent from police captain to state senator to Brooklyn borough president to mayor. President next? "We're trying to be mayor of New York City," she said. But of course – "if that pathway opens up, he would be foolish not to follow it. If it makes sense."
Now, to have any understanding of how this administration in City Hall works, you have to know Ingrid. And why Adams trusts her so much.
---
A lot of ink has been spilled on the mayor. Very little on Lewis-Martin. That is, at least in part, by design. She's a Black woman from Brooklyn, and she shares her boss's distrust of the predominantly white media, staffed by many reporters and editors who were not raised in New York City. She complained the press focused too much on where Adams parties and with whom. Other stories she said were unfair and didn't consider the work he does. She guards Adams' privacy and her own.
That's just part of being mayor. But you can't blame Lewis-Martin for being on high alert. 
Her primary role, for the better part of two decades, has been to consider how things play politically for Adams – and sometimes, to neutralize the threats. She is his chief adviser, in title and reality. Now in City Hall, her role is unique. Information is key, and she talks to people and reports back. "Eric's eyes and ears," as one union source described her. "I feel like my job is to give him the red flags," she said. "He's an adult. He's really smart. He has to make the decisions. It's his life."
She's not a deputy mayor – she has said she didn't want to be one – with specific agencies to oversee. Instead, she's flexible and project-based. "Where the mayor needs me, I'm in it," she said. "I'm a background person. And I like that. And I like being the underpinning."
Lewis-Martin is a huge karaoke fan, but she doesn't have a go-to song. She likes jumping in and joining when others are on the mic. That has become her role in City Hall too. "When things are going left, they'll pull me in to help set it straight," she said. The deal to get residential buildings to put their trash on the curb later, to fight the rats? Lewis-Martin worked with the Sanitation Department to seal the deal with the unions. She was in the negotiations that brought the Bruckner sites rezoning in the Bronx and the Innovation QNS project in Queens across the finish line. And she was the one across the table from the New York City Council, dealing with the fallout of budget cuts to schools. The specifics of that negotiation were murky to say the least – but she's still salty. "I'm proud of our educational budget, although you have people in the City Council saying we've taken money away from kids," she said. "We put more money in the educational budget than ever before." The city's share of funding went up, but reductions in federal money as well as lower headcounts meant most schools saw their operating budgets reduced.
There's a lot more she has done – some of which she refuses to talk about "because (of) all the negotiations." But what she's most proud of is the restructuring of the mayor's office itself. "People were getting paid all kinds of crazy rates, it was just a really bad mess," she said. "And I was able to pinpoint and we put together a whole new system that will be used in the city." On the organizational chart, Lewis-Martin stands alone, not overseeing any department and reporting directly to the mayor. So the job is malleable. Folks around City Hall gossip that she doesn't have any specific responsibilities. But the role of political fixer is an important one. Mayoral administrations, especially new ones, are inherently chaotic. Lewis-Martin tries to keep things moving, with the mayor's interests in mind. She is, above anything, a political strategist.
Lewis-Martin is also, most importantly, somebody that can tell the mayor "no," when other people might acquiesce. She can put Adams in his place when he's not seeing the full picture, even to the point of yelling at him. But it's from a place of mutual respect. "She's not a 'yes' person," said a former employee. She's incredibly loyal, but never a pushover. "If every elected official had an Ingrid in their life, they'd be lucky," said state Sen. Diane Savino, who's expected to join the Adams administration when her current term ends at the end of the year. "Any one of us who've been successful had someone like that who's willing to walk in front of a train for you, and then tell you about yourself."
The power dynamics of Adams' City Hall, like any other workplace, have been the subject of much gossip. Who's up, who's down, who's in the boss's favor? Why is the chief of staff, Frank Carone, leaving after only a year? And why does the extended Banks family hold so much power? Lewis-Martin hasn't been immune to this. While she was the unquestioned leader in Borough Hall, City Hall is bigger, with more people grabbing the mayor's ear, hoping to be the last one to speak with him before he makes a decision. There's an infinitely more demanding policy portfolio as mayor than as borough president.
But don't doubt that anyone is closer to the mayor, or knows him better than Lewis-Martin. She is Adams' self-proclaimed "sister ordained by God." Asked directly about Lewis-Martin in November, Adams kept it simple: "I love her. That's the end of my conversation."
Describing Adams herself, Lewis-Martin avoided the term boss, preferring "my principal." And she's comfortable in the dynamic. "I don't want to be a junior mayor. I'm the chief adviser to the mayor," she said. "So all I can do is give him advice. If he takes it, he takes it. If he doesn't, he doesn't. That's on him. But I've done my job by bringing things to his attention."
---
Adams and Lewis-Martin have known each other since about 1984. Her husband, Glenn D. Martin, and Adams were cops together, and they were all friends. Lewis-Martin was a teacher, dean and dance instructor at I.S. 320, the Jackie Robinson School, in Crown Heights, then ran a summer camp and a program for high school students at Medgar Evers College. All the while, she was involved in local politics, working with the late Rep. Major Owens and former Assembly Member Roger Green, and campaigning for then-City Council candidate Letitia James and then-Assembly candidate Hakeem Jeffries, among others. Around 2005, Adams chose his political friend to manage his state Senate campaign. He won in a landslide, and Adams offered her the job as his chief of staff. It was a tough decision, she said – she saw herself as a community activist first. Could she give up her own political views to work for somebody else? He told her she wouldn't have to – they wouldn't have to agree, but they'd always have to be on the same page. She joined the office. But to this day, she sees her employment as conditional. "I told him, my community activism is important to me, and I cannot work for someone that I don't believe in," she said. "And the minute that he is not putting the community's interest in place, and the minute he's not a true Democrat, that will be the end of the line for me."
That was 16 years ago. But Lewis-Martin still maintains one hell of an independent streak. She proudly calls herself a "very conservative Democrat." Not beating around the bush, saying like the moderate Democrat Adams, who claimed he was the real progressive in the 2021 mayoral race. "I don't even like that word, progressive," Lewis-Martin said. She turned Adams against ranked choice voting ahead of last year's election, and looking back to 2008, claimed to be the one that killed then-Mayor Michael Bloomberg's congestion pricing proposal in the state Senate. (No, she will not elaborate, she's saving it for her memoir.) This year, an anti-development activist in Brooklyn recorded Lewis-Martin saying "the community" doesn't know anything, and that's why neighborhood groups should be removed from zoning decisions.
But it's not just policy. Lewis-Martin has more personality than many other elected officials would tolerate on their staff, let alone at their right hand. Some of that is style – she'll own a room in the way that Adams might not. She has an incredible sense of style, with flourishes everywhere. High lace collars and feathery puffs she adds to shoes herself. At City Hall, gold bangles climb up her forearm. She can be more gregarious than Adams himself, always making time to ask people she's meeting with about themselves and their families. An anonymous source who has worked with both of them said: "He's more like, 'I'm going to let my Eric Adams juju ooze out of the room and slowly take you over,' while Ingrid is like 'I am here, motherfucker.'"
That personality is also how she deals with challenges in politics. She's quick to swear and will call anybody a motherfucker if she thinks they wronged her. "I'm not Michelle Obama. When they go low? We drill for oil. I'll meet you down in the subbasement," she said. "I'm just honest."
In that way, Lewis-Martin eschews respectability politics. She's a New Yorker, in an old-school way, and she isn't trying to blend in quietly into the predominantly white spaces of New York high society. She knows that some people in those worlds – or people in any other world who Lewis-Martin rubbed the wrong way – have undoubtedly counseled the mayor to distance himself from her. She could be a political liability. But that's not Adams' way. Second chances are his style and loyalty prized above all else.
Lewis-Martin is brutally honest, and she demands respect. She sets clear rules. Lying to her is a red line. "When people say she's nasty, or she's a bitch," Lewis-Martin said, "you should ask them: What did you do to her?" Give her respect, and she has a way of winning people over. "Sometimes the people who are the toughest are actually doing it for the right reasons," said Scott Stringer, the former New York City comptroller who jockeyed with Adams – and by extension, Lewis-Martin – in the 2021 mayoral race. "I've never had a bad word or experience with Ingrid Lewis-Martin. And I'm probably somebody who very easily could have."
---
If Lewis-Martin has a way with people, she'd say it was divinely ordained. She has always been religious – a Pentecostal, raised in church. But when she was working closely with members of the clergy in her role at Borough Hall, she saw the level of respect among them. "So I decided I wanted to now be at the table on that level with them," she said. Lewis-Martin took courses and became a chaplain. And now? "I'm respected by clergy as a member. I'm the lowest level, but I'm given full respect. And I feel really good about it," she said.
She doesn't have a congregation, but she has been called to pray over sick people in need of support. She can do weddings and funerals too. But the title is secondary. Lewis-Martin is a believer. And some of the decisions she makes, the guidance she said she gave Adams during the campaign, came from God.
In Lewis-Martin's office, on a wall opposite the lioness, is another poster, taken from a Bible verse. "No weapon formed against me shall prosper," Isaiah 54:17. The same verse hung in her parents' home growing up. "And in this line of work, it's so needed," she said. "People will pretend they're your friends, they have your best interest at heart. But they don't."
But Lewis-Martin is confident in her position at Adams' right hand.
"Nobody can take my spot. Because I earned my spot," she said. "I'm comfortable in my skin."
Correction: This article has been updated to show that state funding for the New York City Department of Education increased year-over-year, and that most individual schools saw cuts.
Powered By
NEXT STORY: This week's biggest Winners & Losers