Winners & Losers
This week's biggest Winners & Losers
Who's up and who's down this week?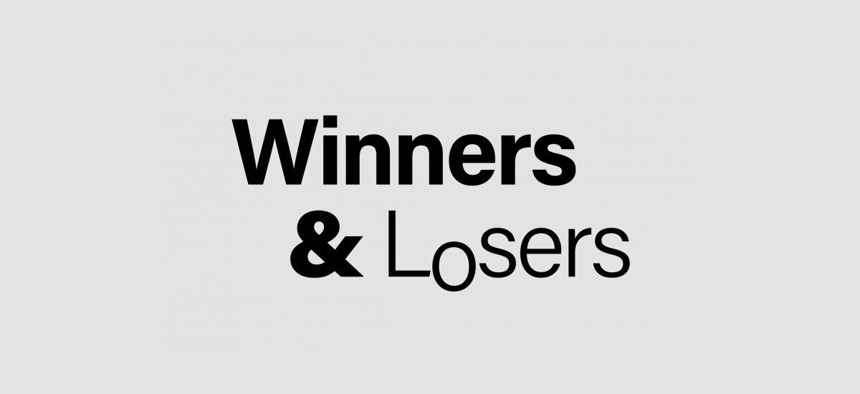 What was New York City's MIA mayor up to over his needlessly mysterious two-day vacation in the U.S. Virgin Islands? Sampling the local seafood? Hanging with crypto bros? Trying to catch some rays while a spell of seriously bad weather hit New York? Thanks to the secrecy about Eric Adams' location while he was away, the city was left to speculate about any and all of the above until the mayor returned to reveal his whereabouts and the fact that he was simply taking a few days to decompress after a long year – as many other mayors have done – and mourn his mother, who died last year. Still, Adams' out-of-sight strategy wasn't a complete failure. While he was away, the mayor managed to avoid ending up on our final Winners & Losers list of the year.
WINNERS:
Chris Alexander -
Who says you can't have your joint and smoke it too? After helping to create the regulatory framework for legal adult-use marijuana as the executive director of the Office of Cannabis Management, Chris Alexander got to enjoy the leaves of his labor by making the very first legal pot purchase in New York. It has been a long and difficult road to get to this point in the Empire State, but it's only fitting that someone so crucial to making it a reality gets the very first bite of the apple-flavored THC gummies. Alexander has certainly
Sandy Galef & Alessandra Biaggi -
Love wins again – or at least anyone who wants to take on an even bigger role in a friend or family member's wedding vows. With Gov. Kathy Hochul having officially given her stamp of approval to legislation that would allow any adult New York resident to officiate weddings – something previously off limits to all but certain title-holders – far more people will soon be helping their loved ones say I do. That's a big win for sponsors Assembly Member Sandy Galef and state Sen. Alessandra Biaggi whose tenures are set to end soon. Galef in particular, who has fought to pass the measure for over a decade, can now hopefully set off into the sunset happy to have succeeded.
Janno Lieber -
An 18-year-old nursing student thought she was going to take an uneventful subway ride on Tuesday when she found herself suddenly at the center of a major public transportation photo op. Sasha Salazar was the MTA's billionth swipe in 2022, a hopeful milestone for an agency threatened by financial woes and delayed projects. MTA Chair Janno Lieber was on hand to present the billionth rider with a $100 OMNY card and a framed piece of subway art. Lieber might need a consolation prize too after it was confirmed that the East Side Access hub won't be opening this year after all.
LOSERS:
George Santos -
Maybe there's a nice part of the George Santos saga. New Yorkers, in some way, were were willing to accept a young gay, Jewish, Black, Brazilian, Republican grandson of Holocaust survivors and son of a 9/11 survivor who had to drop out of private school because his family couldn't pay, who went on to graduate from Baruch and NYU, run an animal charity, own 13 properties and become a multimillionaire in finance in just two years then use some of that money for the legal defense of January 6th Capitol rioters. What New Yorkers won't accept is getting straight up scammed. And the Congress Member-Elect's tower of lies is crashing down.
Byron Brown & Mark Poloncarz -
Nobody's a winner when a catastrophic weather event leads to tragic deaths. But for Buffalo Mayor Byron Brown and Erie County Executive Mark Poloncarz, their bickering and finger-pointing isn't doing much to help themselves or their constituents. Brown is facing calls for his resignation amid criticism over how he responded to a blizzard that so far has left at least 40 people dead while suggesting Poloncarz cracked under stress. Poloncarz, meanwhile, has decided to blame Brown for the slow cleanup and recovery after he too faced criticism over when he decided to ban cars from county roads. In the end, though, dozens still died on their watch, and playing the blame game doesn't change that, or help those still digging out from feet of snow and ice.
Kathy Hochul -
With just days until her historic inauguration, things should arguably be more positive for Gov. Kathy Hochul. But, the governor finds herself getting the side-eye from several Democrats because of her controversial and unpopular pick for chief judge, Hector D. LaSalle. To make matters worse, Hochul is also sharing the blame for the lackluster handling of the winter storm in Buffalo. But it doesn't end there; the governor keeps adding to her political woes by delivering end of year vetoes on popular legislation.