Interviews & Profiles
Amy Paulin has big shoes to fill leading the Assembly Health Committee
In a Q&A, the newly elected chair said she has former Assembly Member Richard Gottfried on speed dial.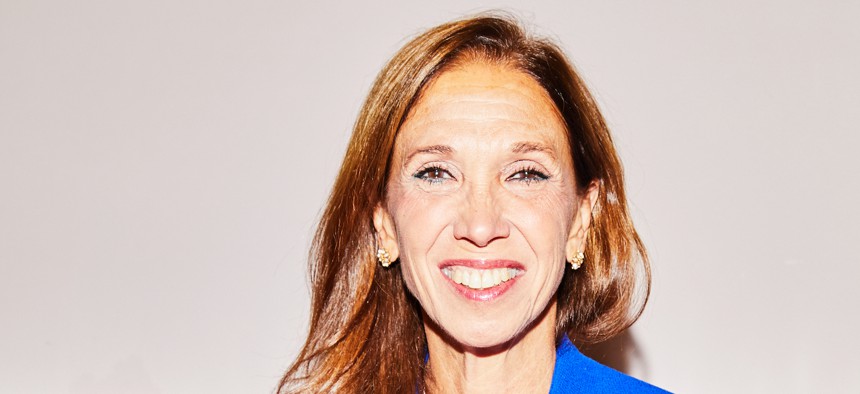 Former Assembly Member Richard Gottfried was the longest-serving member of the state Legislature and served as chair for the Health Committee for 35 years. Earlier this month, Westchester County Assembly Member Amy Paulin was selected to lead the committee. Paulin has served in the Assembly for more than 22 years and has chaired several other committees, including the Corporations, Authorities and Commissions Committee as well as the Energy Committee. But, Paulin said serving as chair of the Health Committee was an "opportunity she couldn't pass up."
City & State caught up with the new chair shortly after the Health Committee's first meeting of the legislative session to discuss Gottfried's legacy and Paulin's plans for the committee. This interview has been edited for length and clarity.
What is your headspace going into your first year as chair of the Assembly Health Committee? How was your first committee meeting?
The committee has got a much larger volume of bills than any of my previous committees. The issues are ones that I'm familiar with – but not as familiar as I need to be. So it's currently feeling a little overwhelming. But, at this point, I am just going day by day and learning as much as I can as quickly as possible. So hopefully that initial overwhelming feeling will go away.
Former Assembly Member Richard Gottfried was chair of the Health Committee for many years. Did Gottfried pass on any advice to you after you were appointed chair of the committee?
I have Dick Gottfried on speed dial, so that the advice keeps coming. (The advice) is very specific when I need it to be and general when I need it to be. He's just been a great ally and friend. He's been very helpful during the transition, and I know he will continue to be.
How will you honor and legacy of Gottfried as chair?
I will do my best.
What are you hoping your legacy as chair of the Health Committee will be?
Currently, I come in with some priorities that I want to address, such as maternal mortality, passing my aid in dying bill and ensuring that during my tenure as health chair, I remain a protector of everyone's right to have quality health care in whatever way that manifests.
The New York Health Act to provide universal health coverage was a big priority for Gottfried. What is your perspective on the bill? Do you have plans to sponsor the bill?
I am planning on sponsoring the New York Health Act. I've always been an advocate for it, and I hope that we can advance it at some point.
The bill has struggled to get passed in years prior, so how do you plan to do that?
It has struggled in the past. There's opposition to it. I pride myself on being someone that can bring all parties to the table. I know there's opposition that needs to be resolved. I plan on trying to do that.
You were most recently chair of the Assembly Corporations, Authorities and Commissions Committee. Did your appointment to the Health Committee come as a surprise to you?
It was something I was looking forward to. I asked the speaker to consider me as the chair. I loved the corporations' committee, and I would have been happy to continue doing that, but this is an opportunity that I didn't want to pass up.
What lessons or experiences from the corporations committee are you now going to lean on as you lead the Health Committee?
I've always had an open door policy with all legislators to help them advance their legislation as corporations chair, as energy chair before that and as children and families chair before that – and I will have that same open door for this committee.