Interviews & Profiles
Brian Cunningham wants to talk to the policy critics too
After getting elected to his first full term, the Crown Heights Assembly member talked recidivism, mental health and maternal health.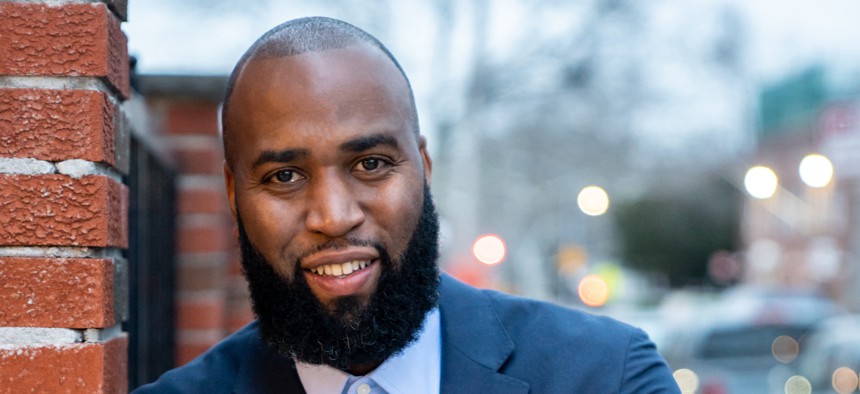 After winning a special election for the 43rd Assembly District last year, Brian Cunningham has officially been elected for his first full term. The Assembly member celebrated his inauguration at the Brooklyn Children's Museum in his Crown Heights district last week. The auditorium was crowded with constituents, political leaders and prominent state elected officials – from fellow Assembly Members Rodneyse Bichotte Hermelyn, Marcela Mitaynes, George Alverez and Speaker Carl Heastie, to Rep. Yvette Clarke and Senate Majority Leader Chuck Schumer, as well as Chabad Jewish activist Rabbi Yaacov Behrman.
City & State caught up with the Assembly member to discuss his plans to serve his constituents, the governor's State of the State address and more. This interview has been edited for length and clarity.
What was your reaction to Gov. Kathy Hochul's State of the State address?
One of the things that came up for me was the commitment to mental health care – which the governor brought up with the $1 billion investment – to really work on the prevention side. There are several things that are affecting the mental health system. Normalizing health care is really important because we're coming out of COVID-19. Communities, like my Black and brown communities, oftentimes don't look at mental health as a part of health care, so we really want to help bolster that part of it and make sure that people want to normalize it. Also, we want to make sure people with severe mental illness are able to access the care they want to make sure they are safe for themselves and also safe for the communities.
Was there anything missing from the State of the State that you're hoping the governor will address in the legislative session?
The governor did a good job of outlining the housing situation and making sure that we build a lot of affordable housing. One thing that she did miss, and it's probably buried in the State of the State book, is making sure that we have housing for returning citizens: people who've been impacted by the criminal justice system. Making sure returning citizens, who are from the community, have housing. The bottom line is if we're going to stop recidivism, it really starts with making sure we do the work while folks are inside and make sure that when folks return home they have access to quality jobs, job training and homes. I would love to hear her talk more about that part of the housing project.
What are your legislative priorities as the new session begins?
One big thing for me is always going to be maternal health. The state Legislature has done a good job of codifying a woman's right to choose, but it also has to do with making sure women, especially Black and brown women, are able to have a baby safely. There are too many Black and brown women dying, both pre-birth and post-birth, as a result of not having strong protections on the maternal health side. The other piece that we can't escape, and is the elephant in the room, is New York is becoming more and more unaffordable. Inflation has created a circumstance where omelets now cost an arm and a leg. It's really important that we do more to support the efforts to raise the minimum wage and tie it to inflation, so we can continue to see the minimum wage grow and small businesses supported. The other piece I'm going to focus on is energy and making sure we have a planet that is sustainable and breathable, and we begin to work on some of the radical environmental racism happening in communities of color.
What are some of the biggest lessons you learned last session that you're hoping to apply to your first full session as an Assembly member?
The biggest lesson I learned was getting things going early and submitting your bills on time. We were fortunate to pass four pieces of legislation that were signed by the governor. Our goal has been to get legislation out earlier. The big thing that I knew coming in – but I think it's become crystal clear now – is making sure you're talking to people that agree with the policy and also the people that disagree with the policy. Sometimes we only talk to the chorus of believers and advocates who have the same principles and tenets. What I've learned to do now is expand that scope and talk to folks who disagree with me – whether that be my Republican colleagues, members of my own Democratic conference who are not quite there on the legislation, or people who are fighting against legislation – to figure out how I can perfect the legislation and not miss any blind spots.
What are you hoping your legacy will be in the Assembly?
I want my legacy to be somebody who worked hard, who was a consensus builder and someone who really echoed the voice of neighborhoods in my district. I still live two blocks from where I grew up, so my neighborhood and my district are deeply personal. My neighbors are the people I grew up with and the people that I plan to grow old with. You come to Albany with just your word. I'm going to keep my word both to my colleagues in things that I say what to do and also to the community that sent me there.
How will you balance the needs of your constituents with the politics of Albany?
All politics are local. I'm in Albany because people from the 43rd Assembly District – the neighborhoods of Flatbush, Crown Heights and Prospect Lefferts Gardens – sent me to Albany. Sometimes in Albany, there are policy ideas that make sense in Albany but don't make sense back home. I'm always going to prioritize the back home politics because those are the people who sent me to Albany. It's important to remember that we're their representatives to echo their voices in Albany. That's always going to be front and center in how I legislate and advocate there.