Heard Around Town
Addiction-focused health commissioner still needs to talk to Hochul about overdoses
Acting Health Commissioner James McDonald is poised to take over permanently and has a history in overseeing controversial supervised injection sites.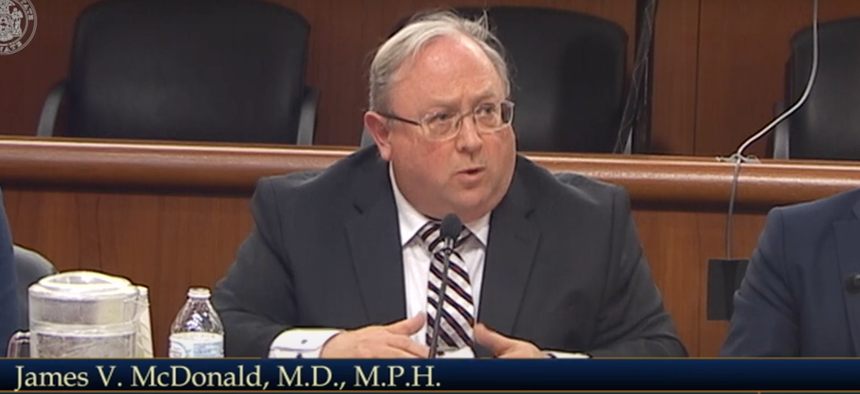 Acting state Health Commissioner James McDonald is poised to take on the role permanently now that Gov. Kathy Hochul has officially nominated him – but he told City & State he hasn't yet had conversations with the governor regarding the overdose crisis facing New York. He said that they have "talked about a lot of things," but the opioid epidemic hasn't been a focus of those discussions just yet.
McDonald, who has served as acting commissioner since January, came to New York from the Rhode Island Department of Health where he focused much of his attention on overdoses and harm reduction. He also helped create the state's pilot program to open supervised injection sites, locations for people to safely inject already purchased opioids under medical supervision to help prevent overdoses. "I think in New York, we need to have space to have these conversations about that and see where those conversations bring us," McDonald said.
Advocates for addiction services had hoped that money from the $2 billion Opioid Settlement Fund, made up of cash paid up by pharmaceutical companies for their roles in the opioid crisis, would go toward funding two existing supervised injection sites in New York City. But Hochul's administration rejected the idea late last year despite the recommendation from a commission tasked with determining how to spend the settlement money.
McDonald replaces former Health Commissioner Mary Bassett, who left the position in January after a little over a year. "I expect to be continuing a lot of the health equity work that Dr. Bassett did," McDonald said. He added that he's also "very committed" to addressing the overdose crisis. "Opiate use disorder, it's a terrible disease, it really steals people's souls," McDonald said. 
For now, McDonald said that most of the conversations he's had with Hochul so far have focused on "rebuilding the Department of Health" and the state budget. "It's a really good public health budget, so quite frankly, we have talked about mostly those things," he said. But those budget talks did not include discussions about how the state would allocate money from the Opioid Settlement Fund.