Personality
Iwen Chu: I am the first one to get elected; I will not be the last one.
As the first senator elected to represent the first Asian-majority district, Chu has a plan to address the needs of her AAPI and immigrant constituents.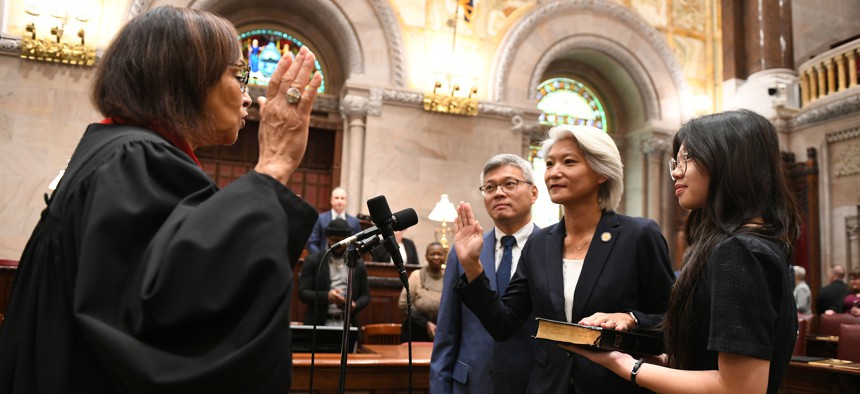 Southern Brooklyn's state Senate District 17 was created in response to the growing Asian voting block. Last year, Iwen Chu was elected to represent the district after a tough-fought campaign – becoming the first Asian American woman elected to the state Senate. Chu says her years engaging with her community has given her the tools to understand the on-the-ground needs of her constituents. As a former staffer of then Assembly Member Peter J. Abbate Jr., Chu is also no stranger to Albany politics and shares the advice her mentor instilled in her after getting elected. Amid ongoing budget negotiations, the newly elected senator says she hopes her involvement in the equity budget coalition will allow her to advocate and deliver on the most pressing concerns of the AAPI and immigrant communities she represents. City & State caught up with the senator to talk about her legislative priorities, committee involvement and plans for reelection. This interview has been edited for length and clarity.
You were elected to represent the newly formed state Senate District 17 – the first Asian-majority state Senate district. How has the demographic makeup of your district impacted the way you legislate? 
As an Asian American myself who lives in Southern Brooklyn, I was very happy to see this district formed last year. I'm definitely honored to be the one to be elected to represent this district. I'm kind of surprised to see myself as the first Asian woman to get elected to the state Senate. We're talking about New York and we're talking about all the diversity. I understand our AAPI (community) was historically underrepresented so to be the first one elected to the Senate, it's kind of a lot of responsibility. Being a senator, the way I see it I have three missions. One is to take care of my constituents. The second is to legislate to protect my constituents. The third is the budget to provide for our constituents. Those three jobs need to be combined to deliver, be the strong voice and address the needs of my constituents. This district is 50% Asian American families and the majority of this district is also immigrants. So the need is similar, when we talk about AAPI needs, we are talking about the other ethnic communities who also face the same needs – including language support, food insecurity and the need for education. So to go into the state Senate, I'm chairing the Libraries Committee and I'm fighting for more resources for libraries. From the day you are born to when you're 100 years old, you utilize the school system – including the higher education system – or just lifetime learning in libraries. I've also joined the Education, Higher Education and New York City Education Committees. I want to bring more resources to address adult literacy for immigrants. Literacy is very important that we need to address legislation-wise and also state budget-wise – as we are in the state budget process right now.
As chair of the Senate Libraries Committee, what is your perspective on New York City Mayor Eric Adams' proposed cuts to the city's public library systems? Is there anything being done on the legislative level to protect libraries?
Mayor Adams and his team were in Albany about a few weeks ago, I had the opportunity to bring this to his attention. Everybody says they agree to support our library system. They know how crucial it is for our library to provide beyond books. There are a lot of programs, including tutoring, kids reading programs, adult literacy programs, computer technologies and media programs at local libraries. But when it comes to budget, the first thing to cut is libraries. So I brought this to his attention and he emphasized when he was our borough president and now that he is mayor, he understands the needs and would like to be a big champion for libraries – but he stressed the city has the migrant crisis and resource issues. So I'm hoping I can work with him in a way to find more creative ways and look for more resources in funding support for our local libraries. In some rural areas, libraries are the only location to provide Wi-Fi. During the three years of COVID – when the community and society shut down – that's the place people needed to drive there to utilize the Wi-Fi to get access to the world. So I'm hoping I can address this either through legislation or through the budget. Hopefully, we'll get there, but it's a fight. It's about negotiation. The need is there and we all see that. So my job is to use my role of being the libraries chair to amplify the need.
You worked as chief of staff to former longtime southern Brooklyn Assembly Member Peter Abbate Jr. What was your experience transitioning from Assembly staffer to serving in the Senate? What advice did the Assembly member give you after you were elected?
He was not just my boss for 10 years, he's actually my mentor. He taught me a lot about the system, about how to take care of your constituents and how to be a champion for them. For example, right now I am working with Assembly Member Grace Lee and many other my colleagues on the Senate side as well as the Assembly. There's an Equity Budget Coalition asking for $66.5 million to specifically address the AAPI community's needs because this community has been facing hate crimes, is underresourced and underfunded. One of 4 AAPI community members lives in poverty. I'm proud to be the one on the Senate side to take the lead and work with Assembly Member Grace Lee to hopefully address this and secure funding for them. Both of our houses put up about 50% of the ask and we're hoping we can work with the governor's office to bring this back to the community. It's not enough, but, at least, it's growth and it's a recognition for the AAPI community to see the government is willing to address their needs. The former Assembly member, and my mentor, Peter Abbate didn't give me specific advice, but he did tell me: There's a lot of things in Albany but if you know you're fighting for good things you need to stick your ground. That's great advice because negotiation is about (understanding) where my bottom line is and (when) I cannot withdraw anymore. I can give you this but I need this. 
How has your experience working as a local community journalist impacted your time in Albany?
When I was a local news reporter and when I worked on the ground for the Assembly member, I saw a lot of the needs from the community including immigrant communities, the AAPI communities and working families communities. That is southern Brooklyn. We need language support. It's also working families so you need a safer working environment. In the past three years, we're also facing a lot of hate crimes. Those are the on-the-ground issues I witnessed. And that's why I'm bringing those concerns and issues back to Albany. Hopefully, I can address them either through budget and legislation to make sure they're safe and they're protected.
Have you considered any plans for reelection? 
I am. I am the first one to get elected; I will not be the last one. I am preparing for my reelection. I am also doing a lot of programs and hoping I can just provide a platform for our next generation, including immigrants or AAPI families. I want them to see me as a role model. I came here at age 27, I can pursue my dream. And they should be able to dream even bigger beyond me. They can build upon my platform. So I am seeking reelection and this job of serving the  AAPI and immigrant community needs, it's not going to be finished in a two-year term. So I would like to be the one to carry them continuously. And I'm also hoping I can build a bigger platform for the next generation to encourage them and inspire them to be more civically engaged professionally and politically. Hopefully, we will have a new force of younger leaders who will also step out in the future.
Powered By
NEXT STORY: Jumaane Williams: Asylum-seeker crisis goes beyond the news cycle