Editor's Note
Editor's Note: A privately owned public space with a postmodern 1980s vibe could provide shelter to asylum-seekers
The atrium at 60 Wall St. is already a haven for people seeking shelter from the street.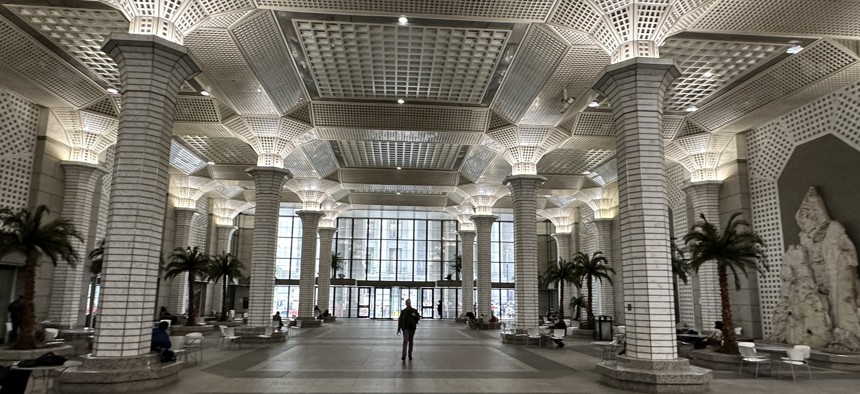 The atrium at 60 Wall St., the former Deutsche Bank building now vacant for two years and under renovations, has seen better days. The dusty, dimly lit space underneath this 35-year-old skyscraper evokes the 1980s with a heavy use of gold trim and marble-tiled columns. It was once a hangout for Deutsche Bank employees and anyone coming off the street. Today, it still draws a few people in. Last week, on a visit around midday, there were deliveristas taking a break, homeless people catching some sleep, a couple arm in arm, a traffic cop checking his phone and a few others having lunch.
The atrium is officially a privately owned public space, which means the owners agreed to maintain it for public use in exchange for bonus floor area or waivers. With more than 550 indoor and outdoor privately owned public spaces across the city, I asked if the indoor locations, including 60 Wall St.'s atrium, have been considered for asylum-seekers. Who would complain or push back about their use for temporary shelter? A spokesperson for Mayor Eric Adams said "no option is off the table and we will consider any option brought to us." The building's owners declined to comment.
The renovation plans include giving the atrium a major facelift, adding a skylight and 100-foot vine-covered wall. But there also are actual fans of the space's odd frozen-in-time look who would rather keep it the same.