Interviews & Profiles
How NYC is streamlining MWBE contracting
Lisa Flores, chief procurement officer and director of the Mayor's Office of Contract Services, discussed efforts that have improved how MWBE vendors interact with the city in a Q&A at City & State's Diversity Summit.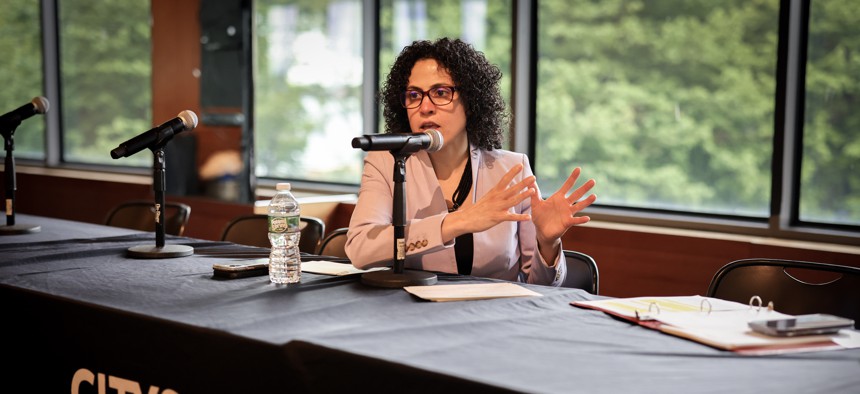 City & State's Diversity Summit at the Museum of Jewish Heritage in Lower Manhattan on Thursday offered a full-day conference dedicated to fostering business partnerships between state and local government, prime contractors and minority- and women-owned business enterprises contracting. Joining the event was Lisa Flores, New York City's chief procurement officer and director of the Mayor's Office of Contract Services. Flores discussed the city's efforts to streamline MWBE contracting and improve the experience for contractors. 
This interview has been edited for length and clarity.
How does the city go about recruiting for MWBE contracts?
I know a lot of MWBEs may not be certified with New York City. Either they don't know that you have to be certified with the state and the city and the authorities, but they also may wonder, "So I get certification, what happens next?" 
On engagement, we started a video series on all of our social media, including in Spanish, that follows our curriculum around how to do business with the city. We started in August of last year doing monthly webinars on how to get started doing business with the city, what to expect, what kind of roadmap and how to find opportunities. We've already had over 2,200 folks go through that training, and we continue to expand that curriculum. We also launched this year something called MOCs (Mayor's Office of Contract Services) in your neighborhood. These are in-person, small workshops. We partner with our chamber of commerce, CUNY regional alliances and others in the neighborhood. It really means meeting vendors where they are and doing white glove, hands-on hand holding of how you get through the process, how do you find opportunities.
How will Michael Garner, former chief diversity officer at the Metropolitan Transportation Authority, now in his new role as chief business diversity officer of the Mayor's Office of Minority- and Women-Owned Business Enterprises help ramp up the city's contracting process?
We are really excited to have Michael as part of the administration. He is the first chief business diversity officer. He has the broad responsibility to bring us all together on a very aggressive mission of getting more MWBE contracts. Michael obviously has really been a trailblazer everywhere. He has already made a huge impact lobbying up in the state for a lot of the legislation that we want to move forward with his broad array of experience and relationships. I'm very excited. 
Why is digital procurement important for MWBEs?
I'll start by saying, as a person who's been in procurement for far too long, I remember the days where everything was on paper. And for those of you who have been doing business with the city for a long time, you probably remember the Vendex (Vendor Information Exchange System) and paper, if you did not do Vendex and paper, consider yourself lucky. I worked at the Mayor's Office of Contracts back in the day when it was a complete data entry process. Sometimes contractors on big jobs, for example, would deliver boxes of paper, just to do their Vendex filings. And those boxes of paper had to be data entered. Very antiquated. In some cases, it was not going to take weeks, but months to get your Vendex files. I know it seems like second nature now. Part of what PASSPort (the city's digital procurement platform) did in bringing our end-to-end digital system was putting Vendex into a digital format. I'm sure no technology is perfect. I'm sure everyone in this room has had moments where you've asked, "Why is this not working?" But being able to get through your filings in a day or two, compared to months, is huge.