Personality
Rock-Rock-Rockaway Beach is tops among City & State readers
The sandy oasis in Queens was no. 1 in our highly unscientific poll of our readers' favorite beaches.
Memorial Day marks the official start of the season for the state's hundreds of beaches. Last week, we asked City & State readers to vote for their favorite beaches and more than 300 people – including a certain New York City Council member – responded to our very unscientific survey.
The most popular beach was Rockaway Beach, followed by neighboring Jacob Riis Park, closely followed by the world-famous Coney Island. Brooklyn's Brighton Beach and Manhattan Beach also saw respectable showings, as did Orchard Beach in the Bronx, which City Council Member Rafael Salamanca Jr. indicated in the poll was his favorite sun spot. But it seems that City & State's readers aren't fans of taking the ferry to Staten Island; the borough's Midland Beach and South Beach received the fewest votes of any city beaches. 
They may not be fans of taking the Jitney either; Main Beach in The Hamptons only received 17 votes out of a total of more than 300 votes cast, though other Hamptons beaches like Ditch Plains and Montauk received a few write-ins. The most popular beaches on Long Island were those closest to the city: Robert Moses State Park and Jones Beach. Another popular choice was Long Beach, which received 10 separate write-in votes.
Upstate beaches received far fewer votes than those downstate – a possible reflection of City & State readers' connection to New York City. (After all, the magazine isn't called State & City.) But if you have to go upstate, Million Dollar Beach (24 votes) may be a better bet than Ontario Beach Park on Lake Ontario (3 votes).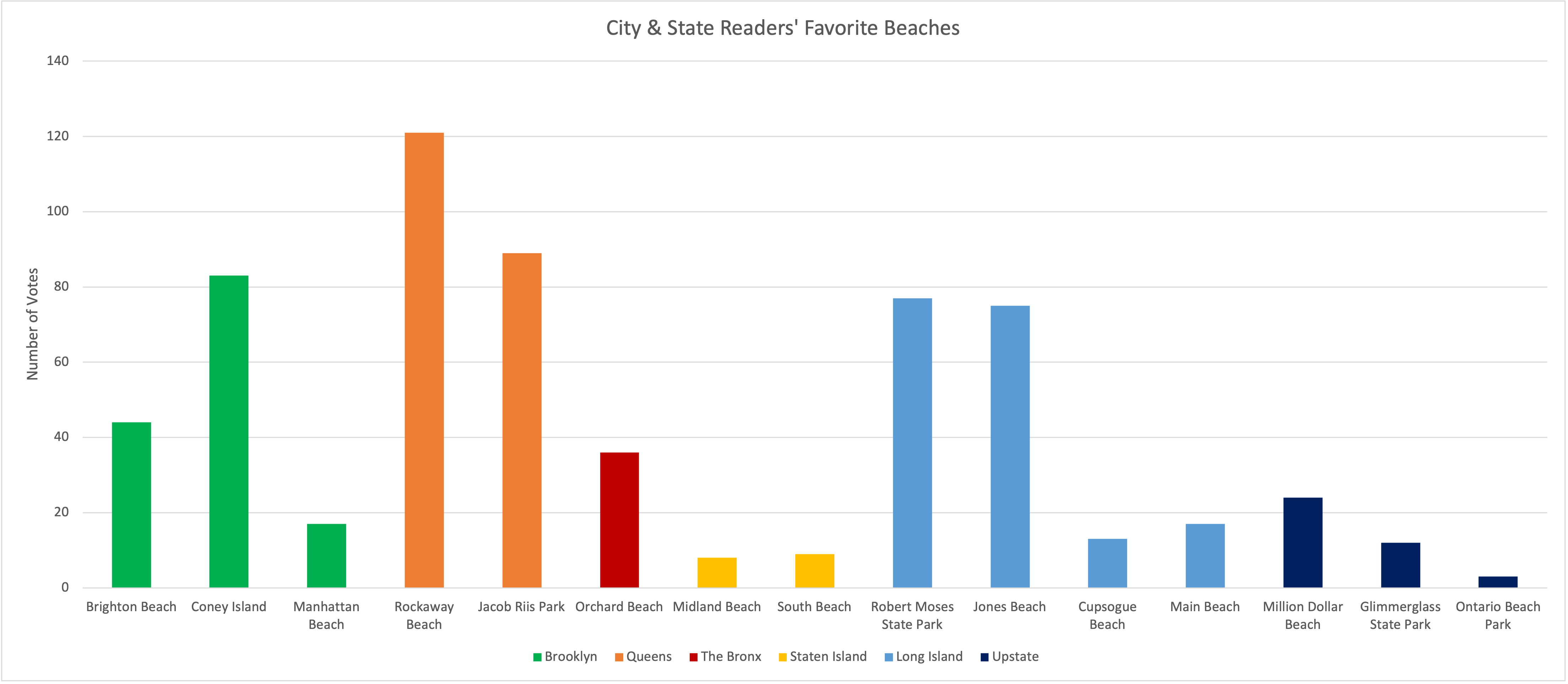 City & State also congratulates Seamus Campbell, disability issues caucus chair of the New York State Young Democrats, for winning a coveted, highly collectable City & State beach towel, in a random drawing held for all participants in the poll.