Heard Around Town
Hochul finally gets a portrait in the state Capitol LCA pressroom
Andrew Cuomo's portrait also has a new home.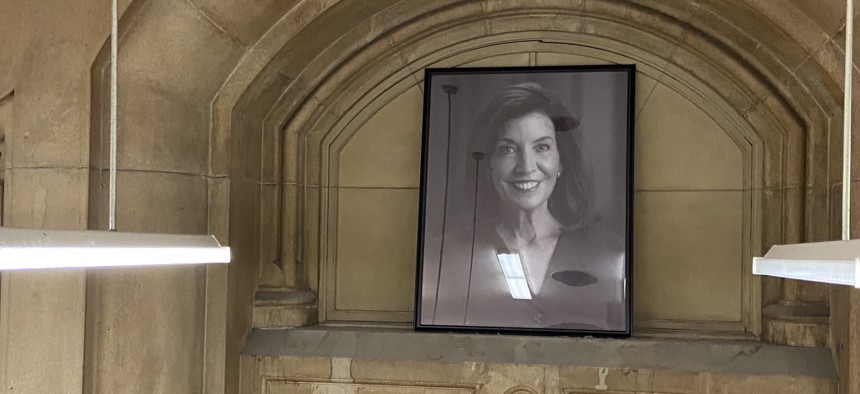 Gov. Kathy Hochul has finally joined her many predecessors with a portrait in the state Capitol pressroom sure to catch the immediate gaze of all visitors of the Legislative Correspondents Association.
Several reporters gathered as Office of General Services staffers placed Hochul's portrait above the Capitol Pressroom studio today, "It was cool that I got to witness history in the making with the portrait of the first female governor going up in the LCA," said Amal Tlaige, a reporter with Nexstar. 
The portrait comes two years after Hochul assumed the executive position, and many have wondered why it's taken so long. Zach Williams, president of the press association, said he's been nagging the Executive Chamber to get the portrait up for some time. "As important as the LCA portraits are, perhaps there's a few other big things that were going on in the state Capitol earlier this year," Williams quipped. 
David Lombardo, host of Capitol Pressroom, said he also asked the commissioner of the state Office of General Services about Hochul's portrait whenever she appeared on the show. When asked what the holdup was, an official with the Office of General Services cited the multiple requests from Lombardo and said the office was proud to get it done.
The portrait of Andrew Cuomo hasn't left the pressroom completely. The former governor's picture has shifted from center stage to a corner. "Every time I've walked into the studio, I've always seen Andrew Cuomo hovering over my head. Now, he's just going to be out of my day-to-day life. I'm not sure whether that's a good thing or a bad thing yet – only time will tell," Lombardo said. 
On Hochul's portrait, he added: "It looks heavy enough that if it does fall, it'll probably take out me or my producer. That could be another lasting legacy of the governor."
Powered By
NEXT STORY: This week's biggest Winners & Losers