Personality
I want to date Bill de Blasio
A City & State reader wants to explore the possibilities with the former New York City mayor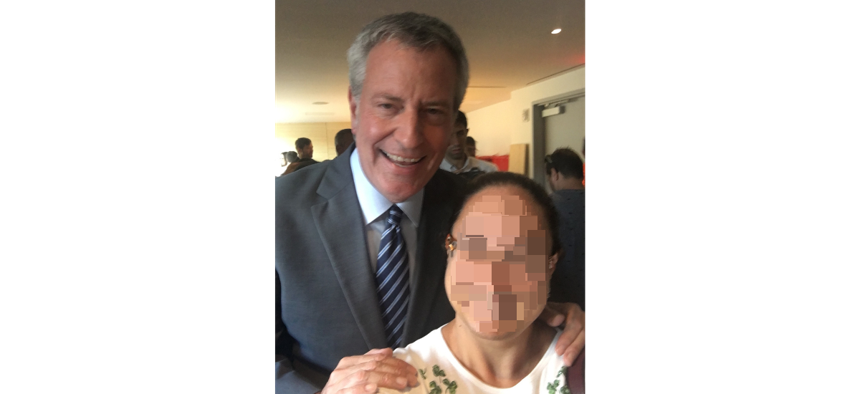 City & State put out a dating profile for Bill de Blasio after he and his wife Chirlane McCray announced Wednesday they were separating, but would continue to live together and date other people. For one woman still smitten by the former New York City mayor after meeting him at the 2019 opening of a library in Queens, it was finally an opening to ask him out on a date. 
Flora, whose last name we are withholding until she knows if de Blasio is "serious," reached out to City & State with her own profile information. "I'm a little unknown person who was excited to meet the mayor," the 49-year-old divorcee recalled of the library encounter with de Blasio. "He saw me, looked very interested and let me take a picture."
Flora's a mother of two college-aged kids and a divorce attorney, who also currently works in a civil service job for the city – so yes, de Blasio was technically her boss, for a while. She had a previous stint in a city legal job during former Mayor Rudy Giuliani's administration, so like the Big Man, she's been around city politics for a long time. Her dating profile described her as "a Queens gal, seeking an intelligent, tall, handsome man for a serious relationship." She's Jewish, but not practicing, and originally from Odessa in Ukraine. She also speaks Russian fluently.  
City & State wasn't able to reach de Blasio for an immediate response, which was fine for Flora, because if and when he does, "then I'll know he's seriously looking, because I'm seriously looking," she said. "We even have Italy in common," she said, noting that de Blasio is of Italian heritage and that her family emigrated to the U.S. via Italy. 
"They were Soviet refugees. I carry their resilience. Mayor DiBlasio showed great resilience in running NYC," she wrote in her profile, slightly misspelling her could-be beau's name. "It is a tough city to run with all its diverse interests and needs."
At least one other dating profile was sent to City & State from another would-be date for the former mayor who noted she was 28 and also living with her ex, but who later admitted she wasn't really serious about going out with him. She was still open for casual meeting. "I think we'd get along very well," she said. "We'd have a wonderful coffee chat."