Interviews & Profiles
Zack Fink is ready to lobby politicians instead of chasing them for quotes
After 28 years in journalism, most recently at beloved local cable news network NY1, Fink is joining Davidoff Hutcher & Citron.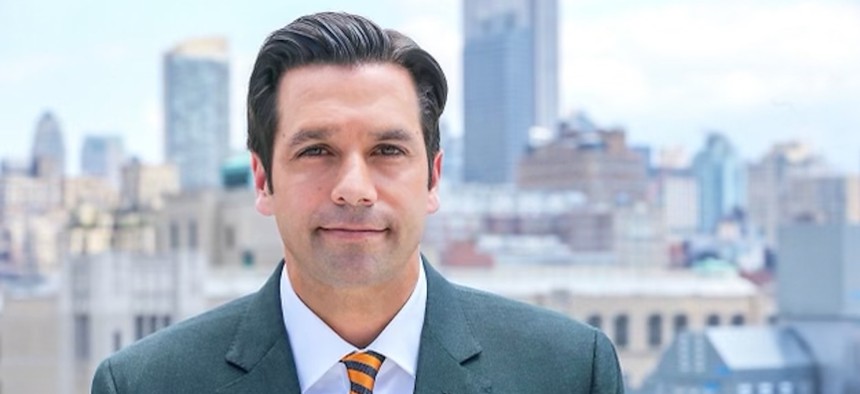 Earlier this month, veteran NY1 state politics reporter Zack Fink left journalism to take a new job as director of external affairs at law firm and lobbying shop Davidoff Hutcher & Citron LLP. In his new role, he'll be working closely with Keith Wright, the chair of the Manhattan Democratic Party who also serves as the firm's director of strategic planning.
Fink is one of a number of New York political reporters to leave their jobs this summer. Besides Fink, Spectrum News recently lost reporters Emily Ngo, Nick Reisman, Juan Manuel Benitez and Clodagh McGowan. In June, Zach Williams, then the New York Post's Albany bureau chief, left the paper for Bloomberg News. Around the same time, Gotham Gazette ceased publication. And City & State's Jeff Coltin recently left to join Politico New York, which also hired Ngo and Reisman.
City & State caught up with Fink to discuss his decision to leave the industry, and his thoughts on the future of political reporting in New York state. This interview has been edited for length and clarity.
Where are you going and what will you be doing there?
Davidoff, Hutcher & Citron. They have a government affairs practice. They also have kind of the infrastructure of a law firm. They do a lot of legal work. But the component I will be working for is government affairs. So it'll be a little bit of lobbying. It'll be some public relations. It'll be government relations.
So you'll be a registered lobbyist?
Yeah, at some point. I'm going to get in there, and we're going to see which clients I work on. And yes, at some point, that will likely be the case.
The firm's director of strategic planning is Keith Wright, who is also the chair of the Manhattan Democratic Party. Will you be working closely with him and with the Manhattan Democratic Party?
Not with the Manhattan Democratic Party. I will be working with Keith.
What convinced you to leave journalism and go into lobbying and government relations?
I've got to say, man, I've been in this business 28 years. I went through a (once in a) 100 year pandemic. I was a little burned out by all of it, covering politics and chasing down stories and arguing with politicians sometimes. It was exhausting after a while. I turned 50 this year, took a good look around and said, "Do I want to still be doing this job when I'm 60?" Which is going to be here very soon, if it's any indication how not so long ago 40 seemed. (Laughs.) And I said, "No, I don't. I want to try something else." And this was a good opportunity. So I put this in motion several months ago. My first call to Davidoff Hutcher & Citron was actually, I believe, in February, if not early March, I wanted to (start) contact with them before the budget process started in Albany.
Did you know specifically that you wanted to work for Davidoff Hutcher & Citron?
Well, I know Sid (Davidoff) and Keith (Wright) well. We have a very good chemistry. I also, after I reached out to them and spoke with them, reached out and interviewed and spoke with a handful of other firms. So I just wanted to do due diligence, make sure I'd find the right fit, maybe another place was better. But DHC really seemed like a very sound cultural fit for me.
You have your own reasons for wanting to leave journalism after 20-plus years. But what do you think the future holds for state political coverage in New York?
I hope it has a robust future. I think as long as lawmakers are up there passing laws and the governor is in Albany, there will need to be some kind of political coverage. I think the industry has had some growing pains in the last several years searching for models of journalism that work. Obviously, there have been troubles at newspapers. Cable television is losing subscribers. So it's a tough time in the media landscape. But I think those models will be found, and I think journalism has a future. I'm very confident that coverage of government, which is so important, will continue both in the city and state – even if it looks different than it does right now.
As someone who's seen it from the inside, what do you think the role of NY1 is in the civic life of New York City and state?
NY1 has always had a commitment to its political unit and its political coverage. I do hope that continues. I know they're looking to expand into other markets across the country, and in some cases, establish similar programs (to) "Inside City Hall" and "Capital Tonight" that they have in Albany. NY1 has been a very big player in all of that coverage at both the city and state level, and I genuinely hope it continues.
Did people come up to you on the street because they knew you from NY1?
I would say that when I lived downtown, and it was a lot of tourists, the short answer is no. But since I've moved to the West Side, yes, there are a lot of people who watch NY1 and who are familiar (with me). In particular, coming out of the pandemic where people were home all day, most of the people in my neighborhood who I see were watching NY1. We were there, we were the ones carrying all those briefings live. So people were homebound and tuned in to our channel.