Eric Adams
'That is how you run a city': Eric Adams shares tips for tackling crime, homelessness and hostile media
Adams, as one of the mayors of the country's four largest cities, all of whom are Black, Adams highlighted their management approaches at a gathering of the National Urban League.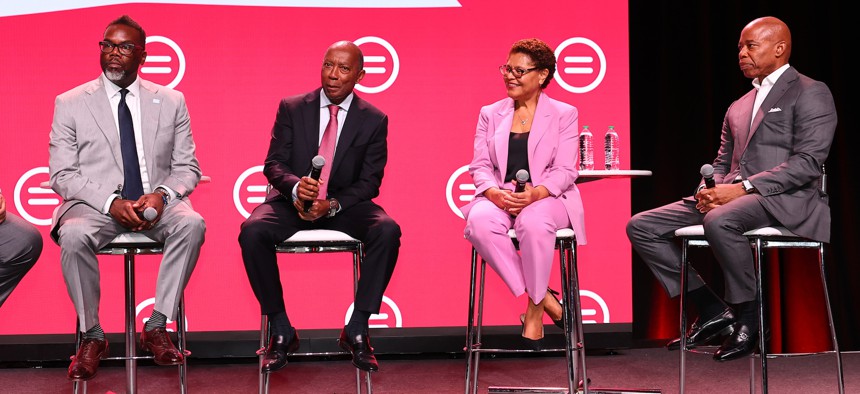 Editor's note: This story was originally published in City & State's sister site Route Fifty.
The mayors of the country's four largest cities—New York, Los Angeles, Chicago and Houston—gathered last week to swap ideas about how to tackle some of their biggest problems. But as prominent Black politicians, they also traded stories and advice about the extra scrutiny they face from the media and the public.
Houston Mayor Sylvester Turner, who is serving in his last year because of term limits, showed Karen Bass of Los Angeles and Brandon Johnson of Chicago a city facility that houses and provides counseling services for people experiencing homelessness, a major problem in both of the visitors' hometowns. New York Mayor Eric Adams toured the operation separately.
Both Bass and Johnson were impressed with Houston's coordination with other service providers, including Harris County and nonprofits, according to the Houston Chronicle. 
"One of our problems in Los Angeles has frankly been finger-pointing and infighting between the city and the county," Bass said on the tour, adding that she is working on addressing that long-standing problem. 
The Chicago mayor noted that the intake center they toured was on city property but was run by a nonprofit. "Governments do not have to be intimidated by service providers, and service providers don't have to be skeptics of governments," Johnson said.
The four mayors also discussed their challenges in offices at a recent conference of the National Urban League (see transcript or video). The group's president, Marc Morial, a former mayor of New Orleans, moderated. 
Turner, the longest serving of the group, stressed the need to have staff that not only were bright but shared a mayor's vision. "When people show you that they are not rowing in the same direction, you do what we do, and you call them in at four o'clock on a Friday, and you thank them for their service, but their season here has passed," he said.
Adams, who has had a cantankerous relationship with the New York press and his own city council, stressed the need for focus. "I wake up every day with a clear agenda, and I'm not going to be distracted," he said. He said he wanted a diverse staff that shared his vision. "If you want to be on my team, you have to have gone through a lot so you could help people who are going through a lot. That is how you run a city."
Stemming violence: The mayors all touted their approaches toward violent crimes in their cities. Homicides have declined over the last year, but the mayors acknowledge that residents feel unsafe. Several chafed at criticism that they did not sufficiently back police.
"This whole story about cities not supporting police is BS," Turner said. "Cities are supporting police. Mayors are supporting police. We want the police to have what they need to solve the crimes, but we also recognize that we have to invest in communities that have been underserved for a long, long time."
Turner stressed the need to improve the rate of murders that were solved and prosecuted. Early in his term, the clearance rate was about 50%. But Turner demanded a daily update on that figure and worked for ways to improve it, and now, he said, it's at 82%.
Adams, a former police officer, touted his role in reporting police abuses earlier in his career. That shows the need for more Black officers, he said. 
"When hospitals and medical institutions weren't doing right, we told Black and brown people to become doctors and nurses," he said. "When our teachers were not educating our children, we recruited Black and brown sororities and frats to go in and become teachers. Why are we afraid to tell young, smart, Black and brown people to go into law enforcement?"
"Heroin destroyed our communities in the '60s and '70s. Crack cocaine destroyed us in the '80s and '90s. Fentanyl is going to be both those added together. If we don't get a grasp on fentanyl right now, we're going to see a total destruction of our communities like we never witnessed before," Adams warned.
Bass said recruiting Black candidates for law enforcement is "hard for a lot of us to swallow." But she warned that the alternative could be worse. "The reality is, in Los Angeles, for example, we have a whole generation of Black officers that are retiring, and pretty soon there'll be virtually no Black officers in the Los Angeles Police Department. Is that what we really want?"
The LA mayor also warned about the political fallout from continued violence in major cities playing a role in the upcoming presidential campaign. "They're coming after the four of us," she said. "The narrative of the Republicans is going to be, 'There's chaos in every single one of our cities.' And what's the subtext of that? 'Who's running these cities?'"
Democrats shouldn't be "shy" about their approach to crime but "hit it head on," stressing both accountability and crime prevention, Bass said.
Media narratives: The city executives shared stories about how they felt unfairly treated by the press, and how they could get their messages out through other channels and person-to-person interactions.
"If you have to depend on someone to sell your product, you're lost," Adams said. "We must do direct-to-consumer communication. That is what we are doing."
Morial, the former New Orleans mayor, said that outreach was necessary to counter media narratives. "It's important for constituents to understand that it is absolutely, abundantly clear that Black mayors don't get treated the same. Period," he said. "Time after time, example after example, no matter what you do, you could have an 'S' on your chest, you could leap tall buildings in a single bound" and still not get unbiased coverage, he added.
Turner said he never received criticism for any of the trade missions he led to Europe, Latin America, Israel and Asia. But a reporter started asking whether a recent trip to Africa was a "junket" or a waste of taxpayer money. "This says more about them and their views than the city and me," he said. 
Bass said local media asked whether she would be "like Eric Garcetti," her (white) predecessor who is now the U.S. ambassador to India. But she was already a well-known figure in California, serving as a member of the U.S. House and as speaker of the California House of Representatives. 
Adams said he confronts a tough media environment in New York, where the press can be so hostile that pro athletes won't even move there. Being portrayed as an "angry Black man" in the media can prevent a leader from being effective. But worrying about that depiction can damage your health, he said. So he said he tries not to let it get to him.
"I'm going to let you know how I feel at the moment. And I'm not going to go through a thesaurus to find the proper terminology to make you feel comfortable," he said. "And then I'm going to move on, because I got a city to run."