Personality
Sherif Soliman discusses the mayor's Albany wish list
A Q&A with Eric Adams' chief policy and delivery officer on housing progress and more.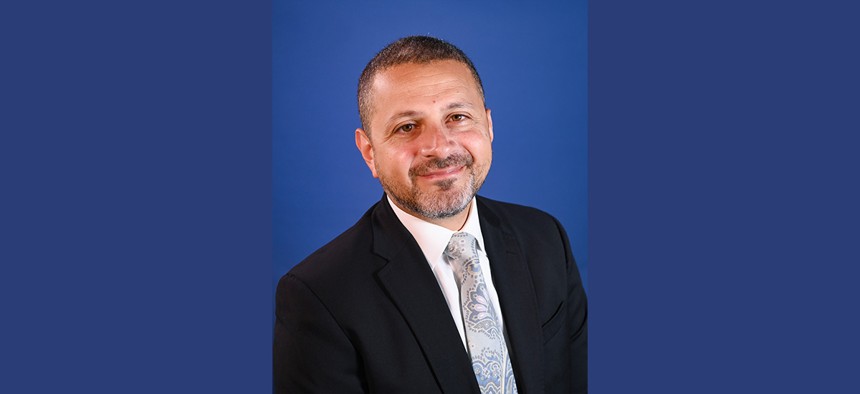 In more than two decades working in New York City and state government, Sherif Soliman has seemingly done it all. A native Staten Islander and the son of Egyptian immigrants, Soliman has served as a chief of staff to Assembly Member Eric Vitaliano, a legislative staffer in then-Mayor Mike Bloomberg's administration, the commissioner of the Department of Finance under then-Mayor Bill de Blasio – and that's only about half of his résumé.
Since the start of Mayor Eric Adams' administration, Soliman served as director of the Mayor's Office of Policy and Planning, before taking on the somewhat broadly titled position of chief policy and delivery officer. As part of the administration, Soliman helped deliver on key policy priorities in Albany, including an expansion of the earned income tax credit and capital process reform.
Soliman also serves as one of Adams' board members of the Metropolitan Transportation Authority.
City & State caught up with Soliman recently to discuss the administration's progress on its massive housing and economic recovery blueprints, and looked forward to the city's wish list in Albany ahead of the next legislative session. This interview has been edited for length and clarity.
Get Stuff Built, one of the administration plans that you oversee, was unveiled about eight months ago. Which of the recommendations in that plan has the city made real progress on so far?
I think that there has been some progress made on things like permitting. One of the things that has been proposed in terms of office to residential conversions is streamlining those kinds of approvals for those who want to convert from commercial to residential. There have been proposals that are underway on the permitting side that we've been able to make progress on, which I think is really important. But I think a lot of the recommendations will require zoning changes or other major city process issues in terms of land use. So a lot of that planning is underway to be able to execute on the "City of Yes" and essentially make sure that we go through the bureaucracy and are able to build faster and better.
You're also involved in oversight of the "New" New York action plan. What progress has the city made on the goals laid out in that plan?
There were several items that were complete and accomplished – several of them in the last legislative session. There was a lot on the MTA and fiscal stability that was completed in the last session. There was also a call for expanded automated bus lane service that was accomplished with new legislation. We were able to get community hiring legislation passed – a big, big priority for the administration. We were able to get that passed in both houses; I do want to caution that, in that particular case, the governor hasn't signed the bill yet, but we're very grateful that the bill passed both houses. There was a proposal to allow reciprocity for (minority- and women-owned business enterprises). What that means is that those who are certified as MWBEs in the city but not certified as MWBEs in the state, there could be reciprocity where one and the other could recognize (each other). Again, a bill that passed both houses but hasn't been signed by the governor. Kingsbridge Armory, the announcement the other day, was an initiative in "New" New York.
One of the goals in the "New" New York plan is making it easier for New Yorkers to get to work in the city. In your experience as an MTA board member and working on that plan, what do you see as the main barriers to getting more people to use public transit, or to improving their experience on public transit?
I think it's fair to say that the city succeeds when the MTA succeeds, and vice versa. We do need to continually be looking at ways to improve the movement of New Yorkers and those in the region to their destinations. I think there are several ways that you can accomplish that. One is obviously on the affordability issue. The mayor and the City Council in this last budget invested in Fair Fares. There's also an expansion of the so-called CityTicket option. CityTicket is for more affordable intracity trips on the commuter rail lines. That's another way to make transit more accessible to New Yorkers who live close to commuter rail lines, but for whom the actual fare was too high. So allowing for a $7 peak ticket was a big success. We need to make sure that buses are set up and that buses can move. That's through, obviously, bus lanes, and it's also through things like transit signal priority. Obviously, service enhancements that were included in this last state budget – not only subway service enhancements, but a fare-free bus pilot.
We're a little ways away from the next state legislative session, but what are some of the big asks that the administration will have in Albany next year?
The administration is undergoing its process to finalize its legislative agenda and its asks for next session. I think that it is fair to say and safe to say that the big, continued push on housing with proposals to address the housing crisis would be something that would be a major focus. I would also note that there are items that are expiring next year, one of which is mayoral control of the school system – mayoral accountability, I should say. Those are two things that I think would certainly be major focus items of the administration.
New York doesn't have a long history of electing lawmakers of Middle East and North African descent, despite being home to large MENA immigrant communities. Does representation of these communities in nonelected roles in government look different? In your years in government, how have you seen that representation change, if at all?
I'm a lifelong New Yorker, and my career has been in various positions in city and state government. New York City has always been a diverse city, and I've seen that in the workforce and I've seen that through my colleagues. From my vantage point, there's always been that level of diversity that I've experienced. I think it's heartening to see more of it, and heartening to see it grow. But in my experience, there's always been a diverse set of city employees that have worked in various capacities in the agencies and in City Hall, as dedicated public servants.
Powered By
NEXT STORY: Rana Abdelhamid fosters self-defense instruction among MENA women