Jose Peralta
To the IDC and back again: Jose Peralta's 14-month journey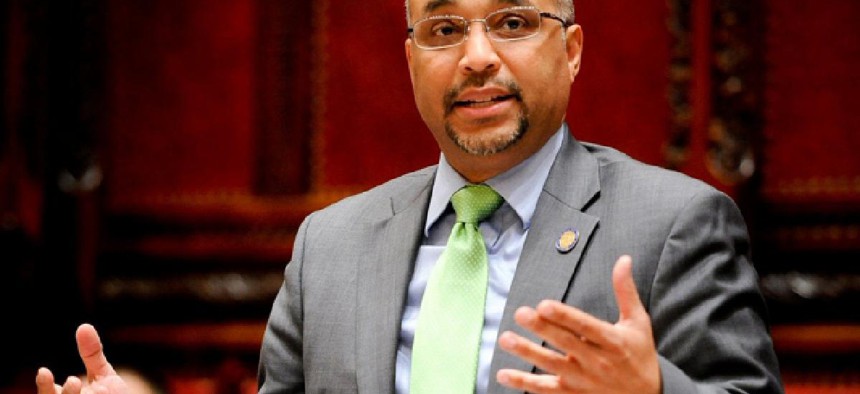 Last week was a potentially pivotal one in the state Senate, with a secret steakhouse meeting bringing about the reunification of the breakaway Independent Democratic Conference with the mainline Democrats. As part of the deal, which was brokered by Gov. Andrew Cuomo, former IDC Leader Jeff Klein will serve as the top deputy to Democratic Leader Andrea Stewart Cousins, and the united conference is aiming to retake the majority in the state Senate.
State Sen. Jose Peralta, one of the more recent converts to the IDC, stopped by the Slant Podcast to talk about the reunification.
"In terms of what the outcome was, we all had a say and we all went around the table and talked about what mattered to everyone," Peralta said the members of the former eight-member conference, which has been dissolved as a result of the deal. "And everyone came up with the same answer."
Namely, Peralta said everyone agreed they wanted to pass progressive legislation and reuniting was the best way forward – while he insisted that primary challenges had nothing to do with it.
To listen to the full podcast, in which he also weighs in on the benefits of his 14-month foray into the IDC his primary challengers and what he calls the "kumbaya moment" when the session reconvenes, click on the link at the top of this article or subscribe to City & State's podcasts on iTunes.
C&S: How much input did you have in this reunification?
JP: For those who don't know, when it comes to Sen. Klein and the IDC, it was always about the members. And it was always about what they had to say about any particular issue, any particular policy. So in this case, it was more the political side than everything else. Yeah, there were conversations that were had and everyone had an opportunity to express themselves in terms of what the thoughts were, and what vision everyone sort of had on what they saw the future like. And with that, Sen. Klein was armed to make a decision, and the decision was to unite, which was something that we all felt very strongly about.

C&S: Were you surprised? And with those discussions among the eight members of the IDC, was it unanimous right away?
JP: I wasn't surprised. In terms of what the outcome was, we all had a say and we all went around the table and talked about what mattered to everyone. And everyone came up with the same answer, which was, look, the bottom line is we need to deliver for our constituents. We need to ensure that progressive legislation moves forward. I think that everybody was on the same page and it wasn't a surprise to everyone because we were talking about it already. We had preliminary discussions. What would it look like? What would it look like when it comes to co-leadership and IDC-mainline Democrats? What would committees look like? In terms of having all these pieces come together at once, I think the governor galvanized that and he made his point. And we were prepared for this, so it wasn't a surprise. It was more of a, that's good, we're moving forward and I'm glad that everybody recognizes it. And we knew on our end that we wanted to move forward, we were just waiting to see if the mainline Democrats were willing to accept it.

C&S: You were one of the more recent converts to the IDC. For you, was it worth it to be in the IDC for the period you were?
JP: Of course. The reason I ran for office was to deliver for my constituents, bottom line. It's to get results. And when you talk about how we were able to, over the last year and a half, over two budget cycles, able to get Raise the Age, to eliminate 16- and 17-year-olds from being incarcerated with adults. We were able to get $10 million for a legal defense fund, which protected immigrants, protects the DREAMers from being deported. When you talk about paid family leave, 12 weeks that you can spend time with your families, it's the most progressive paid family leave in the country. When you talk about increasing the minimum wage to $15 an hour. $5 million just locally into my district where I was able get funds for schools and auditoriums and PA systems and invest in smart boards and laptops. It went a long way.

C&S: That local funding for your district, is that the kind of stuff that you expect you would not have gotten were you just a member of the mainline Democrats?
JP: When you have a seat at the table, yeah, you're gonna be able to have access to that. And you have a voice in what the budget looks like. So yeah.

C&S: But one of your main rationales for joining the IDC, and in fact one of the main bills that you've been pushing since long before that, has been the state DREAM Act. You've been pushing for it, but it's never passed because of heavy Republican opposition. If that was the main goal, what kept that from being passed?
JP: Math. Simple math. You need 32 members that are willing to vote for the DREAM Act. I've been pushing the DREAM Act for several years, but in 2014, where I had two Democrats actually vote against the DREAM Act, and it failed back then, I had to do a lot of lobbying, a lot of pushing so that now the Democrats were all in favor. And I need to exhaust every opportunity and every avenue to make sure that we can pass these pieces of legislation that are landmark legislation. And I am committed to passing this legislation, and that's why I'm so happy that Sen. Jeff Klein, at the unity press conference, the first policy issue that came out of his mouth was "We need to pass the DREAM Act." And that sends a very positive message to all of us as Democrats that that's going to be a priority. It's definitely going to be a priority, but now Jeff Klein has made that a priority and will continue to make it a priority, so that's huge. So math, that's the simple answer to it. And once we get to the magic number of 32 that are willing to pass it, then we will.

C&S: I want to go back to what we were discussing, the united Independent Democratic Conference and the mainline Democrats. Part of the reason, I would imagine, is that it's an election year and IDC members were facing primary challenges.
JP: It really had nothing to do with it. There's going to be democracy and you can't stop anyone from running. But I think the more important piece, the issue that really glued it together, was the fact that all these pieces were coming together, and they were coming together quickly. And what we're facing on a national level, this president, Number 45, who is really attacking New Yorkers as a whole, we needed to band together. And we need to come together and say, "Look, we cannot face this threat if we are not together. Why have this continuous infighting? And the only thing that's going to result of it is going to be failing." So we started having these conversations, the governor started having these conversations, and everybody sort of decided and said it is much better for us to unite, put our differences aside. It's like a family. The bottom line is that we're all part of the Democratic Party. And yeah, we may have had some differences, but now it's about putting our differences aside for the greater good.

C&S: One of your challengers, Jessica Ramos, has argued that since IDC members partnered with Republicans, you are Trump Democrats in effect, that you were working with these state legislators in the Senate who supported Trump, who pushed for things that he wants, and that's on your record. How do you respond to that?
JP: The reason that I run, the reason that I wake up every morning is to represent my constituents. You're not going to please anyone. For anyone that knows my track record, my proven track record, it's all been about progressive items. Whether it's Raise the Age, whether it's investing $250 million in NYCHA, whether it's pushing for almost $850 million to fix the signals in the MTA, whether it's investing locally over $1 billion budget year after budget year in the school system, whether it's seeing and helping over 10 thousand constituents over the last few years, helping children you don't have an opportunity to get their backpacks –

C&S: But don't you think this unification helps you, that Jessica Ramos now will have much less funding, much less institutional support? You must feel more comfortable that you'll be re-elected in the fall as a result of this.
JP: I feel confident that I can put my record up against anyone, regardless of any of my opponents. Again, I have three opponents. You put my track record, my proven track record, if you put the ability, that I've been able to bring results, the fact that I have legislative experience which none of my opponents have. That will seep through to the voters, and they'll know who to vote for. So I feel very confident, moving forward, that my track record, I can put up against anyone, and I'll be victorious.

C&S: What will be different in Albany when you're back on Monday?
JP: Previously the way it worked was the IDC caucused with themselves. So all eight members caucused with each others separate and apart from the mainline Democrats. Now what will happen is we're all going to be caucusing in the same room. We're all going to be walking into the same room and talking about the issues that matter, and how can we push some of these policy items that matter to our communities. But more importantly, we're going to be waiting for what happens in the special, these two specials that are happening. So we're gonna talk about what the breakdown is in terms of who's going to be the floor leader, and things of that nature, what committees everyone's going to have, because now we're going to be rankers, as opposed to chairs or vice-chairs because all of a sudden, when we're part of the mainline Democrats, we're still in the minority. And look, we're just going to continue to plot in terms of what is necessary, outside of winning the special elections, but what's necessary within the remaining of the session to pass. And hopefully, if we can get Simcha Felder to come back. Some of these items may be trickier than others – in particular the Child Victims Act because of Simcha Felder's ideologies and religious beliefs. But some of these issues, we're gonna hopefully, if we're at 32, we can pass. So it's going to be a great coming together of the minds, physically in terms our offices as well. So it's going to be a great kumbaya moment.