Report calls on Buffalo to beef up community policing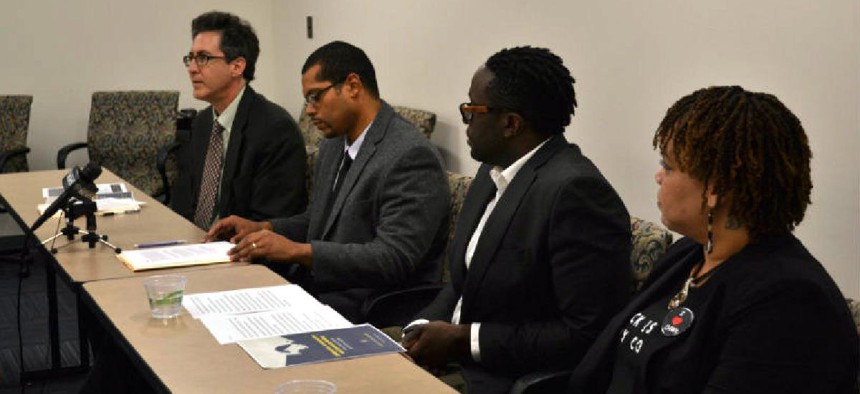 A coalition of advocacy groups is calling on Mayor Byron Brown and Buffalo Police Chief Daniel Derenda to adopt a more strident community policing strategy in an effort to address the concerns of city residents.
Sam Magavern, co-director of the Partnership for the Public Good, stood with members of Open Buffalo's Justice and Opportunity Table at a press conference in their downtown offices last week to present a report prepared by the Buffalo-based think tank over the course of the last year. The report includes data from a survey of more than 2,000 city residents on the state of the relationship between police and citizens and more than 30 recommendations organized into five major areas of focus.
Magavern was adamant in his praise of individual officers, calling them the most "heroic servants of the public good," and saying that the intention of the people behind the 120-page report was not to criticize officers or the Buffalo Police Department but to provide them with information and analysis that will be helpful in improving their relationship with the people they serve.
He also thanked the department and Brown's office, which had staffers review earlier drafts of the report, for providing information used in the compiling of recommendations.
"I'm sure there are things in here that they disagree with, but they were open enough to share their thoughts and a lot of information with us," he said.
Mike DeGeorge, director of communications for the city of Buffalo, did not return calls seeking comment.
While the report acknowledges some of the proactive steps BPD has taken to improve its relationship with the community – the 21st Century Policing scholarship program, which pays for minority, immigrant and female cadets to attend the academy; police trainings for the use of the opioid overdose antidote narcan; and efforts to reach out to and provide language services for the city's burgeoning refugee community – it also points to survey responses that show where the department is falling short.
According to survey responses weighted to the demographics of the city, 57 percent of respondents do not feel that police respect people of color, 50 percent said the police do not respect youth and only 41 percent said that police respect women. 
Steve Peraza, the Partnership for the Public Good's director of policy, said these responses show that the tension between police and city residents, particularly minority groups, is a reason for concern.
"Clearly the community is looking for some changes," he said.
And while no fatal tragedies like those that have grabbed national headlines in Baltimore, New York City and Ferguson have occurred in Buffalo in recent years, the responses to the survey shows that there is still work to do, said Max Anderson, communications director for Open Buffalo.
"We, like any city, have our share of isolated incidents that don't make it to the headlines or the story never gets out," Anderson said. "I think the absence of a fatality is not the absence of a problem." 
And those tensions create an environment where something similar could happen, Peraza said.
"No one wants a similar tragedy to happen here, but it could happen," Peraza said. "So it's incumbent upon us to understand the relationship between Buffalo police and the community and to find ways to build trust between them."
The report's recommendations are wide ranging, and include: more transparent sharing of information on the police department website; expanded training opportunities and community policing duties for all patrol officers; improved relations through environmental design in high crime areas; the expansion of scholarship programs and other opportunities with the department for minority job candidates designed to bring the racial makeup of the police in line with the communities they serve; the revival and expansion of powers for the largely dormant Buffalo Commission on Citizens' Rights and Community Relations, which has not issued a report since 2008 despite being required to do so by the city charter; diversionary programs designed to keep low-level nonviolent offenders out of the criminal justice system; and the use of body cameras.
The coalition held its first outreach meeting Monday evening in a church on a stretch of Delaware Avenue known as Millionaire's Row, where ornate mansions once owned by titans of industry are now occupied mostly by nonprofits and other community groups.
The crowd of about 50 – mostly people involved in city advocacy groups and civil rights attorneys – took in the results before being given the opportunity to comment and provide feedback.
Eddie Jones, a member of the sustainable housing advocacy nonprofit Push Buffalo, told the crowd that many individual police officers in his West Side neighborhood have been very welcoming and approachable, even showing up at meetings to discuss safety in a local park.
"All I'm hearing from police is that they need our help, just like we need their help," Jones said.
Still, the level of distrust needs to be addressed, the preparers of the report said.
Denise Walden, and mother of four who works as a community health worker in her largely African-American East Side neighborhood, serves on the Open Buffalo Justice and Opportunity Table. 
She said her boys will turn around and come home when they see a group of police cars with their lights on because they want to avoid any interaction with the police that may happen if they walk by.
"I'm a mom of four young men here in the city of Buffalo," Walden said. "I think that there's a sense of urgency to shift so that law enforcement understands our community and our community understands how to interact and view law enforcement."