Donald Trump
How will New York unions fare in the age of Trump?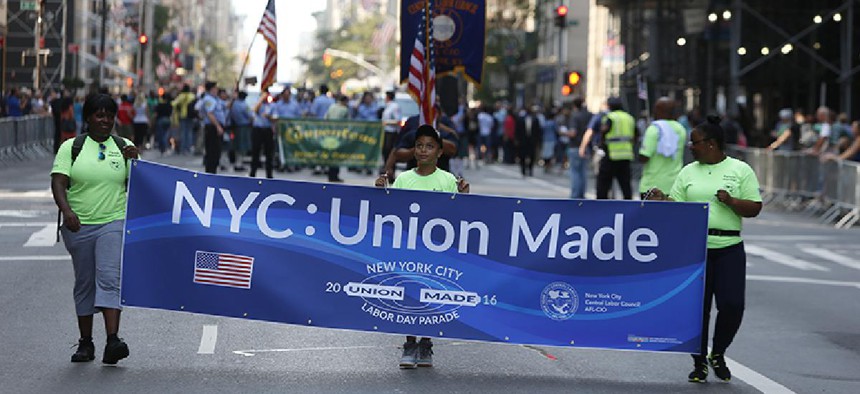 On a Saturday morning in February last year, U.S. Supreme Court Justice Antonin Scalia died. The following month, the eight remaining justices deadlocked in Friedrichs v. California Teachers Association, a potentially precedent-setting case in which teachers had challenged the requirement that they pay dues for any union activities.
The teachers argued that they had a First Amendment right to withhold payment. Unions countered that those who opt out would still enjoy the benefits won through collective bargaining – which would be unfair, since they hadn't paid their fair share. While Scalia was still alive, some legal observers had expected him to to cast a pivotal vote overturning the requirement as unconstitutional. The stakes were high: Public sector unions feared that the ruling would dramatically reduce their revenue and erode their ability to stand up for workers.
But without Scalia on the bench, the 4-4 tie essentially put the matter on hold, giving organized labor at least a temporary reprieve.
RELATED: Facing a threat from Republicans, will public and private sectors unite?
Following U.S. Senate Republicans' move last week to obliterate the filibuster for U.S. Supreme Court nominees and install another conservative, Neil Gorsuch, expect the legal challenges to keep coming. Conservative and libertarian groups long ago adopted a strategy of battling organized labor in the courts, and Gorsuch's confirmation will likely be seen as a green light to try Friedrichs again.
It's not the only case, either. A similar case from Illinois is making its way through the courts, and some experts say the challenge to compulsory union fees could extend to both public sector unions as well as private sector ones. Other legal challenges targeting labor are expected, as well.
New York is one of the last bastions of organized labor, with around a quarter of the workforce in a union. In this spotlight, we speak to four officials – Rep. Adriano Espaillat, Rep. Elise Stefanik, Peter Abbate, chairman of the Assembly Committee on Governmental Employees and I. Daneek Miller, chairman of the New York City Council Committee on Civil Service and Labor – to take a closer look at the state of unions in the state and how they might push back against changes coming from Washington, D.C.

Rep. Adriano Espaillat
Member, House Committee on Education and the Workforce
C&S: You get to ask to be on certain committees when you're elected to Congress, why'd you choose the Committee on Education and the Workforce as one of them?
AE: Education and the Workforce has jurisdiction over employer-sponsored health insurance coverage. The vast majority of Americans receive their health insurance through their employer, and I want to continue to ensure that our nation's employees and employers continue to get a good deal at a good price. A healthy workforce is a strong workforce.
C&S: New York has the highest rate of union membership in the country. As a new member of the Subcommittee on Health, Employment, Labor and Pensions, what perspective do you bring as a New Yorker?
AE: Unions have long been critical in establishing standards for education, skill levels, wages, working conditions and quality of life for our nation's workers. Unions look out for the basic employment rights of their workers, and those individuals who are members of unions have stronger protections and better wages that individuals who are not members of a union.
Bargaining power for workers are as important today as ever before. As we have major discussions about minimum standards for health insurance, the role of the National Labor Relations Act, job safety and work hour protections, unions are critical in ensuring that their members have a safe environment in which to work, as well as the necessary protections should something happen to them.
C&S: Transport Workers Union Local 100 endorsed you all three times you ran for Congress and it was the first group you thanked in your inauguration speech. Is there a fear the Metropolitan Transportation Authority and its workers will be hurt by potential federal transportation budget cuts?
AE: TWU Local 100 and I have had a very good relationship. I understand the issues of TWU Local 100, and when I was in the state Legislature, I worked hard to ensure that union members, like those individuals in TWU Local 100, had the worker and safety protections they deserved. I have witnessed firsthand the work that the TWU Local 100 members do. After securing funding to repair train stations in the state of New York, TWU Local 100 played an integral role in making necessary repairs to those stations throughout my district. Workers' safety and fairness issues are among my top priorities on the House Education and (the) Workforce Committee and in Congress. Addressing these issues and ensuring our workers have safe working conditions and fair protections in place are necessary. While the current administration has proposed cuts to the (U.S.) Department of Transportation, addressing these issues during the congressional review of the proposed transportation budget cuts put forth by the Trump administration will be critical in efforts to ensure that the skilled laborers of TWU Local 100 have the necessary resources to meet the needs of the city's transit services. Finally, there has been a great deal of rhetoric surrounding a potential infrastructure spending bill, and I am hopeful that, if passed, it will include funding for transportation projects in New York's 13th Congressional District.

Rep. Elise Stefanik
Member, House Committee on Education and the Workforce
C&S: You're now in your second term on the House Committee on Education and the Workforce. What are you hoping to do this session?
ES: This session presents many opportunities to help the hardworking families and small businesses across New York's 21st District. On the Committee on Education and the Workforce, I will be working on solutions to improve workforce development as well as pursuing policies that will help spur job creation, including regulatory reform and health care flexibility. I also want to enhance technical skills for those in the labor force, support our entrepreneurs and make our region more competitive in a 21st century economy.
C&S: President Donald Trump wants to repeal tons of regulations, getting rid of two for every new one. Are there any workforce protection regulations you'd like to see repealed? Is there one in particular that needs to be protected?
ES: I believe that the (National Labor Relations Board's) confusing new definition of joint employer will cause great harm to our nation's small businesses. Franchising has helped create hundreds of thousands of businesses that support millions of jobs. We must ensure that actions taken by the federal government find the right balance of helping workers while also protecting the jobs they have.
I am also a strong supporter of Davis-Bacon and Official Time rights, and I will be working to defend these protections for workers.
C&S: New York state has the highest rate of union membership in the country. What perspective do you bring as a New Yorker?
ES: Our region has many manufacturing challenges and strengths that offer a unique perspective that I bring to Congress. For instance, New York's 21st District has a close relationship with our Canadian neighbors, and facilitating a strong trading relationship is a critical asset to our local economy and something I continue to work hard to pursue in Congress.
Workforce development continues to be an issue I hear about from employers in my district and I want to continue to grow our partnerships between local (Boards of Cooperative Educational Service) programs, community colleges and higher education institutions to ensure that we are equipping younger workers with the tools they need to succeed, as well as ensuring our manufacturers have the top talent they need to thrive.
RELATED: How much will the city lose if Trump's budget becomes reality?

Peter Abbate
Chairman, Assembly Committee on Governmental Employees
C&S: A recent report found New York has the highest percentage of union members of any state. Would this benefit New York or what is the downside?
PA: I believe that much of the work that the Assembly and myself have done makes it a good atmosphere for workers to unionize and feel protected in the state. Unions help their members earn higher wages, which can stimulate the economy and help fight against income inequality, which is an issue across the country. Additionally, unions have historically fought for improved safety rules and regulations, resulting in better work conditions and an environment that values the workers.
C&S: What is the current status of New York City Mayor Bill de Blasio's efforts to trim the city's temporary workforce as required by the city's Civil Service Law and what concerns do you have about the seeming lack of progress?
PA: Last year, when Mayor de Blasio asked for an extension to reduce the levels of provisional, or temporary, employees, I was a vocal critic of their lack of transparency during the process. We passed legislation that was signed by the governor last year to give them extra time to get it done, but our issues with their transparency remain. I understand that this is not an easy issue, and certainly one that predates his tenure, but the city needs to be more aggressive and work with the municipal unions and locals that are affected to get the system right with the law.
C&S: Outside of the budget negotiations, what legislation is crucial to public unions for passage this year?
PA: The way the budget is negotiated, as a catchall for all the large items on the session's agenda, there are a lot of important items in the budget that affect New York's unions. But, the work the Governmental Employees Committee (does), which I chair, is also critical. One of the issues I believe is most overdue and pressing is the restoration of the 3/4 Line of Duty disability benefits for our uniformed personnel in New York City. Those who are injured in the line of duty should not have to fight for their full benefits.

I. Daneek Miller
Chairman, New York City Council Committee on Civil Service and Labor
C&S: What issues do you hope your committee takes up and addresses before the end of the term?
DM: My committee will be looking into how we can make sure the city is in compliance with the U.S. Civil Rights Act. The long period of time it takes for residents to learn about their (civil service) test results or being notified of when a promotional exam is occurring cannot continue. We have legislation that will require the Department of Citywide Administrative Services to publish a report every year that shows the race, ethnicity, national origin, gender, job category, initial salary, current salary, date of hire, start date of currently held position, current job title, and hours worked of public employees. It will also show information about promotional exams that have been given.
With the new administration in Washington and Congress threatening to sign national right to work and other anti-labor work legislation, we are seeking to protect the rights of working men and women at the municipal level. With these new challenges, we can no longer live with handshake agreements and instead must make them become policy protected by law. … We will also be examining how proposed cuts to the federal Department of Labor could affect city programs, and what we can do on the municipal level to protect these workers.
C&S: As the city starts to negotiate contracts with municipal unions this year, how, if at all, would you say the larger financial environment has changed, and how might this impact negotiations?
DM: The City Council has successfully negotiated budgets that have saved us a significant amount of money, giving us a cushion if the economy begins to slow down. This occurred in part because of the contributions from unions to the city. Also, the services the municipal unions continue to deliver in the transportation, public safety, health care, and many other sectors, greatly contribute to the overall quality of our lives. It also attracts new residents and businesses, and that certainly has value at the bargaining table.