Not all advocacy groups are cheering city lawmakers' efforts to ease the commercial rent tax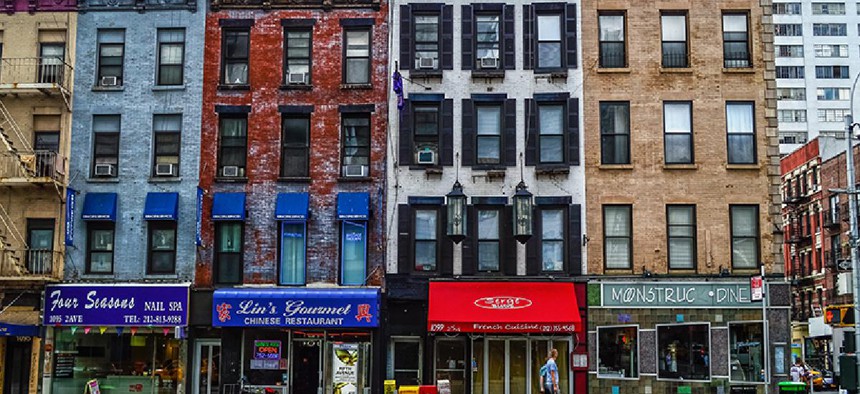 While New York City Councilman Daniel Garodnick's bill to shield more small businesses from Manhattan's commercial rent tax has enjoyed widespread support among lawmakers, some advocacy groups have argued the proposal would offer little to no reprieve from the real issue facing most independent businesses: rising rents.
Kirsten Theodos, who is involved with the Take Back NYC group advocating for mom-and-pop shops, said reducing taxes does nothing to address the escalating commercial rents and landlords' refusal to negotiate lease renewals.
"Eighty percent of the Village has burned down," she said, speaking metaphorically about how she believes the area has lost its independent businesses and character. "The council should be talking about constructive ways to save the remaining 20 percent, and instead they are talking about tax breaks on the ashes."
RELATED: Can the city ease Manhattan's commercial rent tax?
Theodos argues it would be more productive to pass the Small Business Jobs Survival Act, a bill that would give businesses the right to negotiate a 10-year lease extension, with access to non-binding mediation and, as a last resort, binding arbitration. The legislation, sponsored by Councilwoman Annabel Palma, has not moved forward. Some elected officials and the Real Estate Board of New York have questioned whether the city has the authority to enact the measure. But Theodos said she has never seen a memo outlining legal concerns.
Nonetheless, Theodos said she would like to see stalled discussions on any alternatives to the Small Business Jobs and Survival Act move forward. In 2015, City Council Speaker Melissa Mark-Viverito told The Villager, "We want to do an issues-based hearing" and look at legislation related to commercial rent concerns. When asked by City & State about plans for such a hearing, Mark-Viverito's spokeswoman said there was no timeline for scheduling one.
Similarly, Manhattan Borough President Gale Brewer told Town & Village about a year ago that she and the Council's Small Business Committee Chairman, Robert Cornegy, had "imminent" plans to introduce legislation on commercial rent. The paper reported that Brewer's bill would require landlords to go through mediation, and if necessary, non-binding arbitration. If there was no agreement after that, tenants would be entitled to remain in their space for one year, with their rent increased by 15 percent.
The bill has not yet been introduced, but Brewer's spokesman said she is still pursuing it along with other ideas to help small businesses deal with real estate costs. Cornegy's office did not respond to requests for comment.