Lawmakers home in on housing, from Airbnb to property taxes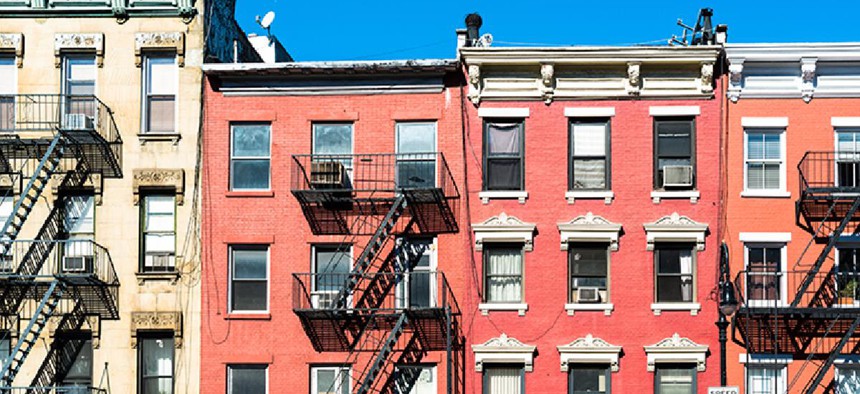 Gov. Andrew Cuomo and New York City Mayor Bill de Blasio have tried to stem the rising tide of homelessness, but housing continues to be a major issue across the state. From Airbnb, property tax reform and the looming federal budget cuts, here is a rundown of some of the measures on the table in the final weeks of the state legislative session.
RELATED: Is affordable housing New York's white whale
Vacation rental websites
Last October, Gov. Andrew Cuomo signed legislation that targeted websites like Airbnb by penalizing residents who rent out their apartments on a short-term basis. Airbnb immediately challenged the law in court, and in Albany this session the company is pushing for legislation sponsored by Brooklyn Assemblyman Joseph Lentol that would create exceptions to allow for more vacation rentals. The Hotel and Motel Trades Council, a union opposed to Airbnb, and its allies launched a counteroffensive against the measure.
Property tax reform
New York City's property tax system has long been criticized as unfair, with lower rates in wealthier areas and higher rates in poorer areas. City officials have pledged to address the matter, but due to the complexity of the tax code and the political risks of changing the status quo, little has been done. State Sen. Betty Little, the Republican chairwoman of the state Senate housing committee, has called for a commission to review and recommend changes to the city's property tax system. Separately, in response to concerns about high property taxes outside of New York City, state Senate Republicans passed legislation that would make the governor's property tax cap permanent.
RELATED: De Blasio the developer
Federal budget cuts
President Donald Trump's proposed budget for 2018, which he rolled out last week, would slash funding for a number of programs, among them public housing. While Congress is expected to ultimately pass a budget with less drastic reductions, New York officials have assailed the cuts, including to the U.S. Department of Housing and Urban Development's Community Development Block Grant program. "This plan would also hollow out the Community Development Block Grant initiative, which funds Meals on Wheels and is critical to many of our communities," warned U.S. Rep. Nydia Velázquez. If the cuts go through, city and state lawmakers will have to explore ways to cover the shortfall.
Affordable housing and homelessness
The 421-a tax abatement program was renewed in the state budget as the Affordable New York housing program. Under it, developers of new residential projects with at least 300 units of affordable housing in certain areas of Manhattan, Brooklyn and Queens that meet construction wage requirements and maintain a set number of affordable rental units for 40 years will qualify for a full property tax abatement for 35 years. For all other affordable developments, eligibility will be tied to the number of affordable units. The Cuomo administration estimates this will create 2,500 affordable units each year. The state budget also allocated $2.5 billion for affordable housing projects, as part of a $20 billion five-year plan. The funding aims to create or preserve 100,000 affordable housing units and 6,000 supportive housing units.