Andrew Cuomo
Charter schools. Republicans love 'em, Democrats hate 'em, right? It's actually much more complicated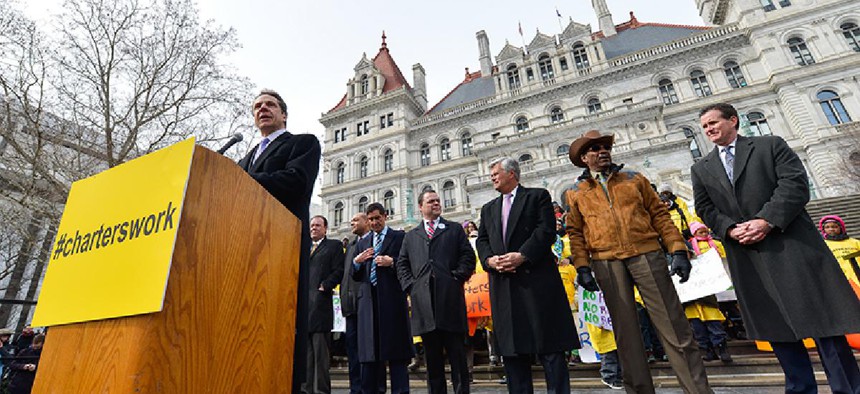 Abortion, gun rights, Beyoncé – Republicans and Democrats are sharply divided on these and many other issues. With Republican state Senate Majority Leader John Flanagan leading the charge to raise the cap on new charter schools in New York City, and Assembly Democrats pushing back, these publicly funded and independently operated schools may seem like a partisan litmus test. But the reality is more complicated.
In New York, almost all Republican elected officials side with charter schools in debates over increasing state aid, giving rent-free space in district-owned schools and raising the state's cap on the total number of charters. This support is often based more in philosophy than the needs of their constituents – charter schools are much more common in urban areas represented by Democrats than they are in the suburban or rural districts more heavily represented by Republicans.
The majority of elected Democrats, however, are wary of charter schools and more likely to support policies that keep charter school funding lower than that of district schools, or to support limits on charter schools using extra space in district schools. But Democratic Assemblywoman Catherine Nolan argues that this understanding is a bit too simplistic.
RELATED: Charter schools vs. mayoral control: will anyone back down?
"I think there are a lot of senators from upstate who are deeply concerned about whether these (charter) schools will cut into their funding streams, so I think there's bipartisan concerns," she said. "And I think there is also an acceptance of them as an alternative for some families." Nolan, who chairs the Assembly Education Committee, said she has two charter schools in her Queens district, and though she "certainly (has) criticisms," she works with the schools, as well as the ones in adjacent districts.
Other Democrats with charters in their districts wholeheartedly embrace them, like Assemblyman Marcos Crespo and state Sen. Rubén Díaz Sr., who represent overlapping districts in the South Bronx. Both have been outspoken advocates for the schools, including the large network of Success Academy Charter Schools, which runs a number of schools in their districts. Success Academy is led by Eva Moskowitz, a former Democratic New York City councilwoman.
Crespo and Díaz appeared alongside Gov. Andrew Cuomo at a March 2014 rally in Albany to support charter schools. With legislation tightly controlled by the majority parties in Albany, it's rare to see individual lawmakers break from the party line on votes. Contentious issues are usually hammered out behind closed doors before agreements are passed unanimously, so appearing at that rally was one of the few high-profile opportunities Democrats had to break with their party's majority and show their support. Cuomo, a pragmatist who hasn't shied away from issues embraced by Republicans, headlined the rally. He was also joined by Republicans Flanagan and then-state Senate Majority Leader Dean Skelos. Democratic Assembly members Luis Sepúlveda, Mark Gjonaj and Crystal Peoples-Stokes also appeared, as well as Democratic state Sen. Jeff Klein.
"It's frustrating to know that we do have the support of a number of folks in the Democratic Assembly caucus but who simply feel politically that it's too risky to support us publicly." – James Merriman, CEO of the New York City Charter School Center
Klein's Independent Democratic Conference, which forms a majority coalition with Republicans, is generally supportive of charters.
Cuomo's charter rally overshadowed a smaller rally hosted by New York City Mayor Bill de Blasio and attended by then-Assembly Speaker Sheldon Silver, who both held more traditional Democratic stances of being tough on charters.
Democrats who back charter schools aren't just risking angering their party – they also risk angering teachers unions like New York State United Teachers.
"They're not shy about saying that they will target those who support charters," said James Merriman, CEO of the New York City Charter School Center.
NYSUT and New York City's United Federation of Teachers are some of the state's biggest political spenders. As the main union for district school teachers, NYSUT generally opposes state funding and support for charters. Democrats who privately support charter schools may have to think twice about speaking out publicly at the risk losing out on the union's campaign donations and votes.
RELATED: Higher education is about to become the next political battlefield
Merriman said that support from Democrats like Cuomo is very important, but "it's equally frustrating to know that we do have the support of a number of folks in the Democratic Assembly caucus but who simply feel politically that it's too risky to support us publicly." Of course, charter schools have campaign money too. Two of the state's biggest individual political donors, hedge fund founder Daniel Loeb and Walmart heiress Alice Walton, are unabashedly pro-charter, and spent heavily to keep state Senate Republicans in power. Loeb is also a big Cuomo backer.
While money can also be used to shape public opinion, most lawmakers may just be reflecting their party's electorate. According to an August 2016 Quinnipiac University poll, 67 percent of Republican respondents in New York City would prefer their kids attend a charter school to a district school, compared to just 45 percent of Democrats. Republicans were also more likely to support increasing the number of charter schools in the city.
Charter schools have been legal in New York state for nearly 20 years. Despite the divide, Nolan thinks members of both parties should be asking questions. "There are almost no charter high schools – what does that mean? Why not? Is it good to have two governance systems?" she asked. "I don't think that's a partisan thing."