Andrew Cuomo
Confronting the growing opioid and gang threats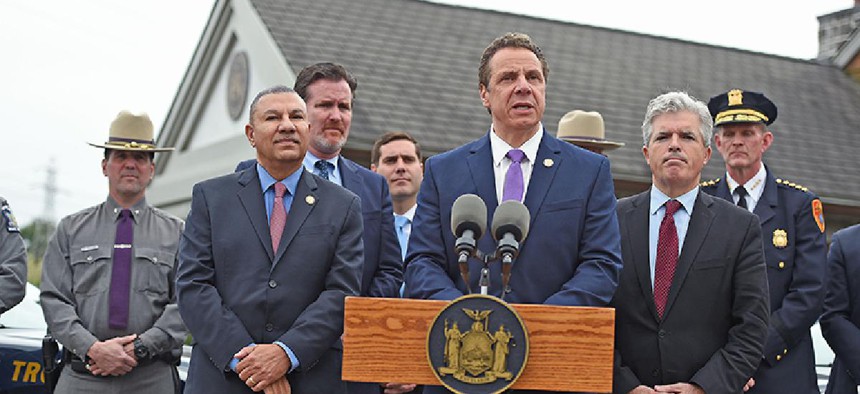 One of the biggest legislative victories for Gov. Andrew Cuomo and Assembly Democrats so far this year is the raising of the age of criminal responsibility to 18. The new law – which was cited as a key source of disagreement that held up state budget talks – leaves North Carolina as the only state that still treats 16- and 17-year-olds as adults in criminal court proceedings.
In the final few weeks of the state legislative session, lawmakers are pushing for further changes to the state's criminal justice policies, including new proposals for responding to the ongoing opioid epidemic, a rising gang threat and a renewed effort to change the statute of limitations for child sexual abuse cases. Here are the highlights.
RELATED: Session countdown 2017
OPIOID ABUSE
While state legislators have already passed laws targeting the rise of opioid abuse in recent years, the problem has persisted. This year, state Senate Republicans passed a new package of legislation, including a bill to add derivatives of the powerful opioid fentanyl to the controlled substances schedule and increase criminal penalties for the sale of an opioid containing fentanyl. Another measure would require hospital and emergency room physicians to notify a patient's health care provider when a patient is being treated for a controlled substance overdose and to log the incident in the Prescription Monitoring Program registry. While Democrats have partnered with Republicans in addressing the matter, there is some disagreement over how punitive the state should be in dealing with drug offenders.
GANG WARFARE
A spate of violent incidents linked to the notorious Salvadoran gang MS-13 has drawn the attention of U.S. Attorney General Jeff Sessions, who responded with a call to combat illegal immigration during a recent speech on Long Island. In Albany, state Senate Republicans have passed legislation that would create a legal definition for criminal street gangs in the state's penal statutes in an effort to combat gang recruitment. However, advocates fear that the changes would criminalize more young African-Americans and Latinos, and Assembly Speaker Carl Heastie has rejected the legislation while arguing that longer prison sentences are the wrong approach.
RELATED: The next city correction commissioner should be an outsider
CHILD VICTIMS ACT
Once again, advocacy groups are pushing the passage of the Child Victims Act, which would make it easier for survivors of rape and sexual assault to file lawsuits. More specifically, the legislation would eliminate the statute of limitations for child sex abuse and allow a one-year period to bring cases tied to past incidents. The bill, which is opposed by the Roman Catholic Church and Boy Scouts of America, has repeatedly failed to pass in previous years, and advocates say the governor has failed to champion the measure.
WHAT GOT DONE
The Raise the Age law, which raises the age of criminal responsibility to 18, will result in 16- and 17-year-olds being referred to family court unless charged with a violent crime. In this year's state budget, $214 million was also included to combat the opioid epidemic by expanding prevention, treatment, recovery and education services. Additionally, $2.2 million was set aside to provide support and protection to domestic violence victims, $2.7 million for Rape Crisis Centers, $1 million to the New York State Police to create a new Hate Crimes Task Force and $2.89 million to support local law enforcement initiatives.