Andrew Cuomo
Seeking buy-in for a 'Buy America' plan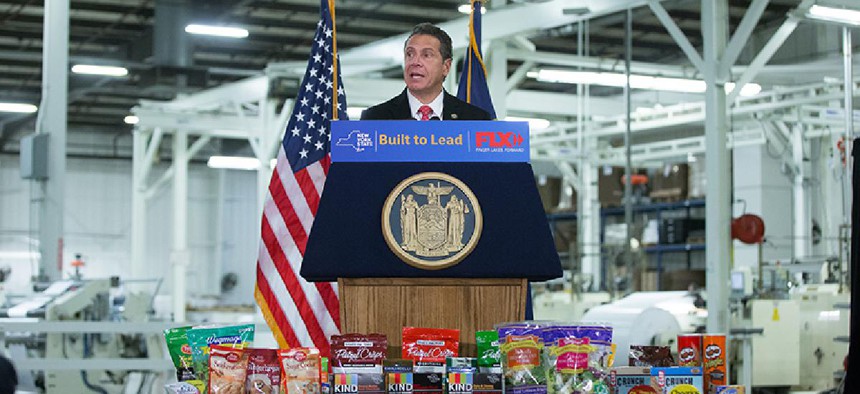 Though it wasn't included in the April state budget deal, backers of legislation aimed at boosting U.S. manufacturing are optimistic that a proposal to encourage the state to give preference to American-made goods will be passed this month as the legislative session winds down.
The "Buy American" proposal, which was part of Gov. Andrew Cuomo's raft of agenda items proposed in January, would require agencies to give more weight to U.S. suppliers on contracts worth more than $100,000. Doing so could boost production upstate where manufacturing represents 1 in 9 jobs, according to Cuomo's office.
"When we buy American, we not only keep our companies and our employees where they belong, but we foster growth and development in leading industries right here at home," Cuomo said at the time.
RELATED: Business continues to embrace the green economy
While his proposal included all goods and products, state legislators have instead focused on iron and steel purchases. A bill sponsored by Assembly Majority Leader Joseph Morelle, a Democrat, has gotten support from several Republicans since it was introduced in January. A similar bill in the state Senate, sponsored by Republican Joseph Robach, is stuck in committee.
While the proposals enjoyed bipartisan support as well as from some labor and business groups, the early proposal stalled because of opposition from international business leaders, who argued that unintended consequences could harm manufacturers and pass more costs onto taxpayers.
"The governor's plan would bar many of these globally-dependent firms from competing for state contracts, despite the fact he's spent six years and billions of tax dollars on attracting them to New York," Nancy McLernon, the president and CEO of the Organization for International Investment, a lobbying group that represents global business interests, wrote in March.
The government of Ontario, which is one of the state's largest trading partners, also lobbied against the measure. It reportedly even drew up plans to retaliate by blocking New York-based businesses from bidding on the province's projects, according to the Globe & Mail.
Morelle, who represents Rochester – a city, like other upstate industrial towns, that has been hit hard by globalization – told City & State that he was still optimistic about his bill's passage. The challenge, he said, was helping American companies and workers without antagonizing international trading partners, and prompting reciprocal biases against New York companies. "There's always concerns about protectionism, but by the same token, we're really anxious to try to encourage more manufacturing, more production in New York and in the United States," he said.
"There's always concerns about protectionism, but by the same token, we're really anxious to try to encourage more manufacturing, more production in New York and in the United States." – Assembly Majority Leader Joseph Morelle
Federal guidelines on buying American products date back roughly 85 years and have been updated over the decades. But Cuomo is springboarding off of a recent political environment which is reacting to low-priced steel from Europe, Russia and especially China, much of which is cheaper than domestic steel, due to massive government subsidies. In April, President Donald Trump signed an executive order directing the federal government to look more at prioritizing American products. And in Texas, legislators are pushing forward legislation that would encourage the state to only buy domestic steel.
The New York chapter of the AFL-CIO, whose members stand to benefit from increased manufacturing, is also backing the legislation. "Our hard-earned tax dollars, as well as our jobs, should not be sent overseas, particularly when we have the best skilled workers in the world ready to do the job," Mario Cilento, president of the New York State AFL-CIO, said in a statement to City & State.
A spokeswoman for Cuomo said he "continues to aggressively pursue" the legislation this session. And now that legislators have limited the preferential treatment to just steel and iron, backers say there's enough support to carry the proposal past the finish line.
"If it gets too expansive then it really ends up not really being able to be enacted, but more importantly it becomes almost impossible to enforce," Morelle said, noting the potential for harming some New York-based companies that use parts from other countries. But he said manufacturing was a good place to put New Yorkers back to work. "This is a pretty simple concept," he said. "What's not easy is making sure that we don't do anything that comes back to harm us or that that works against what our public policy interest is."
RELATED: Making Triangle Shirtwaist matter to millennials
Working it out
FARMWORKER RIGHTS
Democratic lawmakers in Albany are continuing to push for passage of the Farmworkers Fair Labor Practices Act, which would grant farm laborers the right to collectively bargain, give them at least one day off a week and qualify them for additional wage protections. However, the proposed legislation is opposed by the New York Farm Bureau and has stalled in recent years. Meanwhile, the New York Civil Liberties Union has taken the matter to court, and Gov. Andrew Cuomo's administration said it would not fight the challenge to the current law.
EMPLOYEE-OWNED BUSINESSES
State Senate Democrats recently introduced legislation that would encourage employee ownership of small businesses and support worker cooperatives. The bill, sponsored by state Sen. Jamaal Bailey, would revive a defunct state lending program and create a center for employee ownership housed within the State University of New York. The bill's backers have touted strong job growth for employee-owned businesses, and are promoting the legislation as a way to generate new jobs.
WHAT GOT DONE
Lawmakers agreed to a compromise on workers' compensation reform, which was one of the bigger policy measures included in the state budget. The changes include the right for severely injured workers to be considered for lifetime benefits, and projected savings for employers, according to the Cuomo administration. The state budget also included a 6.5 percent raise over the next two years for direct care professionals and a measure making union dues fully deductible from state taxes.