MTA
Could congestion pricing save the subway?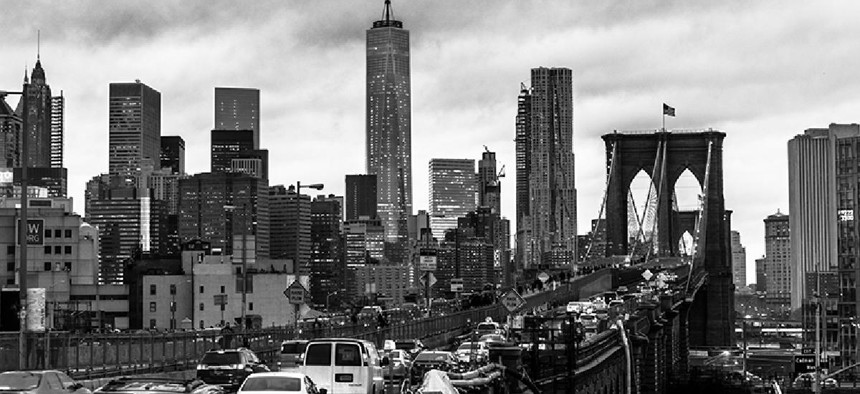 It was like a scene from a dystopian movie: Several sets of clammy hands trying desperately to open the foggy doors of a stranded subway car. One passenger wrote in the door's steamy window, "I will survive!"
The passengers, stuck underground with minimal information on a Brooklyn-bound F train in June, experienced one of the most jarring examples of the New York City subway's decline in recent years. Derailments and stalled trains have turned what should be an uneventful, daily commute into a test of endurance for New York City straphangers.
Nightmarish memories of "the bad old days" from the the 1970s and '80s are coming back as subway ridership declined last year for the first time since 2009.
The public has demanded action from elected officials, but New York's famously feuding mayor and governor are engaged in more of a political death match than actual problem-solving.
As the executives battle it out, the Metropolitan Transportation Authority, effectively controlled by Gov. Andrew Cuomo, is left lurching from one operational crisis to the next after years of deferred maintenance.
RELATED: Throwing more money at the MTA won't solve anything
Meanwhile, Manhattan's above-ground congestion is once again on the rise. Lately, researchers have begun pointing to ride-hailing services as one of the big culprits behind worsening gridlock – after all, it's easy for Manhattanites to summon an Uber when trains are on the fritz. But Mayor Bill de Blasio, who controls city streets, lost a bruising battle with Uber over congestion in the first half of his term.
The million-dollar question is: How can it all be fixed?
For years, transit advocates have pointed to congestion pricing as a two-for-one solution: Motorists, including taxi and Uber passengers, would pay more to drive in the congested heart of Manhattan. The money would be used to improve and expand the city's mass transit system, so fewer people would feel the need to use a car.
To many of its supporters, congestion pricing is such an obvious solution that they describe it as inevitable. But since Cuomo and de Blasio took office, the rancorous pair have been united in their disinterest, even as the subway falls apart on a near-daily basis.
"It's a nice idea, but it's been talked about for years, and it was very controversial and didn't go anywhere," Cuomo said in late June. "I don't see any change in the political appetite."
De Blasio had echoed that sentiment a few weeks earlier. "There's not been any consideration of congestion pricing, so long as the current political alignment in Albany exists," de Blasio said. "That is a hard reality, so I'm not putting time and energy into something that's not going to happen."
For now, this policy is dead on arrival. What happened? Can the growing pressure to fix the subways convince the mayor and governor to reverse course? And is congestion pricing even the right fix for New York City's transportation problems?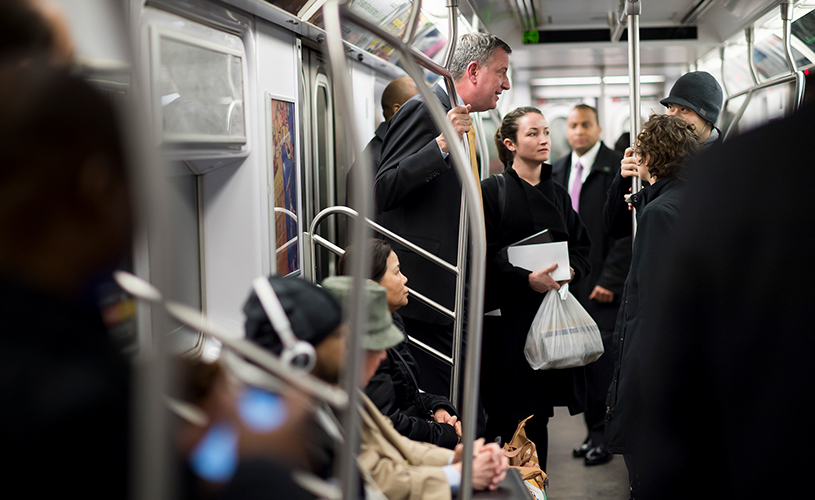 New York City Mayor Bill de Blasio rides subway to an evening event in midtown Manhattan. (Rob Bennett / Office of Mayor Bill de Blasio)
Before thinking about the future, it's important to understand the history of congestion pricing. Ever since the city removed tolls from its East River crossings in 1911, various mayors and advocates have tried to bring them back, only to be shot down, usually by officials responding to outer-borough drivers.
"Politically that's a no-no, apparently," said former MTA Chairman Richard Ravitch. "Politicians that represent constituencies that like to drive over the Manhattan, Williamsburg and 59th Street (Queensboro) bridges don't like to have their constituents have to pay to do it."
The first mayor to embrace tolls as a way to not just raise revenue, but to also reduce congestion and improve air quality, was John Lindsay, who, in 1973, included tolls on the Harlem River and East River bridges in the city's Clean Air Act compliance plan.
Lindsay's proposal gained the support of Gov. Nelson Rockefeller, but it was undone when U.S. Sen. Daniel Patrick Moynihan and Rep. Elizabeth Holtzman amended the Clean Air Act in 1977, allowing their Brooklyn-bred successors, Mayor Abraham Beame and Gov. Hugh Carey, to remove the tolls from the city's air quality plan.
"That's the closest we ever got to congestion pricing in New York City," said Sam Schwartz, who was a junior engineer in the city's traffic department at the time.
Bridge tolls came up again under Mayor Ed Koch, when Schwartz served as as a top transportation official, and during the David Dinkins administration, when a mayoral adviser named Janette Sadik-Khan pushed for them. But the idea failed to gain traction, and went into hibernation during Rudy Giuliani's two terms as mayor. In 2002, Mayor Michael Bloomberg proposed bridge tolls to patch a tight budget, but the idea was soon abandoned.
"One of the biggest stumbling blocks I see is when I meet an elected official who drives into Manhattan with a parking placard." – Sam Schwartz, former New York City Traffic Commissioner
The idea of a more comprehensive congestion pricing plan gained steam with the proliferation of E-ZPass and advanced camera technology. London introduced its congestion charge in 2003, and Stockholm followed suit in 2006. A coalition of environmental, transportation and business groups pushed the idea for New York, and it became the headline policy of Bloomberg's PlaNYC environmental initiative in 2007. But the concept almost didn't make it into the mayor's program.
"It was a very last-minute decision," said Bruce Schaller, who was hired that spring to oversee the city transportation department's planning and sustainability initiatives. "There was a lot of internal debate within the administration about whether this was a worthwhile way to spend capital."
Months before unveiling his congestion pricing plan, Bloomberg said the idea would be a "nonstarter" in Albany. But after announcing the plan on Earth Day as the marquee policy of his environmental agenda, he appointed Sadik-Khan as his transportation commissioner and took the proposal to Albany.
Bloomberg had support from Gov. Eliot Spitzer and the MTA, and his significant campaign donations got him a warm reception in the Republican-controlled state Senate. In the New York City Council, Speaker Christine Quinn secured a 30-20 vote for congestion pricing. (Among the "no" votes was then-City Councilman Bill de Blasio.)
RELATED: As trains break down, lawmakers are yet to arrive at fixes
But things ultimately ran aground in the Assembly. Speaker Sheldon Silver's Democratic caucus was split on congestion pricing, and many Brooklyn and Queens members chafed at the idea, seeing Bloomberg's plan as elitist.
"It says if you're rich enough, you can come into Manhattan. And if you're not rich enough, you can't," said Richard Brodsky, who was an assemblyman from Westchester County at the time. "It's Bloomberg-era nonsense." Brodsky was one of two "no" votes, both appointed by Silver, on the state's 17-member commission to modify Bloomberg's plan.
Advocates put out fact sheets showing that middle-income New Yorkers who depend on mass transit would benefit from the improvements paid for by wealthier commuters who drive into Manhattan. But in part because the idea came from the billionaire mayor and focused on Manhattan, the elitist public image of congestion pricing had already been established.
A last-minute congestion pricing endorsement from Gov. David Paterson, who had taken over after Spitzer's resignation, failed to sway Silver. With a divided caucus, the speaker declined to call a vote on the plan. Congestion pricing died in April 2008, just over a year after it was announced, and $354 million the federal government had set aside for New York's program went to other cities.
But the MTA was left with a funding gap for its capital plan and a growing operational deficit that would only worsen during the coming economic crisis. Two months after congestion pricing's defeat, Paterson tasked Ravitch, whom he would later tap as lieutenant governor, with leading a commission to identify new MTA funding sources.
"If you're rich enough you can come into Manhattan and if you're not rich enough, you can't. It's Bloomberg-era nonsense." – former Assemblyman Richard Brodsky
Some of Ravitch's recommendations became reality, such as a 50-cent taxi fee, a new payroll tax and biennial toll and fare hikes. But the proposal for tolls on the East River and Harlem River bridges fell victim to four state senators who held the balance of power in the newly Democratic chamber: Ruben Diaz Sr. and Pedro Espada of the Bronx, Carl Kruger of Brooklyn and Hiram Monserrate of Queens.
"They were crooks," Ravitch said. Indeed, Kruger, Monserrate and Espada, who served as majority leader, all later went to jail for corruption. (Diaz is now looking to return to his old City Council seat.)
To transit advocates, the "gang of four" exemplify the worst of New York politics, and not just for their self-dealing. "One of the biggest stumbling blocks I see is when I meet an elected official who drives into Manhattan with a parking placard," Schwartz said.
Kate Slevin, vice president of state programs and advocacy at the Regional Plan Association, tried to bolster support for congestion pricing when she led Tri-State Transportation Campaign during the Bloomberg era. "A lot of elected officials drive around the city," she said. "They don't know that most New Yorkers are on public transportation."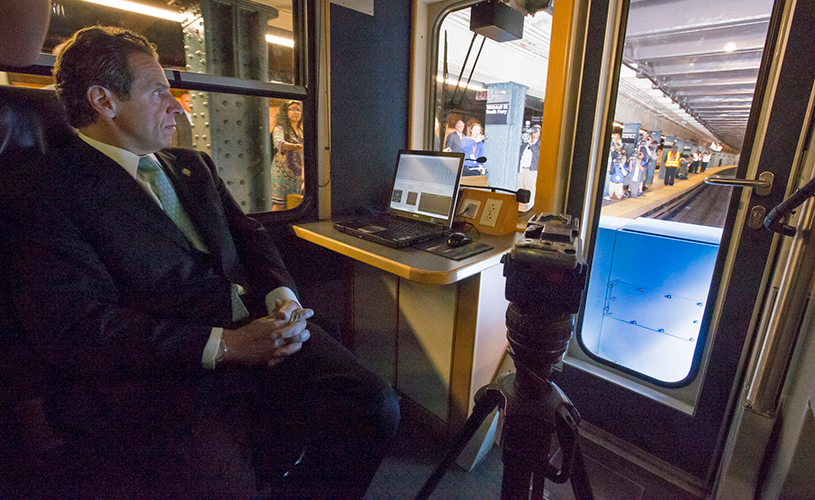 Gov. Andrew Cuomo tours the Montague Tunnel prior to the reopening of the Whitehall Street Subway Station after Superstorm Sandy. (Philip Kamrass / Office of the Governor)
As congestion pricing and bridge toll proposals over the years were scuttled by outer-borough politicians, Schwartz began talking about how to craft a plan that could gain their support.
He was convinced that congestion pricing should be paired with a "toll swap" that reduced fees on outlying bridges like the Verrazano-Narrows, Bronx-Whitestone and Throgs Neck. Starting in 2011, Schwartz began devoting time and money to fleshing out the concept. By then, the political landscape had shifted: Bridge tolls were no longer on Albany's agenda, Republicans had regained the state Senate, self-professed "car guy" Andrew Cuomo had become governor and people were beginning to think about what a post-Bloomberg city would look like.
Schwartz connected with transportation economist Charles Komanoff and environmentalist Alex Matthiessen, who were working on a different congestion pricing plan. The team made the rounds to transit advocates, community groups and elected officials seeking feedback and support.
The plan they developed, called Move NY, would raise $1.3 billion a year for transit by charging $5.54 to drive below 60th Street and cross the currently toll-free East River bridges while also levying new fees on taxi and for-hire trips in the center of the city. Drivers on seven MTA-controlled spans would see toll cuts of 30 to 40 percent. Since its release in early 2015, the plan has garnered endorsements from legislators, unions, business groups, transportation advocates and editorial boards.
Congestion pricing skeptics like then-City Councilman Mark Weprin and state Sen. Jose Peralta came out in support. The Daily News and The New York Times were on board. So were the Transit Workers Union Local 100, 32BJ Service Employees International Union and the City Council's progressive caucus. Even Uber began making positive indications about supporting this type of road pricing. Legislation modeled on Schwartz's proposal was introduced by state Sen. Andrew Lanza, a Staten Island Republican, and Assemblyman Robert Rodriguez, a Democrat representing East Harlem. Move NY organizers hoped the early support could encourage the mayor or the governor, their ideal champion, to take the leap.
RELATED: This city needs Fair Fares now more than ever
Ultimately, neither executive embraced the plan. Both have portrayed it as a political impossibility, exasperating Move NY advocates.
"There's this terrible Catch-22 where the legislators are looking at the governor, and meanwhile, you've got a governor who's not seeing the requisite support in the Assembly and Senate for him to stick his neck out," said Komanoff, who now serves an adviser to Move NY. "It's a very frustrating situation."
Schwartz echoed Komanoff's complaints. "I don't understand elected officials who say, 'There isn't the political appetite.' Isn't that what they're in the business for?" he asked. "It strikes me as odd when politicians use politics as the reason to not do it."
Frustrated with the lack of action at the state level, Move NY unveiled a "home rule" option in early June. Toll reductions on outlying bridges wouldn't be feasible without the state's cooperation, but the city could go it alone and enact a toll to drive below 60th Street, Move NY said.
Conventional wisdom holds that congestion pricing is up to Albany, but the city could move forward on its own because of a 1957 state law that allows it to implement tolls on roads and bridges, according to a legal analysis by New York University law professor Roderick M. Hills, Jr.
"Many attorneys over a number of administrations have looked at this question very carefully," city Transportation Commissioner Polly Trottenberg said at a City Council hearing on congestion in early June. "And I think we have all determined that the city doesn't have that legal authority. We need to get that authority from the state."
In the unlikely event that de Blasio and the City Council embark upon a Manhattan-only toll program, it would almost certainly be a candidate for pre-emption by the state Legislature.
"There's this old mythology of Rockefeller and Ravitch and others going down into the tunnels and showing their business cohort the deterioration first-hand. We need that moment again." – Paul Steely White, Transportation Alternatives executive director
Albany has shown little hesitation to bigfoot the city, most recently on a plastic bag fee that was passed by the City Council and signed by de Blasio, only to be reversed after Cuomo and the state Legislature overturned the fee.
Plus, there is no shortage of toll opponents in Albany. "I don't think the answer is to charge tolls on the free bridges," Assemblyman David Weprin said. "There are a lot of small businesses and people from Queens, Brooklyn and Long Island that rely on the free bridges."
If the goal is to raise funds for the MTA, there are alternatives to congestion pricing on the table. Weprin has long wanted to restore the commuter tax and offer a rebate to New York state residents. State Sen. Michael Gianaris proposed an income tax surcharge on millionaires. Brodsky and Empire Center for Public Policy research director E.J. McMahon want to redirect bank settlement funds to the MTA. Then there are sales tax and gas tax proposals. Each has its pluses and minuses, but as with congestion pricing, none of these solutions have gained Cuomo's support.
"Ultimately, the governor is going to have to weigh in about how he's going to pay for the things we're going to need," said Rodriguez, the sponsor of the Move NY bill in the Assembly. "Thus far, he's not saying how he's paying for it, other than loading on more debt."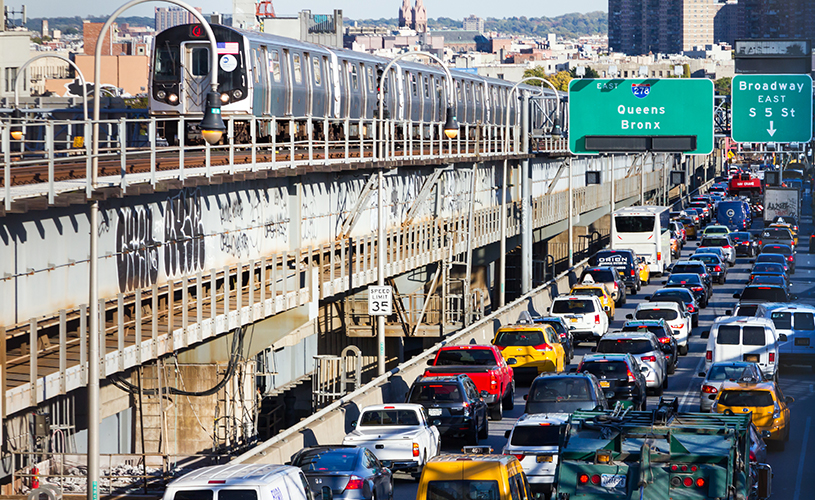 Traffic on the Williamsburg Bridge. (Ryan DeBerardinis / Shutterstock)
But there's a strong argument that today's subway problems are caused by operational missteps and decades of bad decisions, not a lack of money at an authority known for its sky-high costs. Even some congestion pricing supporters say it might not be the right solution to the subway's woes.
"The framing of the question right now has been much more about management than it has been about money. And that's appropriate, given the facts on the ground," said Schaller. "I spent my afternoons, evenings and weekends on congestion pricing. It's not like I don't have a lot of investment in it. But there's a time to move on."
Matthiessen insists the MTA needs both new revenue and a new way of doing business, and congestion pricing should be part of the solution. "They're not in conflict," he said. "I would condition the awarding of new money to the MTA on them undergoing some significant reforms."
Veronica Vanterpool, executive director of Tri-State Transportation Campaign and a de Blasio appointee to the MTA board, said fundamental changes in how the MTA works are badly needed. "But institutional fixes are not going to find the amount of revenue that's necessary to fix the system," she said. "They have to be coupled together."
Before fixes can even be considered, Ravitch said, the MTA needs to do an accurate assessment of its maintenance and operational needs, directed by a truly independent board that's not simply following orders from the governor.
"How do you know what should be spent? How do you know how much money you need? Nobody's asking the right questions," he said. "The failure of the MTA to maintain a state of good repair is the responsibility of the board."
"I'm somewhat baffled that neither the mayor nor the governor have taken this up at this point. They could be a hero." – Kate Slevin, Regional Plan Association vice president of state programs and advocacy
All eyes are on Joe Lhota, newly reappointed to lead the MTA as its chairman. He's offered an action plan to fix the subways, along with a price tag – $836 million in the short term, followed by an additional $8 billion in the next capital plan. But he's also seeding doubt that the MTA's leadership will act independently from Cuomo; at a July press conference, Lhota forcefully echoed the governor's line that the city is responsible for funding the subways.
Cuomo is known to use a strong hand at the MTA when it's politically advantageous, taking credit for the New Year'sopening of the Second Avenue subway and directing the authority's board to lower tolls for Staten Island residents during an election year, fast-track his plan to replace toll booths withcashless tolls, and approve the installation of LED lights on its bridges.
But as the subways are falling apart, Cuomo attempted a disappearing act in June, when he said he had no control over the authority. Editorial boards and advocates, led by Riders Alliance – which at one point created a cardboard cutout of the governor so straphangers could vent their frustrations – kept the focus on Cuomo.
His recent attempts to point the finger at the city notwithstanding, Cuomo has responded to this pressure - though advocates are less than inspired by his genius grant competition and ephemeral promises of more funding for the MTA.
Where things go from here is anybody's guess.
When Ravitch led the MTA in the 1980s, the city's business titans were key to building support for fixing the subways, but that force is missing today. "They became big advocates of enacting taxes in Albany to support the MTA," he said. "Different era, different kind of people in the business community, I guess."
Transportation Alternatives executive director Paul Steely White also wants a more vocal business leadership. "There's this old mythology of Rockefeller and Ravitch and others going down into the tunnels and showing their business cohort the deterioration firsthand," he said. "We need that moment again, when there's a new coalition of businesses. A whole flock of private sector interests are still on the sidelines. I'm talking about tech, primarily, but there are others. They need to be activated. They need to be politicized around this issue because right now a lot of their employees are up in arms."
RELATED: The slow crawl to move New York transit into the 21st century
Continued deterioration in subway service could force Cuomo's hand, bringing him to endorse something like congestion pricing if the political costs of not doing so become untenable. The governor's approval rating is already starting to dip as voters give him poor grades on his handling of the MTA.
"I strongly suspect that there has to be a complete level of rage from the transit-riding public in order to make this happen. Maybe we're approaching that," said John Kaehny, executive director of government transparency watchdog Reinvent Albany. "We've got the crisis because the MTA is in crisis, but we don't have the champion."
Until that champion steps forward, people advocating for change like Slevin are frustrated by de Blasio and Cuomo. "I'm somewhat baffled by the fact that neither the mayor nor the governor have taken this up at this point, given the daily experience of riders throughout the region," she said. "They could be a hero and show that they are going to be a leader that fixes the subway, fixes the bus system, fixes the commuter rail system."
Without a state or city executive that embraces congestion pricing, Move NY proponents are fed up.
"Sometimes you've got all the right ingredients – you've got funders, you've got polling showing New Yorkers support it, you've got editorial boards, you've got elected officials – and yet if you don't have the governor and the mayor, it makes it hard to do something like this. But that doesn't mean there's not huge value in seeding the ground," Matthiessen said. "We've done everything we need to do."
Stephen Miller is a freelance journalist covering transportation.