Matthew Driscoll
DOT chief talks transit, Penn Station as summer of hell begins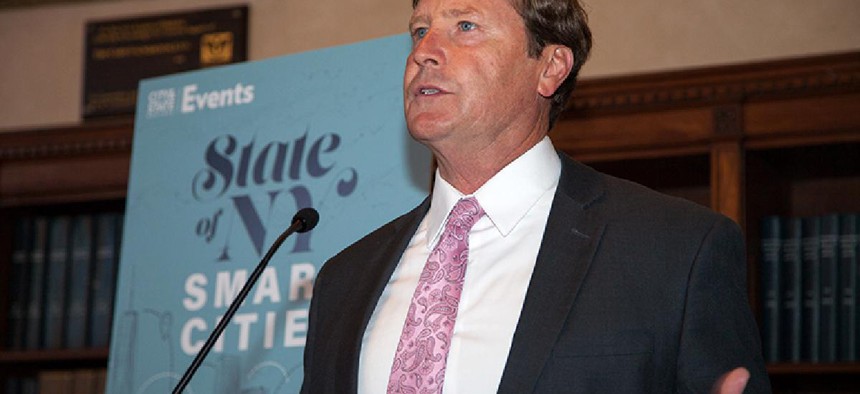 With the "summer of hell" upon us, New York's top transportation official joined other stakeholders from the public and private sectors for some straight talk on transit infrastructure Thursday morning at City & State's State of NY Smart Cities forum.
Matthew Driscoll, commissioner of the state Department of Transportation, keynoted the event at the New York Academy of Medicine in Manhattan. Just days after planned track maintenance started limiting trains at Penn Station, the MTA was naturally the subject of both discussion and criticism. Saying Amtrak should bear the brunt of the blame for the massive interruption in service, Driscoll also called on Washington to boost funding for New York City transportation, particularly at Penn Station.
"The federal government really needs to step up and recognize, that, while I understand and we all know that it is in the midst of midtown Manhattan, it is not a local New Yorker, New Jersey commuter issue" he said. "Penn Station is a regional transportation hub."
RELATED: After weeks of delays, LIRR will get its third track
Driscoll assured the attendees that the department was doing everything in its power to facilitate painless transportation throughout the region, including increasing the number of emergency patrol vehicles on the roads, as well as highway maintenance crews. Driscoll also lauded the development and implementation of the state's Pedestrian Safety Action Plan, a $110 million plan to prevent pedestrian accidents. He also highlighted the dangers of the "new normal" of  "more frequent and extreme weather events," invoking memories of Superstorm Sandy, which damaged many of the state's transportation systems.
Throughout the day, panelists gave different solutions to improving transportation in New York City. MTA Deputy Chief Information Officer Daniel Queally emphasized the importance of upgrading the signal system for the subways, but cited the "hugely expensive" cost as the primary reason why the task continues to stall.
RELATED: This city needs Fair Fares now more than ever
New York City Councilman Dan Garodnick did not hold back on his feelings about the current state of transportation, which he regarded as a "crisis," and described traffic congestion in the city as "unbelievably bad." Garodnick cited congestion pricing, an incentive-based system in which drivers would be rewarded or fined respectively for whether or not they carpool in the city, as one fix for crowded streets.
All the panelists seemed to be in agreement that the city of 8.5 million people faces considerable challenges in maintaining and updating its transportation system and infrastructure. As Cordell Schachter, chief technology officer of the New York City Department of Transportation said, "we are victims of our own success … we need to be creative in finding solutions."