MTA
From Gateway to the subway, transportation officials talk solutions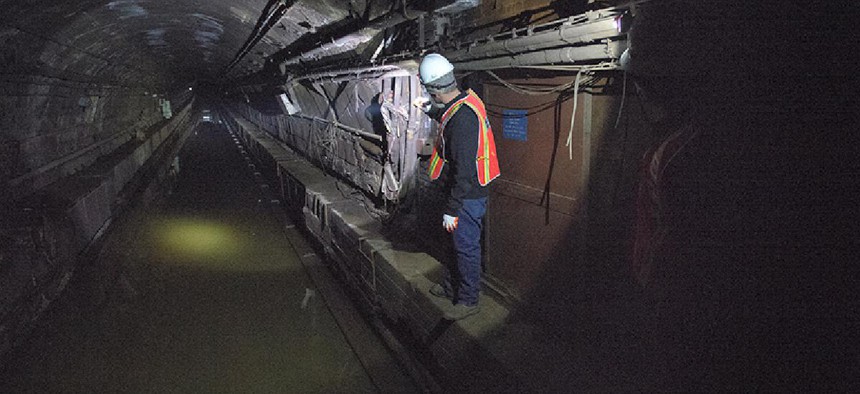 The deterioration of the New York City subway system is a failure of political leadership that spans decades. Beginning with Robert Moses blocking the Second Avenue subway and culminating in Gov. Andrew Cuomo draining a whopping $450 million from the MTA budget in his six years as governor, New York's leaders have consistently raided or withheld funding for capital projects from the city's mass transit system.
In the following interviews with state transportation leaders – New York City Department of Transportation Commissioner Polly Trottenberg; John D. Porcari, the interim executive director for the Gateway Program Development Corporation; Assembly Committee on Corporations, Authorities and Commissions Chairman Jeffrey Dinowitz and New York City Council Transportation Committee Chairman Ydanis Rodríguez – we look at some of the possible solutions you might have missed while Cuomo and New York City Mayor Bill de Blasio have been passing the buck.
RELATED: Could congestion pricing save the subway?

John D. Porcari
Interim Executive Director, Gateway Program Development Corporation
C&S: The Gateway Program has been deemed one of the most essential infrastructure projects in the U.S. right now. Can you explain what it is?
JP: Gateway is a program of projects. It's multiple projects that will eliminate a single point of failure for 10 percent of America's GDP. That single point of failure is a 106-year-old bridge and a 106-year-old tunnel under the Hudson River. They carry about 200,000 people a day on 450 trains. It's the economic lifeline for the New York metro area. Gateway will replace a bridge and a tunnel that were carrying passengers while the Titanic was still under construction.
C&S: What's the current status of the Gateway Program?
JP: The first project in this program of projects is called the Portal North Bridge, which is a new bridge over the Hackensack River. It's 100 percent designed, 100 percent permitted and ready to go to construction. It's lacking only the federal funding commitment. The local half is in place. The House is proposing funding for the bridge and I'm confident the merits should speak for themselves. The bridge is the one that will go to construction immediately and the tunnel is not far behind.
C&S: So why is this so important? Why should people care?
JP: It goes directly to the economic vibrancy of not just the New York metro area, but really the whole nation. This is a project of national significance because the economy nationwide is intertwined and every region depends on other regions. With New York as the financial center of the United States, and in fact the world, it is an essential project. The merits of the project are overwhelming. We cannot allow a tunnel and a bridge that were built by our great-grandparents to be a single point of failure for such an important part of our economy.
RELATED: MTA on-time performance has dropped since Cuomo took office

Polly Trottenberg
Commissioner, New York City Department of Transportation
C&S: What's your opinion on all the commotion surrounding the Metropolitan Transportation Authority and New York City's subway system?
PT: I think the city welcomes the appointment of Joe Lhota as the new chair of the MTA. Joe is undertaking both a 30-day organizational review and then a bigger 60-day look at some of the deeper questions about what needs to be done to make some dramatic improvements to the subway system. We look forward to participating in those studies and doing what we can to help once the MTA puts some good solutions on the table.
C&S: What's your top priority as commissioner right now?
PT: I'll give you two answers to that. We obviously want to see better subway service. But we also want to be part of helping to find the solution. Obviously, New York City transit riders are not having a good summer and we think there are a lot of things that can be done there to make service improvements. On the New York City Department of Transportation side, as I mentioned, we have our own things that the city owns and operates and can do to improve mobility in the city. Working with the MTA on rolling out more select bus service lines, on expanding Citi Bike and our bike lane network and the citywide ferry service. We're also rolling out this summer a car-share pilot. I always do want to say when we talk about our priorities, obviously for us, roadway safety and Vision Zero is kind of the overlay of everything we're doing.
C&S: There was a bit of some bad press regarding the citywide ferry service. How do you think it's been going?
PT: I think we've been a victim of our own success. I think the good news is, people were so enthusiastic and ridership has been so strong, so there were definitely some crowds, but I think that's actually not a bad problem to have and the Economic Development Corporation really runs that service. I think they've responded very quickly. They've been running extra trips, particularly on weekends where obviously we've seen big demands. They're ordering larger vessels, so we're quickly making adjustments to accommodate what I actually think has been tremendously successful. I have to say, just in my travels around the city, I've gotten a huge positive response from everybody I talk to. And having ridden the new ferry service myself, it's pretty terrific.
RELATED: Throwing more money at the MTA won't solve anything

Jeffrey Dinowitz
Chairman, Assembly Committee on Corporations, Authorities and Commissions
C&S: You recently introduced a new bill to the Assembly. What does the bill do?
JD: It earmarks specific percentages from the state income tax in successive years in the budget. It would be half a percent next year followed by 1, 1.5, and then 2 starting in 2021. This money will go to transit so we have a guaranteed source of revenue. And the money will be distributed throughout the state – it's not just focused on New York City or the MTA. The bill would generate $700 million that, after the MTA would be able to bond out some of the money, it would translate into $9 billion. So there would be money for upstate transit systems and upstate roads, but the point is to guarantee that there would be money for mass transit in particular.
C&S: Is there support for the bill in the Assembly?
JD: Well, the bill was just introduced and we're going to be soliciting sponsors. I suspect there will be significant support, but I can't tell you that right now. I am confident that there will be a lot of support. There are some people who may say they don't believe in earmarking money because it ties our hands and takes away our flexibility. And maybe that's not so wrong in theory, but in fact not earmarking money has resulted in a massive underfunding of our needs.
C&S: Will this bill only help people who ride the subways?
JD: No. We all have a stake in making sure we have a great school system. We all have a stake in making sure that certain other things that we don't use work properly. One of those things is the buses and subways, even if you don't personally use them. We have a massive stake in them. If the system collapses that will have a devastating effect on our economy and we just cannot let that happen.
RELATED: As trains break down, lawmakers are yet to arrive at fixes

Ydanis Rodríguez
Chairman, New York City Council Transportation Committee
C&S: Is there any city legislation you'd like to see passed that can improve the issues surrounding the Metropolitan Transportation Authority?
YR: The speaker of the council, Melissa Mark-Viverito, we both agree that we are going to putting a hearing together. Right now, we are working with the members of the transportation committee putting all their ideas together so that when we call for a hearing, we will bring our colleagues on the council and the voices from the MTA and stakeholders to come together and bring potential suggestions on how we can take the MTA to a better place.
C&S: What are your top priorities as chairman of the transportation committee?
YR: I believe that it is our responsibility to have a more permanent plan on how we can raise the revenue for the MTA. I believe that we should explore the possibilities to ask the state to increase the mobility tax and that money to be used exclusively for New York City Transit. But I also believe that we should speak to legislators from Albany, Long Island, Westchester and Connecticut and build their support to raise the commuter tax.
C&S: What are your opinions on the "summer of hell"? How do you think it's been going so far?
YR: It affects not only New Yorkers, but also many tourists and residents of Long Island. The reason why we're dealing with this situation is because the repair (work) for Amtrak is overdue. So what I hope is to see more resources coming from the federal government and for Amtrak also to have a better plan on how to make all those repairs and reduce the levels of the impact that it has on New Yorkers and tourists.
C&S: What can New Yorkers do?
YR: First of all, we need to continue to increase the voices of New Yorkers to be part of the solution for the MTA. My suggestion is to want to be part of the solution, to come up with ideas and suggestions. I think we should also demand a better system of transparency when it comes to having that road of communication with the MTA.