Liz Krueger
How to reform Albany without a constitutional convention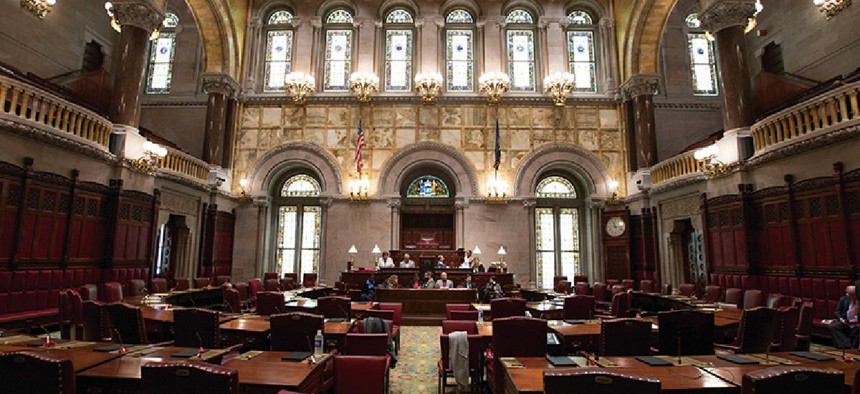 The legacies of former Senate Majority Leader Dean Skelos and former Assembly Speaker Sheldon Silver cast a pall over the Capitol. Both had their corruption charges vacated this year, but prosecutors have pledged to bring both cases before juries once again.
"There are four high-profile corruption trials coming in 2018 – the time for sweeping reforms is long overdue," said Assembly Minority Leader Brian Kolb, who had supported a constitutional convention as a method to achieve this reform. On Election Day, a ballot proposal to hold a convention was easily defeated, with over 77 percent of voters choosing "no," leaving the Legislature as the best – and perhaps only – vehicle for institutional reform.
RELATED: New York's 2017 ballot proposal results
While lawmakers list ethics reform as a priority, it is often not meaningfully addressed in practice. Even after a watered-down ethics bill passed in the state Legislature in 2016, the issue was hardly touched in the 2017 session.
In June, a procurement reform proposal, which would have established independent oversight over state contracts, was opposed by Gov. Andrew Cuomo, and ultimately dropped from the docket. The special legislative session called in July did not broach the topic. For reform-minded lawmakers, the lack of progress is galling.
"I think ultimately the Legislature is never going to be interested in tightening rules around itself," said Democratic state Sen. Liz Krueger. This view is shared by Kolb.
"The problem with Albany is everything is controlled by the legislative leaders and the governor, and then the rank and file, quite frankly, have been reluctant to take on their leadership in terms of promoting change and asking for things to be different," Kolb said.
"There are four high-profile corruption trials coming in 2018 – the time for sweeping reforms is long overdue." – Assembly Minority Leader Brian Kolb
Both Kolb and Krueger, who separately described themselves as people who see the world with the "glass half full," believe that it is necessary to tackle ethics reform, but are unsure if the topic will be approached in the 2018 legislative session. Both also supported holding the constitutional convention as a way to circumvent legislative gridlock and ensure reform.
"I am very disappointed voters did not seem to understand that a yes vote for a constitutional convention was a once-in-a-generation opportunity to make the changes in New York's government that they tell me they want changed," Krueger said. She noted that many of the groups who opposed a convention "spent a fortune on campaigns urging people to vote no," and she will look to see if they spend as much money on ensuring reform occurs during the 2018 session. Kolb also noted the heavy spending in the constitutional convention campaign, saying that ultimately "fear won out over hope."
RELATED: On ethics, lawmakers stopped faking it last year
Kolb said that it is unclear if existing reform bills will be taken up by Assembly leadership. He mentioned a proposal he introduced that would prohibit legislators in leadership positions from taking an outside income, and the Public Officers Accountability Act, which would institute measures such as term limits and member item reform. But he said that the Democratic majority in the Assembly would be responsible for bringing these proposals to the floor – and up to Republican leadership in the Senate and the governor to continue the process of reform.
"That's our job in the minority, to push things that the majorities and the governor haven't been willing to do, and also support the things that we agree with," Kolb said. "It's just a matter of trying to get the folks that are controlling the legislative process in Albany to do something."
"Voters did not seem to understand that a yes vote for a constitutional convention was a once-in-a-generation opportunity." – state Sen. Liz Krueger
Krueger said that Senate Democrats also have reform bills which they support, but acknowledged there was a difference between supporting bills and seeing them passed. She also said Cuomo's overtures to supporting ethics reform need to be backed up by action in order for any progress to occur. She pointed out that the governor was a supporter of closing the so-called LLC loophole, which allows corporations to avoid the $50,000 campaign donation limit by creating limited liability corporations, which may contribute $60,000 or more to a campaign. Krueger noted that Cuomo has benefited from LLC donations.
"Gov. Cuomo has consistently been saying the right things about ethics reform, but then when we get program bills, regulations on the issues, they have been dramatically watered down," she said. "He could and should use more of his political capital to actually accomplish reforms that are needed."
RELATED: Experts say expect another Skelos conviction
At the end of the 2017 legislative session, Cuomo called the lack of reform "disappointing," and blamed the Legislature for the lack of progress.
Ultimately, both Krueger and Kolb believe that lasting reform is unlikely, even if it is addressed in the next legislative session, unless sufficient pressure is put on the Legislature by the public.
"Unfortunately, Albany has resisted ethics reform at every turn. It's hard to be optimistic next year will be any different," Kolb said.
Krueger noted the importance of public opinion, as well as media coverage and editorials, in putting pressure on lawmakers to reform. She talked about how her colleagues sometimes complain about the demand for increased scrutiny, but she says reform is necessary.
"If we're the ones who are asking people to give us the privilege and the power to write the laws, don't you think we ought to be held to the highest standards to follow those laws?" she asked. "I know I do believe that." 
Correction: An earlier version of this post incorrectly said that Gov. Andrew Cuomo was an opponent of closing the LLC loophole. He has been a supporter of closing the LLC loophole. 
Powered By
NEXT STORY: Ethics