New York State
Bullying, the DREAM Act and 'money money money'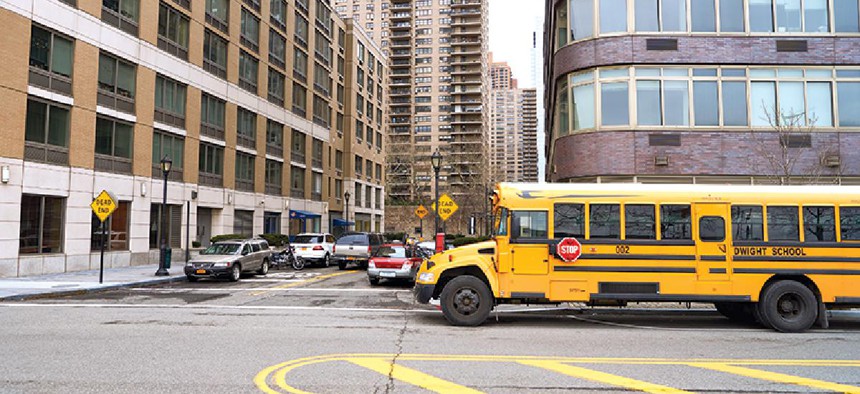 The fights over student testing and education standards in the state have died down. Mayoral control of New York City's schools won't be expiring next year. And the battle over the charter school cap may end up on the back burner in lieu of a dispute about training requirements for charter school teachers.
But in the state Legislature, the perennial question is how much funding will be provided for education – and how much will everyone else get?
"Money, money, money, how much of it you have to spend is always the issue," state Sen. Carl Marcellino, the Republican chairman of the state Senate Education Committee, told City & State. "The amount of money (in the budget) is not the toughest part of the process, but it's once you figure out how much money we have in the pie to work with, then we can have the luxury of figuring out how to cut the pie," he said.
AGENCY FOCUS: The New York State Department of Education
With a budget deadline of April 1, Marcellino said identifying the needs and determining where to distribute funding is a difficult process, especially with a multibillion-dollar deficit looming in the state budget.
"The biggest thing we're looking at or will have to look at is the possible $4 billion deficit in the state budget, and it might be even as high as $7 billion, according to the comptroller's office," he said.
Marcellino said state officials could face real challenges in funding education, which is one of the fastest growing parts of the state budget along with health care. But there is little that can be done until Gov. Andrew Cuomo presents his budget, he said, and then lawmakers can set their priorities.
"Whether be it repairs, construction, maintenance, testing problems or Common Core issues, it is something that you sit down with different educational groups and organizations and try to work things out according to need," Marcellino said.
"The amount of money (in the budget) is not the toughest part of the process, it's … figuring out how to cut the pie." – state Sen. Carl Marcellino
Assemblywoman Catherine Nolan, the chairwoman of the Assembly Education Committee, told City & State that funding needs to be allocated to an anti-bullying initiative to help reduce violence on school premises.
"We're working on Dignity For All Students," Nolan said, referring to the anti-bullying law that was passed in 2010. "We need more funding into this anti-bullying initiative. So we are creating an approach hoping for better results."
Nolan cited a recent high-profile incident in which Abel Centeno, a Bronx teenager who was allegedly taunted with homophobic insults, killed a classmate and injured another.
"This case gives it a new urgency," Nolan said. With this initiative, more schools will be able to handle cases of bullying.
Both Marcellino and Nolan also cited the need for more instructors for students who are learning English as a second language, including in New York City.
Nolan said her committee is also "looking at how we can enhance state authority of private schools and make sure there are adequate supervisions of these schools and how to enhance its structure and system."
Another top priority, at least for Democrats, is the push to implement the DREAM Act as part of the state budget so that young undocumented immigrants can secure state college financial aid. Unlike a federal bill of the same name, the state legislation would not make it legal for these young immigrants to stay permanently in the U.S.
While state Senate Republicans have blocked the legislation in the past, Marcellino suggested he would be open to some kind of resolution. "That will come not necessarily from a state legislation but the communities and districts," he said. "So we'll have to do some talking again to the players in the system and once we find out what their needs are and how they are being addressed and then we can work on allocation of funding if necessary."
RELATED: The charter school standoff explained
CLASS ACTS
3K for All
As New York City Mayor Bill de Blasio enters his second term, he is looking to expand on universal prekindergarten, one of the top achievements during his first four years in office. However, the mayor is banking on receiving $700 million from the state and federal governments and a tight fiscal climate in Albany may make it difficult to secure those funds.
DREAM Act (S471A/A3039)
The federal DREAM Act, which would allow certain young undocumented immigrants to stay in the United States, has been stalled for years. Democrats in the state Legislature have sought to pass a local variation of the bill, which would allow them to qualify for state college financial aid. State Senate Republicans have opposed the measure in recent years, and it's unclear whether there is any path forward unless the Democrats retake the state Senate.
Powered By
NEXT STORY: Congestion pricing to drive Albany's infrastructure agenda in 2018