Gary Pretlow
Sports gambling coming to the Empire State? Bet on it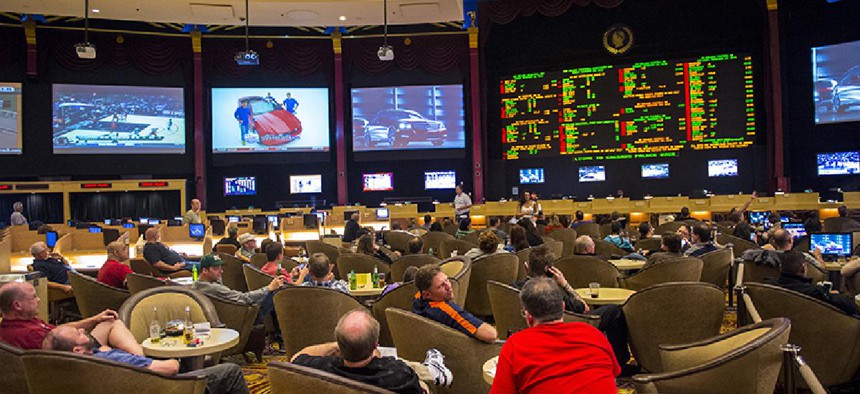 The most important question in front of the state Legislature's racing and gambling committees this year won't be decided in Albany, but several hundred miles south of the state Capitol in the U.S. Supreme Court. On Dec. 4, the justices heard oral arguments in Christie v. NCAA – a case that could open the door for sports betting nationwide.
"It's already in the (state) constitution, and enabling legislation has already been written, and everything is set up," said Assemblyman Gary Pretlow, chairman of the Racing and Wagering Committee. "We're ready to go."
Pretlow has been one of the most prominent advocates for expanding gambling in the state. He helped write the state constitutional amendment that allowed a number of commercial casinos to open and included a provision that would allow sports betting at those casinos if it were ever legalized nationwide.
RELATED: Labor, gaming face unclear future
That could be on the verge of happening, with SCOTUSblog reporting that the U.S. Supreme Court justices at oral arguments seemed to lean in favor of sports betting.
State Sen. John Bonacic, chairman of the Racing, Gaming and Wagering Committee, agreed with Pretlow that if the court allows it, New York is good to go.
"When we did that constitutional amendment, we envisioned that in the event that the sports ban was eliminated federally that they could (start betting on sports) immediately," he said. "And you know, (New) Jersey is all geared up and Pennsylvania is all geared up, and to a certain extent, we've got to keep up."
But Karl Sleight, a member at Harris Beach and the leader of the law firm's racing and gaming industry team, wasn't so sure that the dormant betting provision would be enough.
He said there would likely need to be, at a minimum, some amendments to that statute based on the wording in the U.S. Supreme Court ruling. "But it's difficult to forecast without seeing the language in the Supreme Court decision," he said. "That's one of the difficulties at this stage."
"Jersey is all geared up and Pennsylvania is all geared up, and to a certain extent, we've got to keep up." – state Sen. John Bonacic
Even if betting does come soon to the state's recently opened commercial casinos, it would not be allowed at other locations, such as at racetrack casinos and off-track betting parlors. Bonacic and Pretlow both agreed that a new state constitutional amendment would likely have to pass to allow sports betting in those places – though state Sen. Tony Avella has already introduced a bill that would do just that.
Resorts World Casino New York City, one of the state's racetrack casinos, or racinos, would be interested in adding sports betting to its offerings, according to Dan Bank, spokesman for the Queens casino. "If sports betting was allowed under federal and New York state law, Resorts World Casino New York City would work to quickly implement it as part of our gaming experience," he said. But as a racino with certain limitations, the company would have to wait. State constitutional amendments need to be passed by two separately elected legislatures and then approved by voters, so the soonest it could go into effect would be January 2020.
Bonacic said sports betting could help raise revenue at the racinos and OTBs, which helps fund education and supports county budgets.
RELATED: Online gambling still a work in progress
With the state comptroller projecting a more than $4 billion deficit heading into 2018, "the state's going to need money," Bonacic said. "And my thinking is let all three do it (casinos, racinos and OTB) if the people will allow it for the racinos and the OTB."
But Sleight is cautious when it comes to talk of revenue. If the Supreme Court decision allows states to legalize gambling, it might become an "ultracompetitive market."
"New York will need to be competitive," Sleight said, "because if they put together a model that's not competitive, then the folks who want to wager will just go to another outlet."
It's also not clear on how the Supreme Court's ruling in the Christie v. NCAA case could affect New York's Native American casinos. A request for comment from the Oneida Indian Nation, which runs casinos in Central New York, was not returned. Industry publication Legal Sports Report wrote that sports betting wasn't on the radar of most Native American casinos.
But predicting when and what the Supreme Court will decide could be harder than picking a World Series winner during spring training. And a decision may not even come until June, when the state legislative session is over, or close to it.
"This is all up in the air," Sleight said.