Thomas Croci
Training civilians as first responders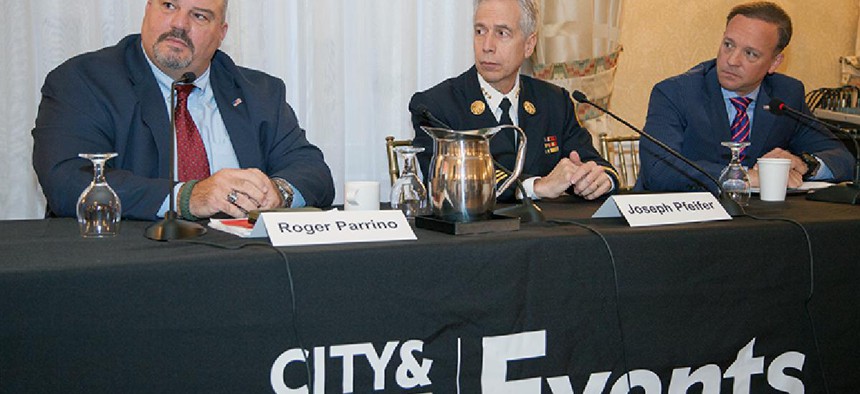 On Halloween, New York City saw its deadliest terror attack since 9/11 when a man drove a truck down a crowded bike path, leaving eight dead and nearly a dozen injured. Earlier in October, a shooter opened fire on a music festival in Las Vegas, killing 58 and injuring more than 500 people in the worst mass shooting in U.S. history.
Both incidents spurred widespread discussion about how law enforcement can be better prepared to respond to evolving approaches by terrorists, but what some officials say is too often overlooked is the need for citizens to be prepared to react in the event of an attack as well.
"I think the one thing we're very weak in the United States is training civilians," state Division of Homeland Security and Emergency Services Commissioner Roger Parrino Sr. said at a roundtable discussion on counterterrorism hosted by City & State. "We, as a civilian population, want to think it's not our responsibility to get involved; the first responders will handle it."
According to a 2014 FBI study of 160 mass shootings between 2000 and 2013, 66.9 percent of them ended before law enforcement arrived on the scene. Parrino said in those instances, it's up to the civilians to keep themselves, and those around them, alive before first responders arrive.
RELATED: Officials defend program that let terrorism suspects into U.S.
"We need to make sure every high-rise building has fire drills. It's required by law,"said Joseph Pfeifer, chief of counterterrorism and emergency preparedness at the FDNY. "But how about we also throw a 30-second video on to the people in these buildings on how to stop the bleeding?"
Pfeifer added, "What about next to the fire extinguishers and the defibrillators that we have, why not throw some tourniquets in there?"
Although there is little that civilians can do to stop the violence, those who are trained may be able to limit the number of casualties. Whether that is applying a tourniquet or some other first aid, civilians can receive simple training to buy time for first responders by preventing someone from dying.
"That starts with the first person who is stopping the bleeding," Pfeifer said. "Medical personal will come in to continue that – stopping the dying, and that continues all the way to the hospitals. So it's the entire spectrum of care, from a co-worker, to the first responders, all the way to the operating room. … We're all part of that."
By posting on social media and using new apps, people can call for help and aid in law enforcement's response to terror attacks and mass shootings. Parrino said the New York State Police play on the classic slogan, "If you see something, say something" to make it "If you see something, send something."
But all of these measures are reactionary rather than proactive. State Sen. Thomas Croci, who was also on the panel, said those agencies need proper backing and, ultimately, a balance must be struck between individual freedoms and the overall protection of the society in order to prevent these attacks.
"I don't ever want to live in a country or a city where you have to fear getting on a bus because it might blow up," Croci said. "And if Americans don't think that's a potential here, that's a real problem."
You can watch the roundtable discussion on counterterrorism in full below.
Correction: Roger Parrino Sr. was referring to the state police's use of "If you see something, send something." An earlier version of this story incorrectly referred to the NYPD.