Charles Schumer
New York immigration activists criticize Schumer for deal to reopen government
U.S. Senate Minority Leader Charles Schumer cut a deal with Senate Majority Leader Mitch McConnell to renew the Children's Health Insurance Program, reopen the federal government and delay the Dream Act. Immigration rights activists in New York are angry.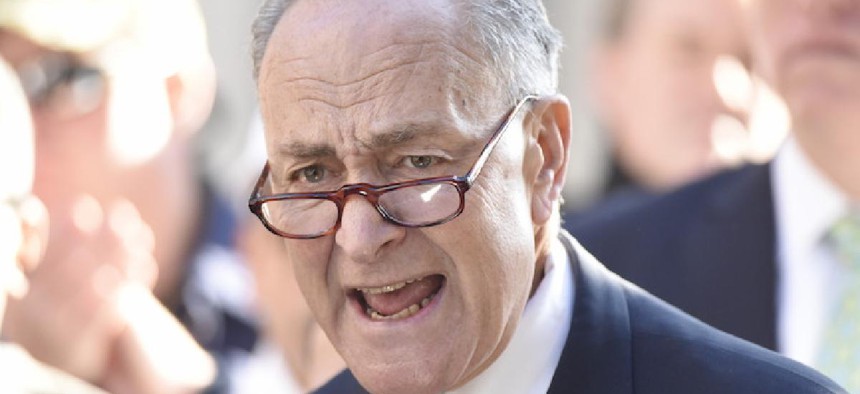 Before 81 senators, including 33 Democrats, voted on Monday to reopen the federal government, U.S. Senate Minority Leader Charles Schumer blamed President Donald Trump in a speech on the Senate floor for his refusal to compromise on an immigration deal.
For many liberals in his home state, however, Schumer is to blame for being too willing to compromise, since he agreed to reopen the government without a permanent solution for recipients of the Deferred Action for Childhood Arrivals program.
Trump and right-wing congressional Republicans refused a bipartisan offer to pass the Dream Act and protect DACA recipients from deportation in exchange for funding a wall on the U.S.-Mexico border, but the subsequent government shutdown was quickly ended by the deal Schumer struck with Senate Majority Leader Mitch McConnell. That bill reauthorizes the Children's Health Insurance Program for six years and comes with a promise from McConnell that the Senate will take up legislation to address DACA in the coming weeks.
"The great deal-making president sat on the sidelines," Schumer said in his speech announcing the end of the shutdown, excoriating Trump for not agreeing to a deal to build a border wall with Mexico in return for allowing immigrants brought to the U.S. as children to remain in the country.
But for immigration rights activists in New York, it was Schumer's backbone that failed, and they were more than willing to demonstrate their unhappiness online and in the streets.
We reject any deal that does not protect young immigrants & their families. #NoDreamNoDeal! We cannot play with people's lives. This is no way to run a government. We demand a clean #DreamActNow & need bold action from our representatives?????????????? pic.twitter.com/RhIaaaRiZO

— Make the Road NY (@MaketheRoadNY) January 22, 2018
Make the Road New York, which advocates for Latino and working-class New Yorkers, was one of the activist groups that rallied outside Schumer's office in December to call for a solution for DACA recipients. On Monday, its members, alongside other groups, protested outside of the U.S. Citizenship and Immigration Services building in Manhattan.
No one here is a big fan of @SenSchumer. Pro-Trumpers accuse him of causing the shutdown with inflexibility, pro-immigrants think he's bending over backwards to accommodate hardliners

— Felipe De La Hoz ???? (@FelipeDLH) January 22, 2018
Make the Road New York released a statement from one of its members, Ricardo Aca, who is a DACA recipient, after the rally in response to the deal to reopen the government.
"Senate Democrats have accepted a bad deal that puts our community at risk," Aca said. "Immigrant youth and their families will continue to demand a clean Dream Act that offers us the path to citizenship that we need and deserve. We will be in the streets of New York, Washington and around the country until we win justice for ourselves and our families."
New York Communities for Change, which also participated in the rally, was similarly unhappy about the agreement.
.@RenataPumarol says we're here today to send a clear message to @SenSchumer that New Yorkers won't accept anything less than a clean #DREAMactNow — not next week, not tomorrow, NOW! #TrumpShutdown pic.twitter.com/Dkth9PjOqG

— NY Communities (@nychange) January 22, 2018
"Today Senator Schumer and moderate Democrats have betrayed my family and families across the country," said Patricia Avendano, an organizer for New York Communities for Change, in an emailed statement to City & State. "Let's be clear, relying on Republicans to vote on immigration policy is a failed strategy that puts us all at risk for deportation. Senator Schumer has left my son, a DACA recipient, and tens of thousands of DREAMERS in limbo. But the fight is not over, we will continue to fight for Dreamers and all immigrants regardless of status."
Steven Choi, the executive director of the New York Immigration Coalition, had a similar response.
"The overwhelming majority of Americans support a pathway to citizenship for the nearly million Dreamers in this country, but today Senator Schumer has let us all down by failing to stand up for them," Choi wrote in a statement.
Several national organizations with a large presence in New York – including Indivisible, the Center for Popular Democracy and the Working Families Party – released a joint statement opposing the deal.
This morning, a group of progressive & immigrant rights groups joined to release this statement urging Democrats to stand strong and fight for a real deal. @AAAJ_AAJC @ACLU @AmericasVoice @Re4mImmigration @popdemoc @IndivisibleTeam @civilrightsorg @MoveOn @domesticworkers 1/2 pic.twitter.com/axWJu6AHpl

— Indivisible Guide (@IndivisibleTeam) January 22, 2018
For his part, Schumer defended the agreement he made, placing the impetus on McConnell to bring the DREAM Act to a vote.
I expect @SenateMajLdr to fulfill his commitment to the Senate & abide by this agreement. If he does not honor our agreement, he will have breached the trust of not only the Democratic Senators but the members of his own party as well.

— Chuck Schumer (@SenSchumer) January 22, 2018
Schumer's colleague from New York, Sen. Kirsten Gillibrand, voted against the bill. Gillibrand is widely seen as a potential presidential candidate in 2020, and may be looking to burnish her progressive credentials. 
I am deeply disappointed that today's outcome fails to protect Dreamers. They deserve better from the elected leaders of the only country many of them have ever called home.

— Kirsten Gillibrand (@SenGillibrand) January 22, 2018
I want to see the government re-open as much as anyone, but this bill fails to fix the moral issue we must solve. That's why I voted against it.

— Kirsten Gillibrand (@SenGillibrand) January 22, 2018
Cristina Jimenez, an immigration activist and co-founder of United We Dream, which is an immigrant youth-led network, wrote on Twitter that the fight for DACA recipients is not over.
Congress votes on a 3 week CR w/out #DreamAct. Dems failed to fight & use their leverage to protect immigrant youth. A false promise to vote on immigration from Rs is not a strategy to win. We won't be fooled. This vote means deportation. Won't stop fighting! #DreamActNow

— Cristina Jimenez (@CrisAlexJimenez) January 22, 2018
In the end, the part of Schumer's base that he was trying to assuage when he made this deal – those fighting for immigrant rights – may now be even more unhappy than they were before he agreed on the vote to reopen the government.