Andrew Cuomo
Cuomo's "disingenuous" estimate of NYC's surplus
Gov. Andrew Cuomo asked New York City to pony up more money for the subways in a speech on Thursday – but the de Blasio administration shot down the budget numbers he used as evidence as "completely disingenuous."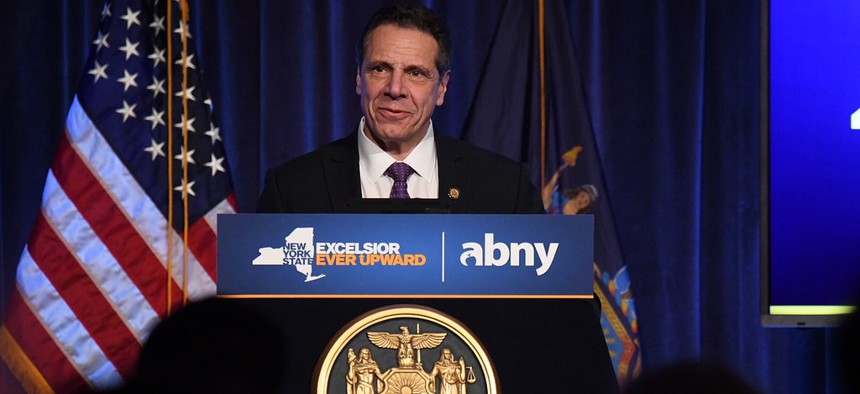 Gov. Andrew Cuomo asked New York City to pony up more money for the subways in a speech on Thursday – but the de Blasio administration shot down the budget numbers he used as evidence as "completely disingenuous."
At one point during Cuomo's speech at an Association for a Better New York breakfast, his slideshow read "NYC must pay its legal obligation," with graphics asserting that New York City has an $8 billion budget surplus while the state has a $4 billion budget deficit.
A slide from @NYGovCuomo's speech Thursday. Does NYC really have an $8 billion budget surplus? Stay tuned... pic.twitter.com/Imu5CPpC4j

— Jeff Coltin (@JCColtin) April 6, 2018
The governor's suggestion was that New York City has more money to give – even after the state budget signed last week that made the city finally pay $418 million towards the Metropolitan Transportation Authority's Subway Action Plan. New York City Mayor Bill de Blasio had resisted allotting the money for months, saying that city taxpayers already contribute enough, and that the MTA wasn't spending wisely.
City Hall said there simply is not $8 billion lying around.
"This is completely disingenuous," said Freddi Goldstein, a deputy press secretary for de Blasio.
And Doug Turetsky, communications director for the New York City Independent Budget Office, said, "There's some misrepresentation here. The city does not have an $8 billion surplus."
Turetsky said there is a $2.6 billion surplus for the current fiscal year ending June 30. But the city is obligated to have a balanced budget at the beginning and the end of the year, so that money will be rolled over into the fiscal year 2019 budget to prepay expenditures, like debt service.
"If you count that as surplus that you can use, you've blown a $2.6 billion hole in next year's budget," Turetsky said.
Asked to clarify the governor's $8 billion figure, state budget division spokesman Morris Peters said it includes the $2.6 billion surplus for fiscal year 2018, a $4.25 billion surplus in the Retiree Health Benefit Trust Fund, $1 billion in general reserves in this year's budget, and $250 million in the Capital Stabilization Reserve.
Peters pointed to a 2017 report from the New York City comptroller's office that adds these same sources together to describe the city's "budget cushion."
"It doesn't matter how many pockets they put it in, they're still sitting on $8 billion," Peters said. "We should all be so broke."
In separate interviews, Turetsky and Goldstein each independently disagreed with the notion that all those numbers count towards the city's supposed budget surplus.
They said the Retiree Health Benefit Trust can only be used for its nominal purpose – for retiree health care costs – and sits outside of the city budget, and that the reserves aren't surplus, since they're baked into the budget.
"The governor has been doing this for a while, saying, 'Look at this money, they're in great shape,'" Turetsky said.
At the same time, New York City Comptroller Scott Stringer and the New York City Council are saying that de Blasio needs to divert more funds to reserves.
"The de Blasio administration is getting hit from both sides," Turetsky said.
Powered By
NEXT STORY: What the Assembly wants to do for public-sector unions