New York City
How the 2020 census citizenship question will affect New York's headcount
Many immigrant households may skip the survey, but NYC has a plan to fight back.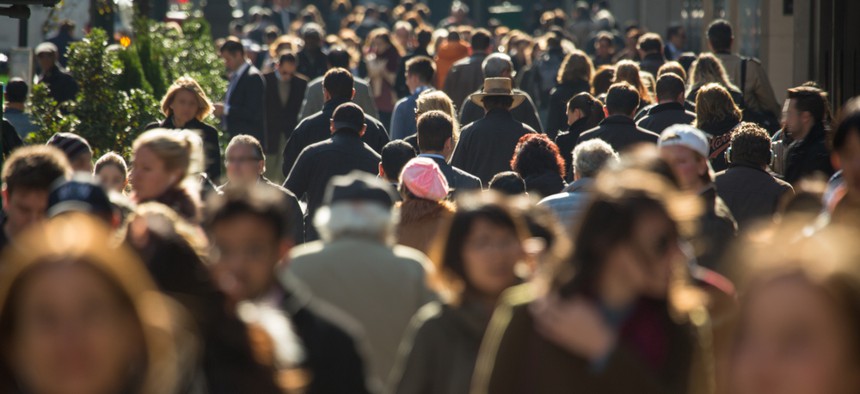 With the federal government gearing up for the 2020 census, the decennial count of the country's population has recently become controversial due to the addition of a question asking if the respondent is "a citizen of the United States." The question, not seen since the 1950 census, was added to the survey by the U.S. Commerce Department – ostensibly at the request of the U.S. Justice Department in order to monitor potential violations of voting law.
Demographers and immigrant advocates are calling the question an attempt to reduce participation by immigrants, both documented and undocumented, and to thereby shift power from immigrant-heavy cities to more rural areas. In New York City and other areas with many immigrants, the result could be devastating, as the census is used to calculate everything from congressional representation to federal funding.
No one can say for certain how many immigrants won't answer the census as a result of the citizenship question, but even before it was added, undercounting in New York City was a persistent problem because it includes a large number of people who are more difficult to count than the average suburbanite.
Immigrants make up about 38 percent of New York City's population, split roughly between 1.7 million naturalized citizens and 1.47 million immigrants who aren't naturalized. There are also about 580,000 undocumented immigrants in the city.
Populations such as the poor, the very elderly and very young, those who don't speak English as their first language and people in homes with citizens and noncitizens have always been difficult to count, according to Thomas Wolf, the counsel at the Brennan Center for Justice. "A lot of immigrant communities overlap with hard to count populations," he said.
The CUNY Mapping Service's Hard To Count Map, released ahead of the 2020 census, shows just how difficult it already was to get accurate census counts. More than half of the people in the Bronx, Queens and Brooklyn live in neighborhoods classified as "hard to count," meaning neighborhoods where more than a quarter of the households didn't mail back their 2010 census forms and required an in-person follow-up. A staggering 80 percent of people in Brooklyn live in those neighborhoods, and so do 67 percent of people in Queens. Many of the census tracts with response rates below 60 percent in 2010 also have high immigrant populations, according to the map.
If a household doesn't return its census questionnaire, the U.S. Census Bureau dispatches employees to make multiple visits to the home to try and count who lives there, which is more expensive and could still result in a vacant address. Following the initial mail-in period for the 2010 census, the bureau sent people to knock on the doors of 48 million homes. In the 2010 census, the city's population was determined to be 8,175,133 people, which city officials immediately estimated was an undercount of up to 225,000 people.
Even without the citizenship question, city demographers suggested in-person follow-ups greatly undercounted areas of southern Brooklyn and northern Queens, in part because people living in these immigrant-heavy areas lived in illegally subdivided and basement apartments. As a result of nonresponses to both the mail and in-person efforts, the Census Bureau marked many buildings in the city as vacant. The 2010 census found, improbably, that Queens grew by just 0.1 percent to 2,230,722 people and Brooklyn by just 1.6 percent to 2,504,700 people from the 2000 census.
Today, the Census Bureau estimates the populations of Queens and Brooklyn to be 2,358,582 and 2,648,771 respectively, population increases of 5.7 percent and 5.8 percent from the 2010 census. But if responses to the next census match the growth of 2010, only 2,230 more people in Queens and 40,075 people in Brooklyn would officially be added to New York City's most populous boroughs. And, with the citizenship question added, response rates could be even lower than last time.
"The census in a diverse city like New York will always face challenges," said Peter Lobo, the deputy chief demographer at the New York City Department of City Planning. "There are some people who don't want to be counted, there are others who are afraid of the government. We face these issues with every census." Next time may be even worse, because – referring to the citizenship question – Lobo said the census "doesn't usually provide a disincentive to respond."
Lobo said the impact of the citizenship question goes further than just potentially eliminating the undocumented because responses are done by household. So entire households may be left out, or they may get only partially counted because a respondent doesn't want to call attention to the presence of immigrants. "Over 1 million people in New York City live in mixed status households, where you've got legal immigrants, undocumented immigrants and U.S. citizens living in the same household," Lobo said. "So when you look at it from that perspective, serious damage can be done."
"(U.S. Commerce Secretary Wilbur Ross) carefully considered the argument that the reinstatement of the citizenship question on the decennial census would depress the response rate," a Commerce Department spokesperson told City & State. "Because a lower response rate would lead to increased nonresponse follow-up costs and less accurate responses, this factor was an important consideration in the decision-making process. Secretary Ross found that the need for accurate citizenship data and the limited burden that the reinstatement of the citizenship question would impose outweigh fears about a potentially lower response rate."
Immigrant advocates are already seeing trepidation from those 1 million residents. "Mixed-status families don't know how they should answer these surveys," said Yatziri Tovar, a spokeswoman for Make the Road New York, an immigrant advocacy and services organization. "And if they do answer, they're afraid of what the potential consequences could be, especially because of the political environment we're in right now." Tovar said she sees the addition of the question as "an attack to intimidate immigrant populations and working-class people of color."
People in mixed status households "are very much afraid of completing the citizenship question, or even boycotting it, because it just brings attention to people who would rather not having that kind of attention focused on them," said Esmeralda Simmons, the founder of the Center For Law and Social Justice at Medgar Evers College. "And I'm not just talking about people who are undocumented. I'm talking about people who are citizens or are here legally, who don't want to bring attention to any family members or anybody living with them."
New York City isn't the only area where the state could see an undercount, based on previous response rates. Towns in western Long Island like Hempstead, Floral Park and Valley Stream are full of census tracts with mail-in response rates below 75 percent. While upstate counties have good response rates, both Orange and Sullivan counties have towns with low response rates.
So far, the U.S. Census Bureau has not been proactive about reassuring immigrants that responding to the survey won't be used to harm them, activists said. Fear and confusion is apparent in the census' only full trial run, which will be held in Latino-heavy Central Falls, Rhode Island. Before the citizenship question was added to the census, community leaders who helped boost response rates for the 2010 census told The Intercept that they haven't been contacted by the bureau for any community outreach programs that would help communicate that the anonymized data wouldn't be used to track noncitizens, and elected officials are already having emergency meetings to "salvage" the trial run, as they put it.
In addition, experts told the website they're worried the Census Bureau isn't doing enough in poor and rural areas to test the reach of the first census that will rely on over half of the responses to the survey to come on a computer or smartphone, citing canceled tests of the internet-based methodology in rural areas in West Virginia, Washington and South Dakota.
City officials say they're determined to facilitate an accurate count in 2020. "The city's signed on to (state) Attorney General (Eric) Schneiderman's lawsuit (to remove the citizenship question), and will be doing an intensive outreach out of City Hall that will try to reach out to respective leaders in communities to ensure that people are well aware of their rights and protections and the importance of everybody participating in the census," city planning spokeswoman Rachaele Raynoff told City & State. Since Lobo said the city knows where census response rates have been low in the past, that outreach effort will be tailored for specific neighborhoods and ethnic groups. In Washington, Rep. Carolyn Maloney is pushing a bill to remove the citizenship question from the survey.
Still, 2020 is getting closer with each passing day, and a variety of factors are conspiring against cities like New York. In addition to the citizenship issue, activists point to lack of internet connectivity or computer literacy among underrepresented populations like immigrants and non-English speakers, low-income communities, the disabled and elderly as additional problems being introduced in the next census.
"There's a perfect storm brewing for reduced participation in the immigrant community," said Daniel Altschuler, the director of civic engagement and research at Make the Road New York. "That's what we're all fighting against."
Powered By
NEXT STORY: How insurance is adapting for the modern age