Bill de Blasio
How the de Blasio administration raised $417 million for charity
The New York City Mayor's Office of Strategic Partnerships has raised more than $417 million for a broad range of initiatives aimed at promoting social and economic equality.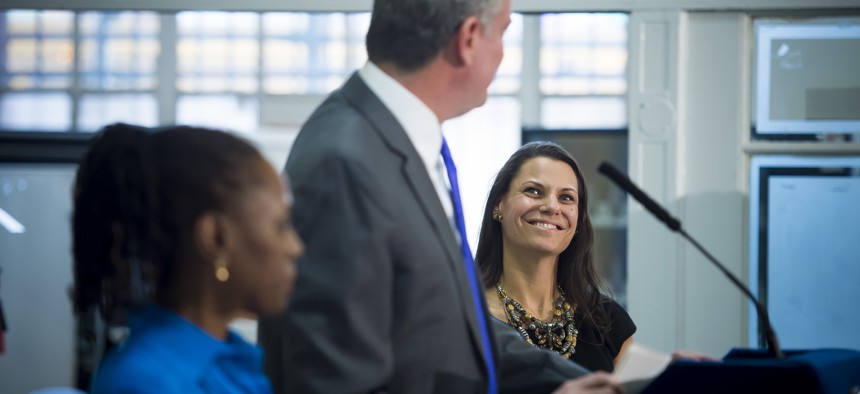 Soon after his first term as New York City mayor began in 2014, Bill de Blasio paid a visit to The New York Community Trust. The election was over but he had another campaign in mind.
There was this idea to shake up mental health treatment in the city, but before what eventually became the Connections to Care program could get underway, de Blasio would need organizations like NYCT to match $6 million in federal grant money. Expecting that public-private partnerships like these could be beneficial throughout his tenure as mayor, de Blasio's next campaign was to get city nonprofits behind him for an even bigger initiative – a grant-making nexus of nonprofits, philanthropies, businesses and government agencies overseen by the Mayor's Office of Strategic Partnerships (OSP) that he would create that same year.
NYCT had already worked with de Blasio and his wife Chirlane McCray during his tenure as public advocate. When he came to their offices as the newly-inaugurated mayor, NYCT staff were receptive to what he had to say about Connections to Care – and how it might build on the work they were already doing, according to Patricia Jenny, the trust's vice president for grants.
"From the very beginning (he) was very interested in getting involved in our work," she said in a telephone interview.
Four years later, OSP has raised more than $417 million for a broad range of initiatives aimed at promoting social and economic equality. It does this by promoting the city as a matchmaker among philanthropies, nonprofits, government agencies and businesses – and helping fledgling programs become adopted citywide. Through its oversight of city-run charities, which are officially independent, OSP allows de Blasio to enact many progressive proposals without having to look towards Albany to raise taxes to pay for them.
There's the initiative that has provided more than 40,000 pairs of glasses for poor children, literacy programs, veterans services – even more than $1 million for an evaluation of how social media can help report foodborne disease outbreaks. There was also a juvenile justice pilot program that began with 20 young offenders in the Bronx before being adopted citywide by the Administration for Children's Services and the city Department of Probation, according to the city.
"We've seen a noticeable increase in foundations and corporations stepping forward over the last couple of years to support our work," David Hansell, commissioner of the Administration for Children's Services, said in a statement. "Private-sector support helps us be more creative, innovative and effective as we protect children and support families across New York City."
And all of these city-fostered initiatives are managed by city-affiliated 501(c)(3) nonprofit charities that are in turn overseen by OSP – such as the Mayor's Fund to Advance New York City. That fund is chaired by first lady Chirlane McCray, who also leads ThriveNYC, an $850 million mental health initiative that exists outside of OSP. Some programming overlaps between OSP and ThriveNYC, such as the Connections to Care initiative that de Blasio pitched to The New York Community Trust back in 2014. But it's the work of the nonprofits that transforms government support into nonprofit action.
Other nonprofits under OSP are the Fund for Public Health that Department of Health and Mental Hygiene Commissioner Mary Bassett leads, the Fund for Public Schools overseen by Schools Chancellor Richard Carranza, and the Fund for Public Housing, among others.
Along with having long track records of working with New York City community-based organizations, philanthropies such as the Bill and Melinda Gates Foundation, Rockefeller Philanthropy Advisors, JPMorgan Chase Foundation, Ford Foundation and Robin Hood Foundation are significant donors to various funds under the OSP. The office offers the advantage of bringing the full force of city resources to help an effective initiative become more widely adopted across the city, Gabrielle Fialkoff, director of the Mayor's Office of Strategic Partnerships, said in a May 9 interview.
Fialkoff said the city's involvement can bring to scale projects that might have fallen by the wayside.
"If you want to bring change. I say work with us, because we can bring you the scale that everyone is looking for," Fialkoff said in response to a question about what evidence there was that her office nurtured services that wouldn't have otherwise been available.
An April 3 press release from the city touts a litany of programs and services funded through OSP by philanthropies, as well as the state and federal government. These include projects and programs like The Center for Youth Employment, Computer Science for All, NYC Housing Help, NYCitizenship, Building Healthy Communities and other initiatives to promote juvenile justice reforms, NYCHA improvements, criminal justice reforms and workforce development, among others.
For example, the $30 million initiative known as Connections to Care – a part of the ThriveNYC – illustrates how the early outreach of the incoming de Blasio administration played out. That 2014 visit to NYCT led the organization to donate $1.26 million to the Mayor's Fund to Advance New York City, one of four nonprofits overseen by OSP. Some of that money combined with money from Astoria Energy, The Ford Foundation and the Corporation for National & Community Service to fund the initiative.
On the other end of the procurements process were nonprofits putting ideas into action. In the case of Connections to Care, which aimed to enlist non-clinical staff in an effort to better serve people confronting mental health issues, the nonprofit Safe Horizon was among more than a dozen contracted to do much of the work on the ground.
The $30 million in funding for the initiative comes from $10 million in federal grants, $10 million from philanthropies and $10 million from the 14 community-based organizations selected in 2016 to test out the program, according to the city. The money was earmarked to train non-clinical staff at these nonprofits in conducting mental health screenings, administering behavioral treatment, responding to mental illness and helping families cope with related issues.
As of September of last year, across the program more than 1,000 people received training and treated 8,900 clients, according to the city.
An additional $4 million is now needed for the program after the Trump administration rescinded some grant funding. It also remains to be seen if the initiative will lead to wider adoption – but at least one nonprofit contacted said Connections to Care has made a difference.
The nonprofit Safe Horizons now has more than 180 trained individuals at its domestic violence shelters around the clock thanks to Connections to Care. They complement the approximately 20 licensed social workers who also work there, according to Rachel Goldsmith, associate vice president of domestic violence shelters at Safe Horizon.
"By training so many staff," she said, "it just increases the chance that we have somebody who can have that conversation and get someone engaged in the type of help they need."
Editor's note: This post has been updated to reflect that the city-run nonprofits overseen by the Mayor's Office of Strategic Partnerships are officially independent. Additionally, the post has been updated to reflect that first lady Chirlane McCray's oversight of the Mayor's Fund to Advance New York City is through her role as chair. 
Powered By
NEXT STORY: Digital currency regulation and other tech-tonic shifts