Andrew Cuomo
Cuomo's gun proposal is stuck in the Senate. But would it matter?
Andrew Cuomo's "red flag" gun proposal wouldn't prevent most of the gun crimes in the state.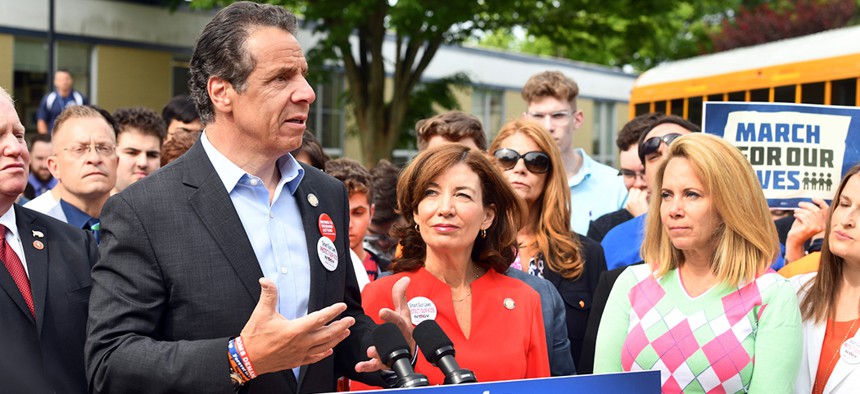 With only six days left to pass bills in a state Legislature marked by partisan division and occasional gridlock, and as other progressive priorities fall by the wayside, Gov. Andrew Cuomo is shepherding a gun control measure through the Assembly and state Senate.
In the wake of recent high school shootings in Parkland, Florida, and near Houston, Texas, Cuomo is pushing for the Legislature to pass a bill granting educators the right to ask judges to remove guns from the homes of students who might harm themselves or others. The governor is personally touring the state via school bus to make the case for taking action before the legislative session ends on June 20, and he is launching an ad campaign on the issue.
Eight other states have implemented similar "red flag" laws, but since Republicans control the state Senate, the bill has a difficult path to passage.
But anyone who is worried about gun violence in New York should take heart: Only a small percentage of gun crimes are committed as mass shootings in schools, so the legislation may be largely symbolic and won't affect most shootings in New York anyway.
The overwhelming majority of gun deaths do not occur by mass shootings. In 2014, only 14 of the 11,008 homicide victims in the United States died in mass shootings – and there were nearly twice as many suicides.
However, school shootings across the country are increasing in frequency, and primarily hit victims in affluent, predominantly white suburbs – where gun crimes are normally uncommon – and therefore attract mass media attention. New York, which considers itself a paragon of liberal progress, has been at the forefront of calling for action in response to these crimes.
The Gun Violence Archive, which tracks gun incidents, found that there have been 10 mass shootings in schools since the shooting in Newtown, Connecticut, in 2012, with 44 people killed – not including the recent Houston shooting. Forty-two percent of gun crimes were committed by someone who showed warning signs, an argument for implementing a "red flag" law.
Meanwhile, the majority of gun crimes – especially in high-crime inner-city communities where they are comparatively common – are committed by people who obtain a firearm illegally, meaning that this bill would not affect the vast majority of shootings, even those perpetrated by teenagers. Many shootings which affect children also occur outside of schools – for example, a shooting in the Bronx on June 7 at a playground resulted in the injury of the 13-year-old girl, and a 16-year-old girl was shot and injured on the street in Buffalo on June 8.
The bill, while potentially effective for limiting one very specific type of gun crime, will face an uphill battle in passing the state Senate. A similar bill to the one Cuomo is proposing has passed in the Assembly, but is languishing in the upper chamber. State Senate Republicans have already passed their own school safety package, which proposes allowing armed guards to monitor schools. Senate Majority Leader John Flanagan has suggested that Cuomo and the Assembly should sign onto this package of legislation, instead of proposing its own measures.
While the fate of Cuomo's "red flag" bill is uncertain, he can claim success on a gun control measure enacted this year regarding gun crimes related to domestic violence. In March, the Legislature passed a bill which the governor then signed into law preventing people convicted of domestic violence from owning guns. Gun crimes related to domestic violence are far more common than school shootings. According to the Violence Policy Center, in 2014, 9 out of 10 murder-suicides were committed with guns, 72 percent of murder-suicides were committed by intimate partners, and 89 percent of the killers were male. A report by the Centers for Disease Control and Prevention found that in 2015, half of women murdered were killed by a current or former intimate partner. The majority of mass shootings do not occur in schools, but in private homes, and over half of them stem from domestic disputes.
"New York is once again leading the way to prevent gun violence, and with this common sense reform, break the inextricable link between gun violence and domestic violence," Cuomo said in March. New York already has some of the most stringent gun regulations in the country, and – whether or not this bill passes in this session – the pool of people allowed to possess guns is getting narrower.
 
Powered By
NEXT STORY: Torres critical of federal NYCHA settlement