New York City
Is Exxon Mobil the next Philip Morris?
New York City is suing oil companies for the damage caused by climate change. Will it work?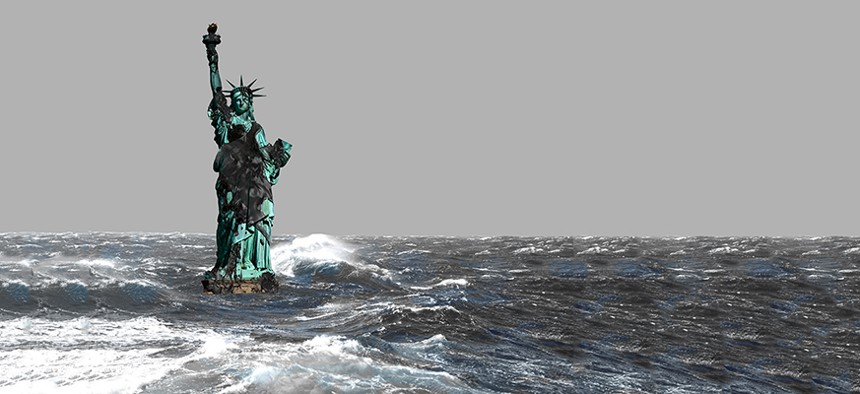 New York City had never seen a storm like Superstorm Sandy. In addition to the 44 lives it claimed in New York, the storm caused $19 billion in damage to the five boroughs. That was only the beginning.
A series of subsequent reports put together by the New York City Panel on Climate Change put numbers to what the mayor's office already knew: As climate change progresses, storms with the intensity of Sandy will batter New York with increasing frequency. Picking up the pieces in their wake will cost untold billions more than what has already been spent.
Preparing for these storms comes with its own enormous costs. The city has set aside $20 billion to prepare for higher seas, stronger storms and more intense heat.
If climate change continues unchecked, the costs New Yorkers face today could seem like pocket change one day.
So far, taxpayers are footing the bill without any help from corporations that have grown rich off of the fossil fuels that cause climate change.
Naturally, a progressive mayor with a commitment to economic equity would look at that situation and wonder how it can be changed. In January, New York City Mayor Bill de Blasio's administration took a stab at answering that question by filing a lawsuit in the U.S. Southern District of New York against five oil companies: BP, Royal Dutch Shell PLC, Exxon Mobil Corp., ConocoPhillips and Chevron Corp. "We're taking this fight straight to the fossil fuel companies that caused this mess, and, with the lawsuit in particular, we need to recoup against the damages that have been caused," Daniel Zarrilli, director of climate policy and chief resiliency officer in the Mayor's Office, told City & State.
The legal theory undergirding the suit – a concept known as climate liability – is largely untested but not totally original. New York is not the first city to sue fossil fuel companies for damages related to the cost of climate change. Over the past year, five cities and three counties in California have filed their own suits, including the cities of San Francisco and Oakland. In April, the city of Boulder and two Colorado counties also sued, citing expected adaptation costs of $100 million. Many of the same lawyers who are working with or advising New York City's top lawyer, Zachary Carter, are working on the California and Colorado cases.
These cases are all part of a growing, international climate litigation movement that hopes to hold fossil fuel companies accountable for climate change caused by the greenhouse gases emitted when fossil fuels are burned.
If climate change continues unchecked, the costs New Yorkers face today could seem like pocket change.
All of them owe a debt to groundbreaking research by Richard Heede, director of the Climate Accountability Institute, that showed nearly two-thirds of greenhouse gas emissions stemmed from just 90 companies. Published in 2013, Heede's work was able to trace specific emissions to specific companies. "(For) a long time, producers of fossil fuels have benefited from this pervasive myth that everyone is responsible for climate change. When everyone is responsible, no one is responsible," Carroll Muffett, president and CEO of the Center for International Environmental Law, said. Researchers such as Heede, he said, are "getting far more precise at identifying plaintiffs with quantifiable harms and defendants who contributed to those harms who had the opportunity to act differently and failed to take that opportunity."
(Climate liability cases are separate from the fraud investigations for climate science denial launched in 2016 by then-New York Attorney General Eric Schneiderman and Massachusetts Attorney General Maura Healey, which are examining whether Exxon Mobil misled investors about the risks that climate change posed to its business model.)
In the U.S., the climate liability movement took on a particular urgency in November 2016, when Donald Trump, who has said climate change is a "hoax," was elected president. With Republicans – many of whom deny or downplay climate science – also in charge of Congress, environmental activists and affected state and local governments are increasingly turning to the courts. Winning New York City's participation was a major milestone for the movement.
New York City's case stands apart in a few important ways. One is the precise tally of climate-related costs that New York compiled. "The amount of analysis that has been done on New York climate impacts and the cost of the impacts puts New York City on strong footing in the claim," Kathy Mulvey, the accountability campaign manager at the Union of Concerned Scientists, said.
That tally is Zarrilli's responsibility. An amiable Staten Islander with a long career in government and a background in engineering, Zarrilli has been the man in charge of figuring out what the city will have to do to recover from Superstorm Sandy and adapt to climate change. In the wake of Sandy, then-Mayor Michael Bloomberg appointed Zarrilli to be the city's director of recovery and resiliency. When de Blasio took over at City Hall following a race in which the Sandy recovery effort featured prominently, he appointed Zarrilli to be the city's chief resilience officer.
"This is almost a decade of work by the city in understanding our risks of climate change, which Sandy shone a bright light on and allowed us to take some major steps to actually implement," Zarrilli said, emphasizing that the numbers were firmly grounded in climate science. "Understanding the projections first and foremost helps us understand, well, 'This is why we are investing in coastal defenses, this is why we are investing in heat mitigation, this is why we are working on our drainage system' – all the things that deal with the very specific risks that have been identified."
Both the New York and California lawsuits were filed as complaints under public nuisance law – an old legal concept commonly used against threats to a community's well-being. If a coal-fired power plant dumps toxic waste in a river, polluting a town's drinking water, for example, the town can sue to make the plant stop and to pay for damages it already has caused. "This lawsuit is based upon the fundamental principle that a corporation that makes a product causing severe harm when used exactly as intended should shoulder the costs of abating that harm," New York's lawsuit stated. Whether or not public nuisance law can be applied to the effects of climate change, including rising seas and stronger storms, is relatively untested in court.
One prior case involving public nuisance law and climate change looms large over the recent spate of climate suits from cities and counties. American Electric Power Co. v. Connecticut, initiated in 2004, pitted eight states, including New York, and New York City against utility companies that emitted greenhouse gases from fossil fuels. In 2011, the case wound up before the U.S. Supreme Court, which ruled 8-0 that this sort of lawsuit under common law was not viable. Under the Clean Air Act, Congress had already given the authority to limit carbon dioxide emissions to the EPA, the court ruled. That meant enforcement actions were in that federal agency's hands, and not for courts to decide.
There are two ways that New York and California seek to avoid running afoul of that 2011 ruling.
First, the California municipalities and New York City filed their suits under state public nuisance law, not federal law that the Supreme Court ruled was displaced by the Clean Air Act.
Second, unlike AEP v. Connecticut, the California and New York suits target the companies that produced fossil fuels, not the utilities that ultimately emitted the greenhouse gases.
"We're taking this fight straight to the fossil fuel companies that caused this mess." – Daniel Zarrilli, New York City chief resilience officer
In the AEP case, "the Supreme Court's decision was based on the fact that the Clean Air Act deals with emissions, and therefore Congress had decided to displace federal common law in favor of a regulatory scheme under the Clean Air Act of dealing with emitters," David Bookbinder, chief counsel for the Niskanen Center and an adviser to the plaintiffs, said. "That is not the case for producers, whether it's coal or oil or natural gas. So there's no federal law that displaces liability based on the fact that you've been producing something."
Lawyers aligned with the fossil fuel industry reply that neither gambit – suing under state law and suing producers instead of emitters – will hold up in court. The Supreme Court's ruling in the AEP case "would more likely than not pre-empt this action at the state level even though that was left open," Richard Epstein, a law professor at NYU and adviser to a trade group fighting the lawsuits, said. Industry-aligned lawyers have also long argued that the real culprits for emissions from oil are the untold millions of consumers who actually burn it in their cars and homes.
In February, the three oil companies involved in the suit that are based in the U.S. – Chevron, Exxon Mobil and ConocoPhillips – filed a motion to dismiss, arguing that the Clean Air Act had displaced common law as a means of dealing with climate pollution. They also argued that the city was defining liability in a way that was overly "expansive." On June 13, Judge John F. Keenan, a Reagan nominee, is scheduled to hold a hearing on that motion to dismiss. That will be the city lawsuit's first true test in court.
Appeals from the Southern District of New York are heard by the 2nd Circuit Court of Appeals, which ruled in favor of allowing a suit under common law in AEP v. Connecticut – an opinion the Supreme Court ultimately overruled. That legal history may in fact be why the city choose to file in a federal court where the case could be appealed to the 2nd Circuit, though city officials and the lawyers advising them would not comment on their legal tactics.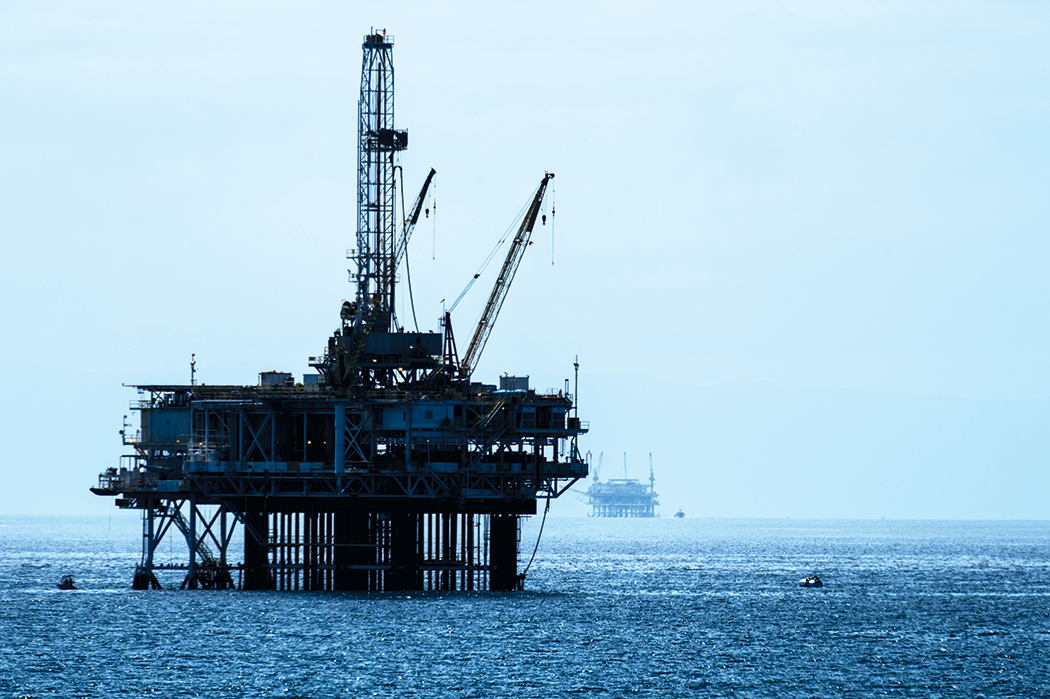 The major oil companies named in these suits, predictably, are not taking the wave of climate litigation lying down. Publicly, the companies have denounced the lawsuits as a sideshow. "The climate change litigation trend against a select group of energy companies is misguided and will not resolve larger questions related to climate change, which is a global issue that requires global policies and solutions," Daren Beaudo, the director of media relations and crisis communications for ConocoPhillips, told City & State. The lawsuits, he said, were "factually and legally incorrect and are an inappropriate vehicle to address the serious issue of climate change, which should be addressed through sound government policy." Representatives of the other companies being sued have made similar statements to the press.
These arguments would make a lot more sense to the average New Yorker, though, if fossil fuel companies' campaign contributions, lobbying and public relations' campaigns had not, for decades, been one of the main impediments when policymakers sought to adopt "sound government policy" to address climate change. And whether something "should be addressed" by politicians is not necessarily relevant to the legal question of whether climate pollution is a tort under public nuisance law at the state level.
Exxon Mobil has – in keeping with its history of strident opposition to environmental activism – been perhaps the company acting most aggressively against climate change litigation, seeking through legal filings to depose the attorneys general of Massachusetts and New York. An effort by Exxon Mobil to depose California officials behind the climate suits in that state is moving forward in Texas. Think tanks allied with the oil industry and fossil-fuel-friendly politicians, such as House Science, Space and Technology Committee Chairman Lamar Smith, have aided the industry in these efforts.
In April, two industry-aligned think tanks asked the U.S. Securities and Exchange Commission to investigate bonds issued by some of the California municipalities that, these think tanks and Exxon Mobil allege, also did not take the effects of sea level rise into account, potentially defrauding bond buyers. The move seeks to turn the tables on the municipalities, alleging that they engaged in the same behavior – obscuring climate risks – that the fossil fuel companies did. Representatives for the municipalities said they took the steps necessary to disclose the risks.
"For a long time, producers of fossil fuels have benefited from this pervasive myth that everyone is responsible for climate change." – Carroll Muffett, Center for International Environmental Law president and CEO
Supporters of the suits hope that, with the beginning of the discovery process, information will come to light that will further support their claims – and provide fodder for future climate lawsuits. The evidence unearthed might not relate just to the amount of fossil fuels produced, supporters of the suits said, but also to the effort to mislead the public on the effects those fuels would have on the climate. In 2015, reporting by InsideClimate News and The Los Angeles Times revealed that Exxon Mobil knew that burning its products could harm the climate decades before the issue became a hot-button political topic. "You've got clear evidence that companies were aware of the risk of their products, and of a responsibility to warn the public, but in fact took action to do exactly the opposite," Muffett said.
"We don't know what's in the files, but given what we've seen, and given the public statements of the defendants and their agents over the years – their trade groups, et cetera, that they funded – I imagine there are far more documents," Bookbinder said. "Unless they've been destroyed."
Already, as the climate litigation works its way through the courts, more information is coming to light. Documents unearthed in April by the Dutch news website De Correspondent and shared with the U.S. publications and nonprofits found that researchers at Shell predicted in 1998 that a major storm would rip through the East Coast in 2010, after which, the researchers wrote, "a coalition of environmental NGOs brings a class-action suit against the U.S. government and fossil fuel companies on the grounds of neglecting what scientists (including their own) have been saying for years: that something must be done." The researchers were attempting to predict scenarios that could be detrimental to Shell's business, and their prescience is startling. The suits aren't just from NGOs, but from affected cities – but the timing was only two years off, as Superstorm Sandy struck in 2012.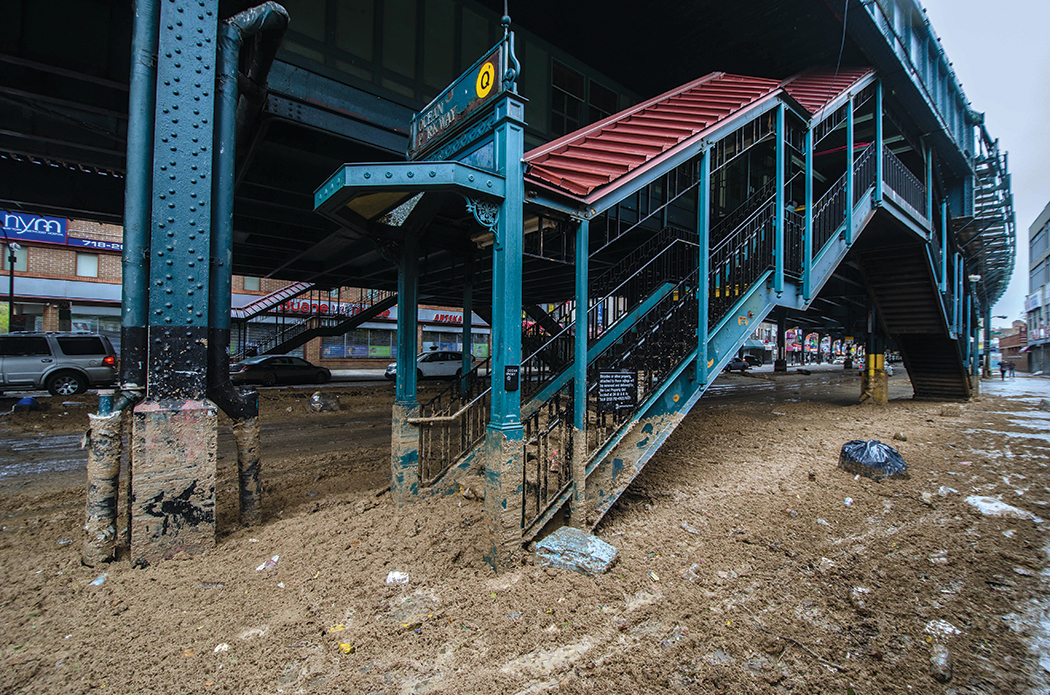 Zarrilli, for his part, stresses that New York City's suit against the five fossil fuel companies is part of a bigger picture for the city. Simultaneously with the announcement of its lawsuit, the city promised to divest the $5 billion of the city's $189 billion pension fund that was invested fossil fuels. The city is also pushing to cut its carbon footprint – Zarrilli touted a 15 percent drop in citywide greenhouse gas emissions since 2005 and a quintupling of the city's solar capacity since the beginning of the de Blasio administration. "All of these things together fit our climate agenda," he said. "No one thing is ever going to solve all of our problems – but we've got to pursue this in as broad a way as we can to protect New Yorkers."
It's similar to a product that was once nearly as omnipresent as fossil fuels are today: tobacco. Just as states and cities ramped up cigarette taxes, public anti-smoking campaigns and liability lawsuits simultaneously, a precipitous drop in smoking rates followed. Climate litigation is one just one piece of the broader climate change mitigation and adaptation strategy in progressive cities and states.
It's an analogy favored by de Blasio, who told WNYC's Brian Lehrer in January, "We're going to sue them using the same theory as the tobacco lawsuits from years ago that were successful."
Lawyers on both sides of the tobacco battle – many of whom are now involved in the climate litigation battles – agree that the specific legal issues at play are different, but the narrative, in broad strokes, fits. "The local government agencies are suing an entire industry for injuries caused by that industry's products," Bookbinder said.
In the 1998 tobacco Master Settlement Agreement, state attorneys general agreed to settle their suits against the tobacco companies. In return, the companies would make annual payments to the states to compensate them for health costs. The 46 states were ultimately paid a $365.5 billion settlement.
Such a deal would represent one potential positive outcome for New York City, but not the only one. For fossil fuel companies to come to the negotiating table, they first will have to credibly fear bigger losses in court. Even then, they could instead throw their weight behind a political compromise, such as Congress passing a carbon tax as part of a package of federal legislation that also eliminates climate liability. And if cities and states don't notch victories in court, then fossil fuel companies will have little reason to give anyone anything.
Other cities, including Los Angeles, are weighing their own climate suits, and a candidate to become Florida's next governor, former Miami Beach Mayor Philip Levine, said his state should file such a suit.
Individuals have brought suits as well. One such case, Juliana vs. U.S., brought against the Obama administration by 21 young Americans, has been inherited by the Trump administration and continues to advance, despite the administration's best efforts to have it thrown out. Arnold Schwarzenegger said he is planning to sue oil companies for "first-degree murder."
The movement isn't just limited to American cities and individuals. Paris is also looking into a suit like New York's. In November, a German appellate court allowed a case to proceed against energy company RWE brought by a Peruvian farmer, whose home in the Andes was being threatened by a melting glacier. In April, Colombia's Supreme Court ruled in favor of 25 young plaintiffs, agreeing that the country's government had done too little to protect their right to a safe, healthy and stable environment. Drawing on Heede's research, the Philippines Commission on Human Rights is examining the responsibility of these same companies for civil rights violations in a country where the 6,300 deaths and catastrophic damage caused by Typhoon Haiyan still looms large.
"The key lesson to take away from the tobacco experience here is that once tobacco litigation began, it continued incessantly for decades," Muffett said. "We're at the dawn of this age of litigation that will be facing the oil companies. … This is not a fleeting phenomenon. It is likely to define the future."