New York City
Why did Cy Vance give Weinstein special treatment?
When Harvey Weinstein was arrested on sexual assault charges, he got to turn himself in, his bail was set at a pre-negotiated amount he could easily afford, and he wasn't held in jail overnight. So why did Manhattan District Attorney Cy Vance give him special treatment?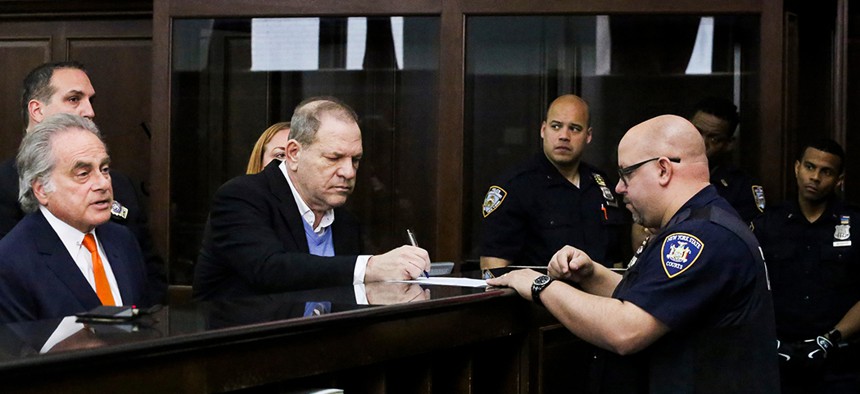 Harvey Weinstein is no stranger to slinking past a phalanx of photographers, but this wasn't a red carpet premiere.
The disgraced former film mogul arrived at the NYPD's 1st Precinct, three blocks from his now-emptied Miramax headquarters, at 7 a.m. on May 25 to turn himself in on charges that he raped a woman in 2013 and committed a criminal sex act against another woman in 2004.
A judge officially set Weinstein's bail at a pre-negotiated $1 million. Weinstein had come prepared: While other New Yorkers sometimes go to jail merely because they do not have access to an ATM in the courthouse, Weinstein had a cashier's check at the ready. By 9:30 a.m. he was free to leave.
Weinstein wasn't arrested unexpectedly, held in jail overnight to wait for his arraignment, or required to post a financially burdensome bail for someone of his wealth.
That left many observers wondering: Is this normal? Do accused serial rapists normally get to negotiate their surrender and bail in advance?
No. Weinstein's treatment is an example of how New York's wealthiest residents have access to a different justice system than less affluent accused criminals, who Vance readily throws in the slammer, holds up for bail worth many times more to them than a mere million dollars is worth to Weinstein and sends them to Rikers Island to await trial for far less serious charges.
But justice is supposed to be blind, so how and why does a rich person such as Weinstein get these privileges?
Here's how it works: Upon learning the charges, Weinstein's high-priced renowned criminal defense attorney Benjamin Brafman and Manhattan prosecutors discussed the circumstances of the mogul's surrender and agreed to a bail amounting to barely 0.4 percent of Weinstein's estimated $240 million to $300 million net worth.
"What happened in criminal court was a scripted practice," said Manhattan Assemblyman Dan Quart. "There were conversations that took place ahead of time and that is not what happens for average poor people, African Americans and Latinos who appear in criminal court each day."
Cops didn't storm down Weinstein's door at 4 a.m., drag him sleepless into the station, and let him sit in a cell with other suspects for a day while they process his paperwork.
"He was one of the first people brought to the judge before arraignment and he was right out the door. It delayed my clients who were sitting around for the rest of the day," said Tina Luongo, attorney-in-charge of the criminal defense practice at Legal Aid which represents low-income defendants.
Good luck getting out as quickly if your bank account is smaller than a studio executive's: The average time a defendant is held between arrest and arraignment is about 18 hours, according to Luongo, whose public defense firm represented 219,045 clients citywide in the 2017 fiscal year. "It's nowhere close to three hours," Luongo added. "They sometimes have no access to talking to an attorney or they can't reach a family member. That entire process is what is so fundamentally different from our clients'."
Police typically take the suspect to the precinct, run their fingerprints through the system, and complete paperwork for the arrest while the defendant waits in a cell. Then the cops transfer the suspect to Manhattan Central Booking on 100 Centre St. before moving him or her to a small holding pen behind the courtroom until the arraignment begins. This is not a pleasant way to while away the hours, according to the thousands of New Yorkers who have spent the night in Central Booking for crimes as minor as writing graffiti and smoking pot on the street.
The reason Weinstein and other rich defendants may not be subjected to this process is that private defense attorneys often talk with prosecutors investigating a case to determine how to schedule an arrest and minimize the amount of time their client is held. Most non-rich suspects do not already have defense lawyer on hand to perform that task before they actually have been arrested.
Negotiating bail before a judge hears the case is incredibly uncommon, as is getting bail so much lower than a defendant's net worth. Those living paycheck to paycheck face bails upwards of $100,000 to $250,000 for sexual assault, Legal Aid attorneys say. "We have to fight to get our client out and a judge makes a decision on their bail in only a few seconds," Luongo said. "Bail is supposed to be set at an amount that would make you come back. Weinstein's bail was completely affordable for him."
If a judge sets bail and the defendant is unable to pay, he or she can be sent to a corrections facility based on age, gender and severity of the charges.
Changing state laws could make the process fairer for poorer defendants. Democratic state lawmakers are looking to speed up the discovery process and eliminate cash bail for those charged with misdemeanors and non-violent felonies. "We can return our system to what it should be where bail only is used in circumstances whether they are a risk of flight and not as a means of punishment," Quart said.
Gov. Andrew Cuomo touted the proposals but did not include them in the state budget in April. Bail reform is now one of many outstanding bills that await a vote before the end of the legislative session in June.
But district attorneys set many policies that don't need a legal fix. For instance, prosecutors could simply choose to share state evidence, arrange arrest dates and propose bail amounts for clients of public defenders ahead of time.
Despite much evidence, including an audio recording, Manhattan District Attorney Cy Vance decided not to pursue sexual abuse charges against Weinstein in 2015. That decision has been roundly criticized by Time's Up activists. His office's handling of the case is the subject of a state attorney general probe and a bitter political fight with the governor's office.
Of course, just because one has a highly paid attorney who attempts to pre-negotiate special treatment such as Weinstein's doesn't mean the district attorney has to provide it. No one interviewed for this story could explain why prosecutors decided to hurry Weinstein through the system instead of making him wait to be arraigned and have his bail set like a typical defendant.  
Some legal and political insiders speculated on background that it may have to do with campaign donations. Brafman and his firm Brafman and Associates has given about $4,600 to Vance's campaign in recent years, although that is considerably smaller than other contributions from defense attorneys. (Brafman has represented other high-profile men accused of rape whom Vance did not prosecute, including former International Monetary Fund managing director Dominique Strauss-Kahn in 2011.)
A Vance spokesman wouldn't comment on criminal justice reform measures or why Weinstein received special treatment. In January, Vance promised he would not accept contributions from attorneys with pending cases after stories noted last fall he received $55,000 from another Weinstein attorney, David Boies, and $32,000 from Trump family attorney Marc Kasowitz after dropping a criminal investigation into fraud investigations involving Trump's eldest children in 2012. Vance has returned some of the donations.
Attorneys who cannot afford to drop tens of thousands of dollars in campaign contributions want the justice system to be fair to everyone. "This is not to say Harvey should be treated like our clients, the opposite is true," said Luongo. "We should have the same presumptions, the same benefits, same due process, and the same transparency."