New York State
Cuomo banned fracking. But is he still vulnerable on natural gas pipelines?
Cynthia Nixon tries to ride the environmentalist tide that propelled Zephyr Teachout in 2014.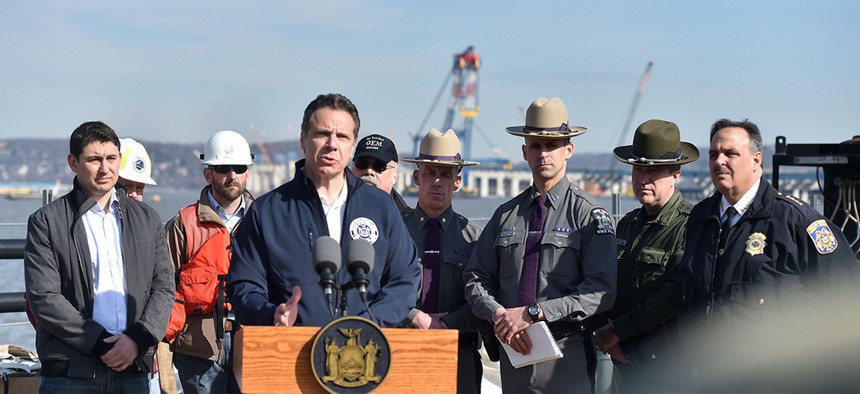 Gov. Andrew Cuomo has gone to great lengths to bolster his image as a leader on environmental issues. Despite enormous pressure and generous political contributions from oil and gas interests, his administration banned high-volume hydraulic fracturing, a highly controversial method of drilling for natural gas, after a six-year review. His Clean Energy Standard has set some of the most ambitious renewable energy goals in the country. And when President Donald Trump announced that the United States would be pulling out of the Paris climate accord, a global pact aimed at reducing carbon emissions and slowing climate change, Cuomo was on the front lines decrying the decision and pledging, along with 13 other states and Puerto Rico, to abide by its standards.
"New York state is committed to meeting the standards set forth in the Paris accord regardless of Washington's irresponsible actions," Cuomo said after the Trump administration announced it would abandon the agreement. "We will not ignore the science and reality of climate change, which is why I am also signing an executive order confirming New York's leadership role in protecting our citizens, our environment, and our planet."
So why does he continue to face mounting pressure from environmentalists around the state? From Buffalo to Brooklyn, activists disagree on whether they would be best served by continuing to work with the governor or electing new leadership. However, many of them say that while the governor has gone further than most of his colleagues to protect the environment, he's still not doing enough, particularly when it comes to the expansion of natural gas infrastructure.
That discontentment with continued natural gas expansion has led some environmentalists to support Cuomo's Democratic primary challenger, Cynthia Nixon.
Climate advocates Josh Fox and Bill McKibben have endorsed the insurgent candidate. So, too, has former Environmental Protection Agency Regional Administrator Judith Enck. She said that while Cuomo talks a good game on environmental issues, his actions, or lack thereof, tell a different story.
"The governor had eight years to rack up important environmental policy and accomplishments and he has failed in many important arenas," Enck said, pointing to a lack of action on improving public transportation in New York City and the expansion of natural gas infrastructure.
The governor declined to be interviewed, but campaign spokeswoman Abbey Collins defended his record on environmental issues, pointing to accomplishments like the planned shutdown of the Indian Point nuclear power plant and his leadership on a multistate cap-and-trade coalition.
"We will continue to build on this proven progressive record to protect our environment for future generations and create a cleaner, greener New York," she said in an emailed statement.
But environmental advocates say Cuomo could do more to prevent new natural gas infrastructure. Enck pointed to a plan to use natural-gas-fired turbines at a state-owned power plant to heat and cool the plaza at the state Capitol as one egregious example. All new gas infrastructure erodes any progress being made toward renewable energy goals, Enck argued, a sentiment echoed by many in the environmentalist community.
The governor has in the past described natural gas as a bridge fuel – a term of art often used by oil and gas industry advocates – to meeting his renewable energy goals, saying new infrastructure is acceptable, so long as environmental implications are carefully considered.
"The conduit for natural gas then becomes the question," he told The Buffalo News last year in explaining the state Department of Environmental Conservation's decision to deny a water permit for the Northern Access Pipeline. "And pipelines, in general? Fine. As long as they're done well and they're done correctly."
While there is no way to eliminate the use of natural gas immediately, environmentalists argue that the existing infrastructure is enough to meet energy demands while working toward the goals set forth by Cuomo – although the energy industry has rejected that claim.
"The problem with investing in pipelines and fossil-fuel-burning power plants is if you build them today, they're going to last for 40, 50 years," Enck said. "It's really hard to believe that the governor is committed to stopping climate change while, on his watch, there are massive new investments in fossil fuel facilities."
It's really hard to believe that the governor is committed to stopping climate change while on his watch there are massive new investments in fossil fuel facilities." – Judith Enck, former EPA regional administrator
With the September primary fast approaching, Cuomo is beginning to feel the heat. Nixon has promised to refuse political donations from oil and gas interests, to stop all new natural gas infrastructure projects and to invest heavily in public transit if elected. In recent months, she has been speaking out against the approval of pipelines and natural gas power plants, visiting communities where the new infrastructure is set to go up.
The Cuomo camp seems to have taken notice. When Nixon unveiled her climate plan in April, the state Department of Environmental Conservation announced the same day that it was denying a water permit on a proposed pipeline set to bring natural gas into the New York City area.
That same month Nixon visited a Competitive Power Ventures power plant, calling for it to be shut down completely while highlighting the role that former aide to the governor Joe Percoco – who has since been convicted of taking bribes to help get permits for the plant approved – played in moving the project forward. The state agency announced this month that it would require the Orange County power plant to take public comment in order to get an essential air permit.
Kim Fraczek, the director of the Sane Energy Project, said she thinks the state action is a direct reaction to Nixon's campaign. "We've noticed that Governor Cuomo has absolutely responded to that pressure," she said.
Fraczek, who grew up in Pennsylvania and said she has friends and family who have suffered from environmental issues caused by fracking, concedes that New York is much better off environmentally than many states. Still, she sees many of the state's decisions surrounding natural gas infrastructure, especially in recent months, as political calculations. "We're always pleased to see that he's paying attention to our demands," Fraczek said. "But, we also believe that he wouldn't be doing this if there wasn't an election coming up."
Still, the Cuomo administration does have limitations on what it can do to halt the construction of pipelines. The state halted the Constitution Pipeline by denying a key water permit, a decision that was upheld by the U.S. Supreme Court. But most of the regulatory power is in the hands of the federal government, specifically the Federal Energy Regulatory Commission, an opaque regulatory office that is viewed by many environmentalists as a rubber-stamp agency aligned with oil and gas interests.
Earlier this month, the federal agency overturned a state decision to deny a water permit on the Northern Access Pipeline, basing the ruling on the state's failure to meet deadlines. The company building the pipeline, set to run from Pennsylvania to the Western New York town of Elma, plans to move forward, even as the DEC appeals.
Some in the environmental community believe supporting the governor while continuing to put pressure on him is the best strategy.
Ellen Banks, a Sierra Club, Niagara Group member who has worked on the organization's Beyond Coal initiative, said the progress the state has made under Cuomo on goals like reducing the number of coal-burning power plants demonstrates the governor's commitment.
Banks, who stressed that she was speaking on her own behalf and not on the behalf of the Sierra Club, said she plans to vote for Cuomo despite sharing concerns about the speed and scope with which the governor's climate plan is being implemented.
"Our best strategy is to thank him for what he's done and push him to do more," she said.
"He wouldn't be doing this if there wasn't an election coming up." – Kim Fraczek, Sane Energy Project director
Despite winning support from environmental groups and activists, Nixon will face an uphill battle in selling the message that she is the true environmentalist on the ballot. She will try to emulate the success that Zephyr Teachout, who campaigned against fracking and won big over the governor in many upstate counties, had in 2014.
But it will be different this time around, given the accomplishments the Cuomo administration can point to, from the fracking ban to the renewable energy goals to major investments in wind and solar. Even if many environmentalists are disappointed with the progress that has been made under Cuomo, the fact that they have mixed feelings about his record shows how difficult it will be for Nixon to convince average voters that she will do more.
Because of that, Nixon is likely to emphasize issues where she can draw a clearer distinction between herself and the governor, said Grant Reeher, a political science professor at Syracuse University. "My sense is that Nixon is concentrating more of her fire on the corruption (and) education funding," he said.
And, while average voters are concerned about climate change, environmental issues usually fall far down the list of issues important to them, taking a back seat to things like the economy. "Environmental issues often have that challenge," Reeher said.
Further complicating things is the divide between New York City and upstate on these issues. Nixon will need to convince voters in the boroughs and surrounding suburbs, where the majority of the Democratic base lives, to vote for her in order to give her any chance at defeating Cuomo.
Danielle Spiegel-Feld, executive director of New York University's Guarini Center on Environmental, Energy and Land Use Law, said that while many New York City Democrats are concerned about Cuomo's environmental policies, they are not as aware of the natural gas infrastructure issues. "I don't see it as a huge issue for the more mainstream or centrist environmentally inclined voters in New York City," Spiegel-Feld said.
With just a few weeks until the primary, the candidates will no doubt be working the campaign trail hard. Will Nixon's attack from the left on environmental issues prove to be a winning strategy? Will she be able to work the networks built up during the fight against fracking that helped Teachout's surprisingly strong 2014 results? Or will Cuomo's well-oiled and well-heeled campaign machine be able to drown out her overtures by touting his own environmental bona fides?
While many disagreements within the environmental community remain about which candidate gives them the best chance at realizing their goals, one thing is certain: They are happy that these issues are being explored publicly and that Nixon is pushing Cuomo to address their concerns.
And if Cuomo does win re-election, as polling suggests will happen, there is little doubt that he will continue to face pressure to ramp up renewable energy production and do more to stop the expansion of natural gas infrastructure.
"The governor does have an opportunity to build a reputation of being a climate leader," Catskill Mountainkeeper Associate Director Wes Gillingham said. "But he has to be going at this 100 percent."