New York City
Simcha Felder's outsized impact on education
From yeshiva oversight to speed cameras outside schools, Simcha Felder is driving the debate.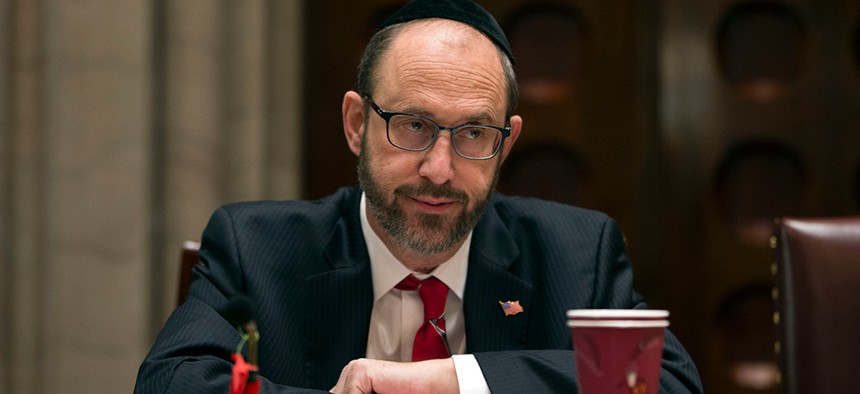 Once again, state Sen. Simcha Felder is the target of New York City Democrats' ire. Their latest complaint about the "heretic" Democrat who caucuses with the Republic majority is that Felder allowed the speed cameras outside city schools to be turned off, thus letting more than 100,000 cars speed by without being ticketed through mid-August.
It can be hard to pin down blame in the state Senate, a body full of shifting allegiances and suspect motives, but some facts are clear: Felder was able to tie passage of the (uncontroversial) speed camera reauthorization bill to a (controversial) bill that would station an armed guard at the entrance of every city school. Felder and the two New York City Republicans in the state Senate, Martin Golden and Andrew Lanza, introduced a weak speed camera reauthorization bill in the final days of the session, but a deal couldn't be made. The speed cameras were turned off on July 25.
Many were quick to blame Felder. "Thank Simcha Felder and Senate Republicans for Obstructing Life-Saving Speed Cameras," read a headline on Streetsblog, a website advocating for safe transportation. The website later reported that a hit-and-run driver killed a woman in Felder's district two days after the city was forced to shut off the cameras. New York City Council Speaker Corey Johnson, who favors speed cameras, also called out Felder – as well as Golden, Lanza and state Senate Majority Leader John Flanagan – for not renewing the speed camera program.
"I want these senators to look into the eyes of the family members who are here who have to live with the loss every single day, of losing a loved one, and explain why the inaction must continue," Johnson said. "Shame on you Simcha Felder."
Felder has been silent on the issue. He declined multiple requests to comment for this story, and apparently hasn't been quoted in the press on the issue since the session ended. WNYC sent a reporter to his office in Midwood, Brooklyn, to get comment in July, but he refused to answer questions.
"Shame on you, Simcha Felder." – New York City Council Speaker Corey Johnson
It isn't the first time Felder used his unique position as the Senate lynchpin to influence issues affecting New York schools. Education has been a favorite topic of Felder's, and he has pushed for school safety measures, an education tax credit that would benefit private school parents and less oversight of Jewish religious schools, known as yeshivas. Despite not sitting on the state Senate Education Committee, he's become one of the most consequential players in education.
In the thick of budget negotiations this past session, Felder used his influence as the essential swing vote in the state Legislature to block the passage of the state budget unless it included language to give yeshivas more leeway in meeting state educational standards. With the April 1 budget deadline quickly approaching – not to mention Felder's own deadline of having to get back home in time for the start of Passover – the yeshiva carve-out got included, and the budget passed.
Felder represents a heavily Jewish district in southern Brooklyn. Experts estimate the population to be anywhere from 43 percent to 66 percent Jewish, many of them Orthodox or ultra-Orthodox. Thanks in part to the large family size in those communities, Felder's district has the most school-age children of any district in the state.
It's only natural that Felder would be focused on schools, said Ezra Friedlander, CEO of government relations firm The Friedlander Group and a resident of Felder's district.
"There are that many children, and education is regulated by the state, so combine those two factors, and it doesn't take a rocket scientist to find out why he's so involved in those issues," he said.
With all the parents, schools are a hot topic in the district, and Friedlander said the residents appreciate Felder's involvement in education. "Any elected official worth their salt should play a role in any legislative process that impacts their constituents," he said. "I would give him an A – pun intended – for that."
But Felder cuts an atypical path. Though he once chaired the state Senate Subcommittee on New York City Education, multiple sources confirmed that committee is now defunct, and hasn't met since 2015. Nor does Felder sit on the 19-member Education Committee.
Yet even a cursory look through a list of his sponsored bills shows that many of them concern education policy. In his official biography, Felder highlights how he secured school bus funding and financial support for parents with children in special education.
But his focus has made him a target for some education activists, who resent his power.
"He has outsized influence over policy and decision-making across the city and the state, and he tends to wield that influence in the realm of education more so than other issue areas," said Jasmine Gripper, legislative director of the Alliance for Quality Education, a group backing more funding for public schools.
Though her organization hasn't fought with Felder directly, the group doesn't appreciate Felder's parochial focus.
"We're fighting over a finite pot of money," Gripper said. "And within that pot of education money, he's constantly trying to take a chunk of it for his specific community."
One major example was Felder's advocacy for an education investment tax credit, which would essentially allow New Yorkers to direct their taxes to help pay for tuition at private schools. Felder pushed hard for the legislation in his first years in the Senate, but essentially gave up in late 2016, after losing support from Cuomo.
"We're fighting over a finite pot of money," Gripper said. "And within that pot of education money, he's constantly trying to take a chunk of it for his specific community." – Jasmine Gripper, Alliance for Quality Education legislative director
The tax credit is a reminder that Felder's influence, though significant, is not unlimited. New York City's speed cameras weren't reauthorized – at least in part – because Felder hoped to use the program as a bargaining chip for his school safety bill that would station an armed guard outside of every city school, public or private. Felder pushed it throughout the legislative session, even suggesting he would caucus with whichever party helped him pass it. The bill faced heavy opposition – Gripper called it "a ridiculous cost, and really unnecessary" – and it never made it to the floor for a vote.
With the legislative session over, Felder is dealing with a new set of issues. The educational standards of yeshivas are under more scrutiny after reports that half the schools under investigation in New York City wouldn't even allow inspectors to visit. He's facing attacks for his role in shutting off the speed cameras, including from the candidate challenging him in the September Democratic primary, Blake Morris. Even if Felder wins the primary, as he's expected to, his influence could be diminished if the party balance of the Senate changes and he's no longer the swing vote.
But this likely wouldn't hurt his standing in the district. As Friedlander explained, "The senator is a very popular guy."