George Latimer
Westchester county executive George Latimer's to-do list
George Latimer, the new Westchester county executive has some big issues to resolve. Here are a handful of the biggest ones.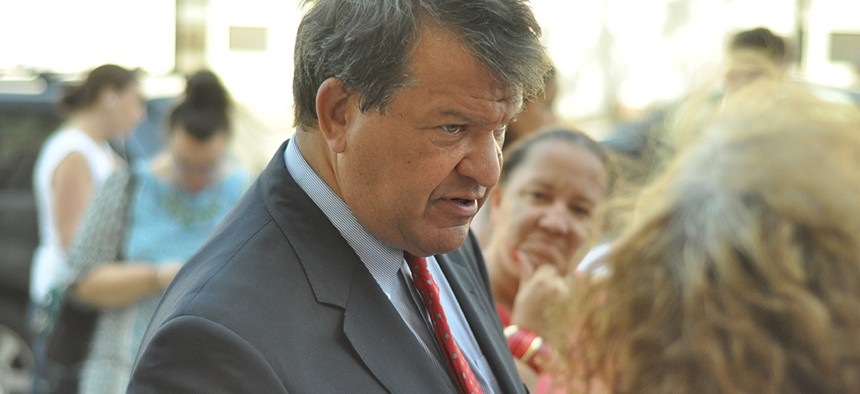 When Westchester County Executive George Latimer took office at the beginning of the year, he was part of what he recognized as a "blue wave." His defeat of two-term Republican Rob Astorino, Latimer believes, was due to the county's desire for change. Latimer quipped to City & State that if the race was just about property taxes, Astorino, who did not raise them almost his entire tenure, would have won.
Latimer said he is proud to have achieved some progressive reforms in his first few months in office, such as banning the county's longtime gun show and passing the Immigrant Protection Act to help shield immigrants from the federal government. But Latimer inherited a host of unresolved issues in Westchester. Here are five of the biggest issues facing the county.
 
Making Metro-North safer
In 2008, Congress mandated that all commuter rail systems be outfitted with positive train control. The technology is a safety measure meant to monitor train speed and automatically active the brakes of speeding trains. It could have prevented at least one fatal Metro-North train crash: the Spuyten Duyvil derailment in 2013 that killed four, caused by an engineer who fell asleep at the controls. However, a decade later, Metro-North is still lagging in installing the technology. In February, the Metropolitan Transportation Authority laid out an aggressive plan to meet the year-end deadline – which had already been extended by three years – with officials saying the work was about 62 percent done. After a setback in March when the technology failed in testing, Metro-North President Catherine Rinaldi once again said the agency was on track, saying, "We're killing ourselves to get it done." Then, in July, the MTA suggested that rather than have the system fully implemented by December, it would aim to get enough work done by mid-October in order to qualify for an alternative schedule that could add as many as two extra years. If the MTA fails to meet the necessary criteria for an extension, which requires most of the technology in place, most employees trained and have it mostly operational, it faces steep fines of up to nearly $28,000 a day.
 
Tackling the budget gap
The county was left with a $32 million deficit when Astorino left office at the end of 2017. Right off the bat, Westchester officials dipped into the county's reserve fund to take out about $20 million to make up for a potential deal that never happened to lease out operation of the Westchester County Airport. The latest projection is for an $18 million shortfall at the end of the fiscal year, thanks in part to $6.5 million going to labor contracts negotiated last year. This year's budget gap could grow even wider if the county negotiates a new contract with the local Civil Service Employees Association, whose members have been working without one since 2011. Latimer told City & State that sales tax revenue has increased this year, which will help close some of that gap. He pointed to other steps the county has taken to avoid a large increase in property taxes, such as signing a new contract with the company that provides the county's bus services that saved $4 million. "We're piecemealing it with a variety of different decisions that will little by little by little close the gap," he said. However, he still expects a small, 2 percent property tax increase. "Under Rob Astorino, the property tax levy was not increased in seven years," Latimer said. "That's a long time to go with flat revenue and the costs catch up to you over time."
 
Closing Indian Point
Over a year ago, Gov. Andrew Cuomo announced that the Indian Point nuclear power plant would shut down by April 2021. Although many residents, lawmakers and environmentalists had been advocating for such a move for years, concerns remained regarding the impact on the local economy – particularly the Hendrick Hudson School District, which stands to lose $24 million – as well as the state's power needs. State Sen. Terrence Murphy, whose district includes Indian Point, called the shutdown a disaster. "They decided to close it overnight without anybody knowing, without even having a plan about where to get the energy from. And they still don't have a plan," said Murphy, who is advocating for the plant not to be sold and has introduced legislation to retrain employees to complete the decommissioning work, which can take up to 60 years.
The other question is whether or not the decommissioned plant will get sold to a decommissioning company. The owner of the plant, Entergy, has sold several other plants that have shut down in other states. Latimer said he has tried to stay on top of the process and remain involved, but ultimately the decision will be out of his hands. "When we met with them, we said, 'Look, we'd like to be in dialogue with you along with the local governments,'" Latimer said. "But they were very clear, 'This is our property, we're going to figure out what to do with it.' It's not like it's public land."
Privatizing Playland Park and Westchester County Airport
Astorino tried to privatize the county airport for years, but the county Board of Legislators rejected the proposal on two different occasions. Although the airport is already privately managed, the deal Astorino pushed for would have effectively turned over the governance and decision-making to a private entity for a 40-year period during which time the county would receive payments. The lack of a deal contributed to the deficit that Latimer inherited.
While he is not inherently opposed to the idea of public-private partnerships, Latimer said he and Astorino have very different philosophies. "It's a transportation hub first; it's not a piggy bank," Latimer said, referring to his predecessor's desire to use the airport as a short-term revenue stream. Instead, Latimer said he is focused on dealing with the environmental issues it poses for residents and making sure it is run properly for its primary purpose. "We haven't said we're never going to look at it, let's throw it out the window," Latimer said. "But right now, what we're trying to do is go back to what the real issues are at the airport."
Latimer viewed another deal to privatize Playland Park in a similar light. The county has operated the amusement park for decades, but is set to hand over control to a private company at the end of 2019. "I don't think you automatically say that privatization is an automatic good, and I think that's where Rob was at," Latimer said. He added that while the deal is in place, disagreements remain with the company and he is not sure whether the transition will go smoothly or if there will be changes to the deal.
 
SALT deduction cap
Westchester County has the highest property taxes in the country, and its residents are set to be heavily affected by the $10,000 cap on state and local tax, or SALT, deductions imposed by President Donald Trump's tax bill. Many residents in Westchester pay more than $10,000 in local taxes, above which they will no longer be able to deduct from their federal taxes. Latimer said the concept of capping the deductions is deeply unfair to high-tax states like New York and counties like his. "You've got to remember, in this state, we have mass transit. In (low-tax states like) South Carolina, they don't have mass transit," Latimer told City & State. "This is not just wasteful spending and we're going to get a deduction for it. It's a level of service we provide."
New York became the first state in the country to pass legislation that creates a workaround for the cap. One way it would work is for local municipalities to set up charitable foundations that residents could send money to instead of paying taxes the traditional way, thus allowing the contributions to be tax-deductible. However, last month the U.S. Treasury Department took steps to block states like New York from using that workaround, so the future is uncertain and remains out of the hands of the county. "We have put in motion the efforts to implement it. But have a reality check that will come in December," Latimer said. "If it does happen, while I think it's an awkward type of a plan, I commend the state for trying to do something."