New York City
Which New York City Council member is under investigation?
The New York City Council's Committee on Standards and Ethics met Thursday morning as it pursues a new investigation into "disorderly behavior" by a member of the legislative body – and so far, the lawmaker's name is being kept secret.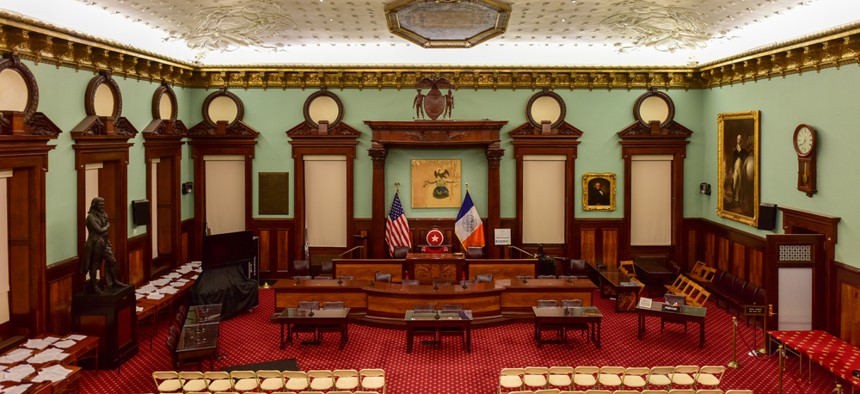 The New York City Council's Committee on Standards and Ethics met publicly for 47 seconds on Thursday morning as it pursues a new investigation into an unidentified member of the legislative body.
The committee tasked with overseeing the body's ethics then went into an executive session to discuss the matter privately. The identity of the lawmaker whose conduct they were discussing remained a secret as of Thursday afternoon, and those who knew weren't eager – or able – to talk.
"Today the Committee reviewed allegations of potential misconduct and has directed the Council's Office of the General Counsel to complete an investigation into the allegations and report back to the Committee," Staten Island City Councilman Steve Matteo, the committee's chairman, said in a statement provided to City & State. "At this time, Committee Members are legally bound not to comment any further on this matter."
The Committee on Standards and Ethics only has oversight over the 51 members of the Council, and not the body's hundreds of employees, which indicates that a lawmaker is being probed. The committee announced that it was meeting to discuss section 10.80 of the Council's rules, which prohibits "disorderly behavior" and lays out possible punishments. The rule is broad, and includes everything from "willful violation" of "official duties," to violation of "policies against discrimination and harassment."
Multiple City Council staffers also confirmed that they had received an email Monday evening reminding employees of the council's anti-discrimination and harassment policy. Staffers speculated that the message could be related to the committee's investigation.
The committee's deliberations haven't always been private. When the committee opened an investigation last December into City Councilman Andy King sexually harassing a staffer, his name quickly was leaked. And when the committee investigated City Councilman Ruben Diaz Sr. for misuse of his official email in July, Diaz himself copped up to it.
The investigation into King wrapped up within two months and he was ordered to undergo sensitivity training. Diaz's investigation lasted about two weeks and concluded when he agreed to stop sending political emails from his government email account.
Such investigations are relatively rare in the Council. Before the King and Diaz investigations this year, the committee held just three meetings regarding investigations in the previous four years.
Powered By
NEXT STORY: The growing list of corrupt Cuomo associates