Andrew Cuomo
A new weapon in the war over Hudson Yards
Unions take aim at public subsidies for Related Cos.' megaproject.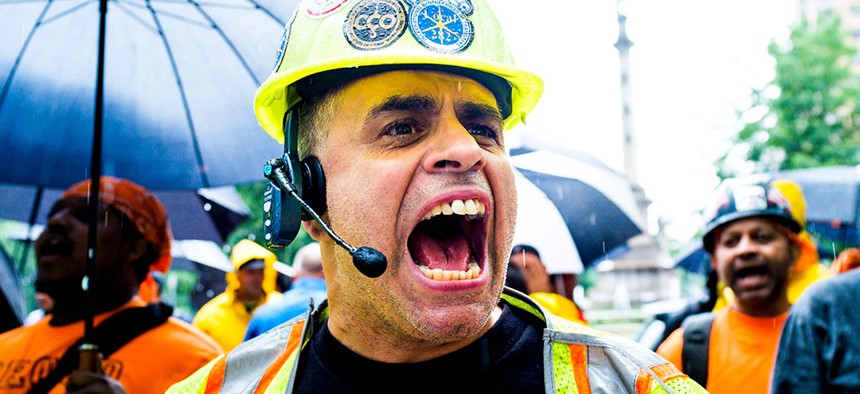 In exchange for billions of dollars worth of taxpayer-funded support for commercial and residential projects across New York City, local and state governments expect many things from Related Cos. – one of the world's largest real estate developers.
Affordable housing and economic activity in underdeveloped areas are two examples, but at 50 Hudson Yards, a coalition of unions representing 100,000 workers citywide reckons that public money should also buy organized labor the exclusive right to do all the work it takes to make the $25 billion Hudson Yards project happen.
That source of friction has sparked a war of attrition between Related and the Building and Construction Trades Council of Greater New York, the umbrella group for construction unions in New York City. For the past year, the council has staged regular pickets on the West Side of Manhattan and rallies with elected officials under the hashtag #CountMeIn, as part of an effort to get a project labor agreement at the $4 billion 50 Hudson Yards project. With the conflict locked in a stalemate, the unions have turned to highlighting the public financial support that Related receives for projects citywide.
In response, Related, and its longtime billionaire chairman Stephen Ross, may take on a divide-and-conquer strategy that aims to break the council's hold on labor at Hudson Yards. If they win, it would a major breakthrough for nonunion labor in commercial construction projects across the city.
As the social media campaign and pro-union movement enters its second year, there are signs that the council has succeeded in creating some alliances that might help it win its war against Related – even if it loses the battle over exclusive union work at 50 Hudson Yards.
In the past year, the #CountMeIn campaign has morphed into a wider movement to generate support for organized labor at large. This includes extracting public promises of support from powerful figures like Gov. Andrew Cuomo and New York City Council Speaker Corey Johnson, and a City Council resolution with 21 co-sponsors that asserts that what happens at Hudson Yards is a referendum on the identity of the city as a bastion of organized labor itself – and that public financial support for real estate developers should be a means of protecting that.
"There should be obligations attached to that," Building and Construction Trades Council of Greater New York President Gary LaBarbera said. "One of which should be the creation of good, strong middle-class jobs and in turn their undermining (of) good strong middle-class jobs with careers."
According to an analysis shared with City & State by the Building and Construction Trades Council, Related has received $4.6 billion in tax breaks, subsidies and discretionary funding in recent years from local and state sources. This includes $1.1 billion in assistance from the Empire State Development Corp., $1.5 billion from the state Housing Finance Agency and $687 million from New York City Economic Development Corp. and New York City Industrial Development Agency.
Overall, about two-thirds of the $4.6 billion comes from state sources. Projects included residential projects in Manhattan, Brooklyn and Queens, Hudson Yards and Moynihan Station. Related did not respond to multiple requests for comment on its level of support from state and local government agencies, and associated nonprofits like the EDC and IDA.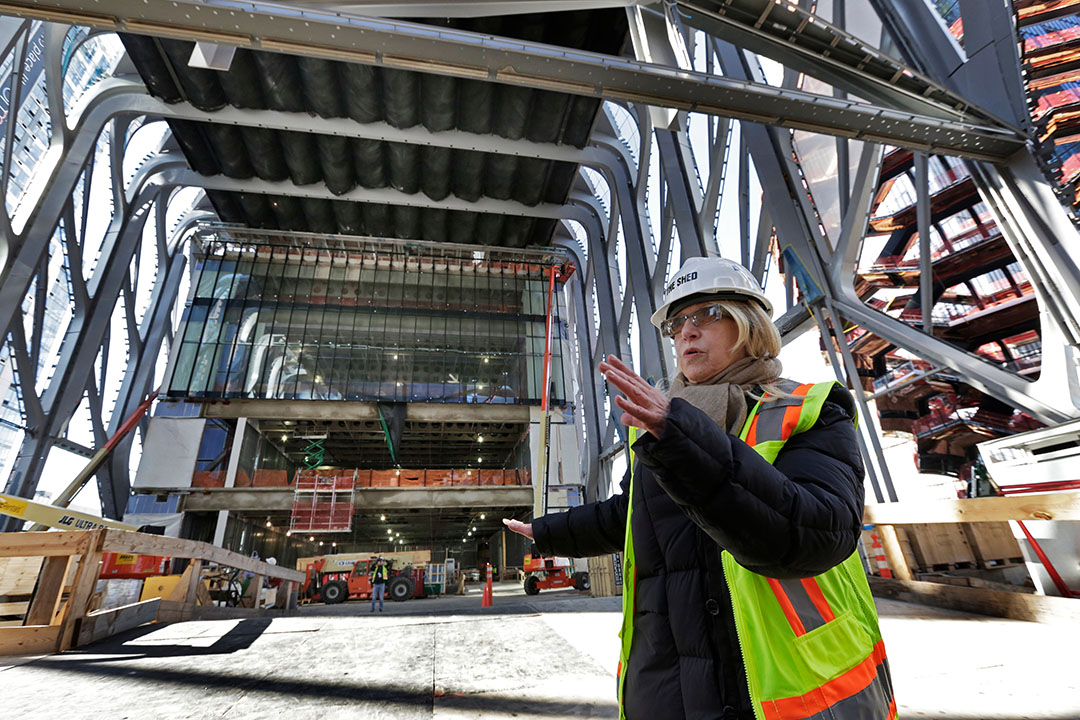 The findings of that analysis also seemed to be reflected in the New York City Council resolution that was proposed last month. The city "has invested millions of dollars into the Hudson Yards development, according to the #CountMeIn movement," reads the resolution that was proposed on Oct. 17 by City Councilman Costa Constantinides, one of several elected officials who joined union members in front of City Hall that day.
"Related Cos.' attempted union-busting efforts are counter to what New York City is – built on the back of organized labor," Constantinides said at the rally, according to a press release. "Trying to construct one of New York's most defining projects with nonunion labor is a serious threat to the future of our middle class. I am proud to support our building trades against cost-cutting developers, so you can count me in." These remarks are just one example of one year's worth of supportive statements from elected leaders, including Cuomo and Johnson.
Though they have offered nominal support for organized labor, elected officials thus far have not concretely added to the pressure against Related – "not that we've asked them to," LaBarbera said. Representatives for Johnson, Cuomo and New York City Mayor Bill de Blasio did not directly respond to questions about whether any concrete action would be taken to compel Related to come to an agreement with the trades council, though there is general agreement that should happen.
"Like any labor dispute, we urge Related Companies and the Building and Construction Trades Council to meet at the table and keep a respectful dynamic to resolve any issues," Raul Contreras, a spokesman for de Blasio, wrote in an email.
But the battle between Related and the council has long lacked civility. This past month, a representative of Related accused LaBarbera of "malicious name-calling" and spreading "fake news" after LaBarbera said Hudson Yards was falling behind schedule. This followed Related's filing of a lawsuit against the council, accusing it of inflating costs at Hudson Yards by $100 million. The two sides had signed a 2013 project labor agreement that guaranteed that only union labor would be used during the first phase of the Hudson Yards project. Related now wants to make separate deals with each union, as it already done with a union representing carpenters.
The 2013 agreement came at a time when LaBarbera said he had a cordial, if strictly professional, relationship with Related's billionaire leader. But all of that changed in later years, starting with one comment made by Ross at a 2016 Crain's event. LaBarbera recalled sitting at a table at the midtown Manhattan Sheraton Hotel when Ross said something that LaBarbera found shocking. "The good news is today, New York is becoming more of an open shop city," Ross said, referencing the emerging practice of using both union and nonunion laborers at construction sites.
LaBarbera quickly denounced the statement once he had a chance to speak on a panel at the event. "To hear a developer, Steve Ross, say it's a good thing that the city is open shop and costs are coming down, that's saying it's a good thing that wages are going down in the city of New York, that workers are being exploited every day, they're being put on job sites with no training, no benefits – in my view, that is the worst thing for the city of New York," LaBarbera said, according to Crain's.
Organized labor has suffered several blows in recent years, whether through declining membership in many industries or the U.S. Supreme Court's Janus v. AFSCME Council 31 decision this year, which some observers say opened a "Pandora's box" for public sector unions.
But it's unclear to what extent unions have lost ground in commercial construction because reliable data is lacking and anecdotal evidence is mixed in New York City. LaBarbera claimed that unions maintain a firm hold on their overwhelming share of commercial construction jobs citywide.
Others said a quick take on a complicated situation suggests otherwise: "If you're talking about 2018 compared to a decade ago or compared to the 1980s, undoubtedly the nonunion share of overall construction activity has increased," James Parrott, director of economic and fiscal policies at The New School's Center for New York City Affairs, told City & State in September. "But other than some sort of vague statement like that, I'm not ready to put numbers behind anything."
Two things, however, are clear. The first is that Hudson Yards will signal whether or not nonunion labor can make serious inroads into a construction sector that has long been the domain of organized labor in New York City. The other takeaway is that public financing for projects using nonunion labor has become an issue in that fight.
There is little hope that Related and the Building and Construction Trades Council can make peace, considering both sides' positions in an "existential" fight, according to LaBarbera. Lawsuits are ongoing. Protests are planned. Nonunion labor is still at work, and organized labor recognizes the big stake it has to push them off the job at 50 Hudson Yards.
"It's really a dispute that's consistent with the history of labor and capital," LaBarbera said. "I don't think anything is going to change anytime soon."