Infrastructure
Is there any way to build more for less?
Here's what state lawmakers are considering to tackle high infrastructure costs.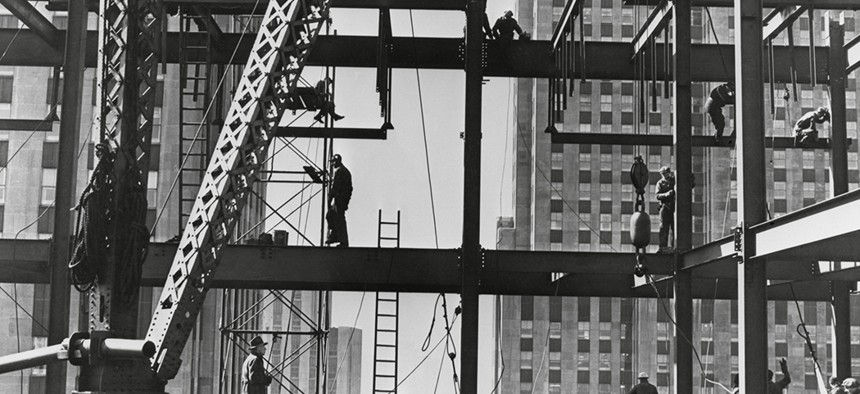 As New York aims to rehabilitate New York City's dilapidated subway system and make badly needed repairs to the state's roads, bridges, ports and airports, it is confronting sky-high construction costs. That means changing the prevailing wage, expanding public-private partnerships, loosening restrictions on design-build and reforming the Scaffold Law will likely be debated in the upcoming state legislative session as ways to cut costs and make big projects happen.
Here's where things stand on those issues and how they might factor into state politics in the upcoming year.
✓ Design-build
In a typical state project, the design process and construction work are contracted separately. Design-build project procurement, however, saves time and money by doing them together, cutting down on the bureaucratic costs of a project. However, its use in New York City and by a number of state agencies is restricted by the state, and efforts to expand it have moved slowly in the state Legislature. Projects like the new Gov. Mario M. Cuomo Bridge indicate that it can be effective on high-profile projects – and there is no shortage of projects at the city level that could take advantage of a practice that has long been used by certain state bodies – including the state Thruway Authority and the Port Authority of New York and New Jersey. Additionally, this year's state budget added new authorization for design-build in New York City, specifically for new jails to replace Rikers Island, the Brooklyn-Queens Expressway reconstruction and public housing projects.
Assemblyman Michael Benedetto, a Bronx Democrat, said that he will take his time before reintroducing a bill in the upcoming year that would allow more projects to be done with design-build. He said that pause is not due to opposition from other lawmakers but rather identifying which projects to highlight for design-build authorization. "I would want to talk to the city and see what projects they are keen on and once I discuss with them those projects then I may form a new bill and introduce that," he said.
✓ Public-private partnerships
Some advocates say that New York should go a step further and adopt full-fledged public-private partnerships – which can go beyond the relatively limited design-build process by continuing the involvement of a private entity after construction – since their use is only authorized for certain agencies. Proponents say that such partnerships – also known as P3s – allow for greater innovation in public works and can also improve quality. It remains to be seen how strongly Cuomo will push for an increase in public-private partnerships in next year's budget negotiations, but progress on the issue would be a welcome development, according to Jamison Dague, director of infrastructure studies at the Citizens Budget Commission. "I would hope during the next legislative session that you see an acknowledgement that it's time to untie the hands behind the back of these folks managing large capital investments," he said.
✓ Prevailing wage
While lawmakers have focused their attention elsewhere, representatives of the construction industry have continued to highlight their opposition to prevailing wage requirements. These rules mean that contractors have to pay workers a minimum pay rate while working on publicly funded construction projects. Some have blamed such requirements for making construction in New York so expensive. A 2017 report from the Empire Center for Public Policy stated that prevailing wage requirement increase costs on public construction projects by as much as 25 percent. But with Democrats in control of both houses of the state Legislature, it is unclear whether there is any appetite in Albany to confront the issue, especially considering how unions have traditionally been a core Democratic constituency.
✓ The Scaffold Law
The construction industry has also sought to keep alive efforts to reform the state Scaffold Law, which makes construction companies liable for work-site injuries. Opponents say that the law is no longer needed because there is a greater social safety net now compared to when the law was first enacted. Assemblyman John McDonald III said that he will continue to advocate for a bill that would enact "proportionate liability," which would make workers in some circumstances also responsible for construction accidents if they are deemed negligent. It will likely be an uphill battle to pass such a bill, especially since no state Senate sponsor has come forward yet, but McDonald said it does not have to be an issue that pits businesses on one side and labor on the other – though he said it can be difficult to persuade the public on the issue, even though it could ultimately reduce construction costs. "The problem is for the average person," he said. "They can't see how they're going to feel it in their wallet. This is arguably the No. 3 top cost driver for doing business in New York state, and at the end of the day, as much as people like to blame building owners, it's the consumer – it's the residents – that ultimately pay the bill."