New York City
How New York officials are responding to criticism of Amazon's HQ2
While Amazon is playing offense, some of the staunchest supporters of the HQ2 deal are trying to play defense.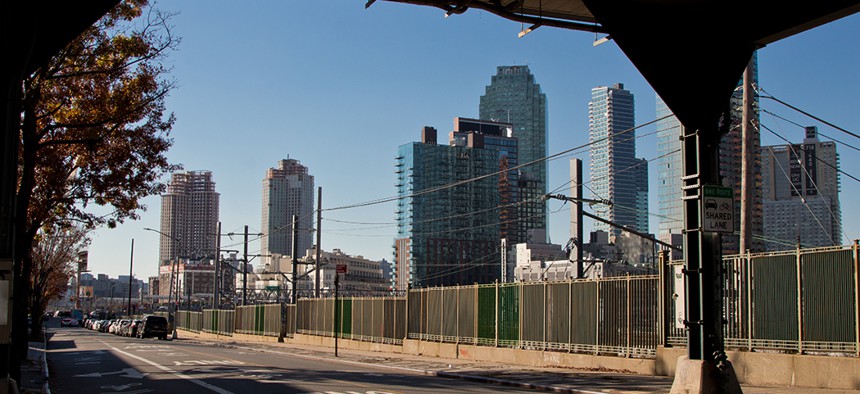 While Amazon is playing offense – sending out mailers boasting all of the benefits of its forthcoming Long Island City headquarters – some of the staunchest supporters of the deal are trying to play defense. At a panel discussion hosted by the New York City Labor Market Information Service, the New York City Economic Development Corporation and JPMorgan Chase Global Philanthropy, officials from EDC, Empire State Development and tech nonprofit professionals sought to rebut criticisms of the deal.
Since news broke that Amazon would open a second headquarters in Long Island City – with city and state agencies promising a tidy sum of nearly $3 billion worth of incentives to woo the company – the plan has been met with opprobrium from Queens lawmakers, advocacy groups and organized labor. The arrival of a tech behemoth in a growing outer borough, critics say, will bring stresses on transportation, a lack of affordable housing and the greater societal ill of gentrification. HQ2's supporters offered defenses on a few of those points but stayed silent on other questions, suggesting that the backlash to the deal won't be quelled anytime soon.
When Amazon announced that it would bring 25,000 jobs to New York City over 10 years, one of the first questions was who would get those jobs. The company has promised to create local training programs focused on technology and other relevant subjects, but doubts remain. Steve Gold, vice president of industry development at Empire State Development – the state's economic development arm, which oversees some of the tax incentives offered to Amazon – said that a community advisory committee consisting of 45 community, civic, advocacy and business leaders will help address some of those concerns.
"Through our Community Advisory Committee system, we have a subcommittee on workforce development, which is going to inform both Amazon and us how to make sure these opportunities are articulated and shown," Gold said when asked how new jobs could be filled this way. "If you look at the members of the workforce subcommittee, there are representatives from public housing, there are not-for-profits that help incarcerated individuals back into the workforce. There are others that help families save for higher education. There's quite a wide range of representation that's going to inform us very closely how to target to make sure these opportunities are presented across the board."
So far, the recommendations of CAC are only advisory, but Matthew Mo, a vice president at NYCEDC, claimed that the mere existence of the committee demonstrates Amazon's desire to work with the community, not against it.
"The way that Amazon is coming to the table around things like the Community Advisory Committee – that doesn't happen with a normal corporate relocation," Mo said. "I think in terms of being thoughtful about what the runway looks like and how to take the most advantage of all the job openings and to make it inclusive, the fact that you have that participatory conversation is, I think, a super unique part."
A number of local elected officials were outraged by Amazon's secret deal with the Cuomo and de Blasio administrations, which cut them out of the negotiations and left them in the dark. In particular, the deal circumvented the standard land use review process conducted by the New York City Council – which typically has a major role in such decisions.
"The mayor and governor caved to the richest man in the world and handed New Yorkers the bill," New York City Councilman Jimmy Van Bramer, who represents the Queens district, said at a council hearing last month, referring to Amazon founder Jeff Bezos.
Another point that Mo and Gold touted was a projected $27 billion in state and local tax revenue that the new headquarters would generate. While $3 billion in tax incentives is no small sum, their argument went, the return on investment would be 9-to-1.
One problem with that conclusion is the question of how to ensure that the beneficiaries of that revenue are the people most negatively affected by Amazon's arrival.
"We can't assume that the $27 billion is automatically going to make lives better for New Yorkers," said Kelly Richardson, a managing director at technology nonprofit Per Scholas, and member of the CAC. Ultimately, Richardson said, the choice to reinvest that revenue in the right way comes down to lawmakers – a contingent with no representatives featured at Thursday's event.
Still, Richardson said she thinks there are many benefits in the deal that are being underreported. "The fact that there is a $3 to $5 million commitment to invest in job training for public housing residents is huge," she said, referencing some of Amazon's announced initiatives to cultivate local talent from all backgrounds.
There are other details of the deal that get lost in the haze of outrage, panelists said. One that Gold referenced is a requirement for how Amazon will spend the some of the grant money it was awarded. "There is a 30 percent requirement on Amazon's part to spend that money on MWBE-certified firms," he said. "That's to the tune of $151 million in contracts that will go to MWBE firms over the course of Amazon spending its money to build out."
But when a question from the audience about how the city and state will combat the threat of gentrification was asked, Mo and Gold had little to say. Silence ensued before the panelists broke into some awkward laughter for lack of an answer. Eventually, Gold attempted to downplay the significance of HQ2 altogether. "We're a huge city," he said. "This is not a blip, but you look at 25,000 to 40,000 jobs out of a 20 million person New York metro workforce, I don't believe it's going to be as disruptive as it's said to be."
Richardson, meanwhile, said that addressing gentrification is work that's left to be done. "Whoever asked the question," she said, "keep asking the question."
Clarification: This story has been updated to reflect that the event was co-hosted by the New York City Labor Market Information Service and JPMorgan Chase Global Philanthropy, in addition to New York City Economic Development Corporation.
Powered By
NEXT STORY: A tech surge for Syracuse