Andrew Cuomo
Cuomo clashes with Stewart-Cousins over HQ2
Tensions have risen between Gov. Andrew Cuomo and Democratic state Senators, and withdrawing the nomination of state Sen. Michael Gianaris to the Public Authorities Control Board has added fuel to the fire.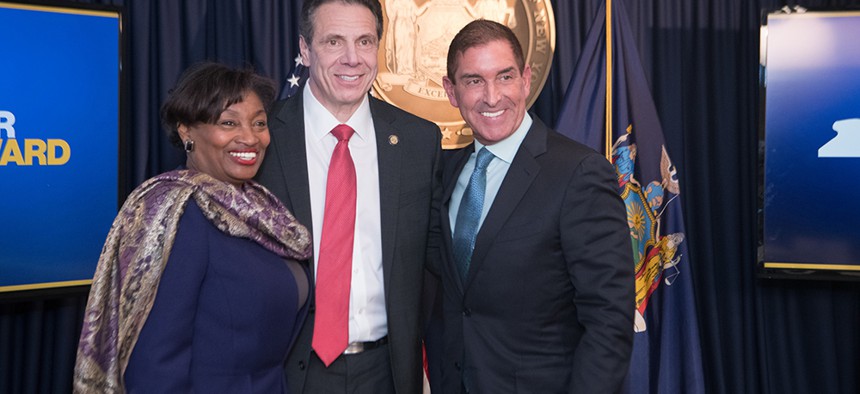 Tensions rose between Gov. Andrew Cuomo and state Senate Majority Leader Andrea-Stewart Cousins this weekend when Stewart-Cousins withdrew the nomination of state Sen. Michael Gianaris to the Public Authorities Control Board – the body on which Gianaris could have had veto power over the deal to bring a new Amazon headquarters to Queens. Aside from stripping Gianaris of a potentially powerful seat, this development makes one thing clear: There is still plenty of ill will between Cuomo, one of HQ2's greatest supporters, and the various factions that succeeded in driving out Amazon.
When Gianaris – who was especially vocal in his criticism of HQ2 – was nominated to the PACB, it was seen as a move by the state Senate to block Cuomo and New York City Mayor Bill de Blasio's expensive courtship of Amazon and the 25,000 jobs the internet giant promised to bring to New York City. Now that Amazon has pulled out – possibly due to the strength of that blockade – Cuomo and Senate Democrats show no signs of letting bygones be bygones.
Calling it the "greatest tragedy" he's seen since he's been in politics, Cuomo has placed some of the blame for Amazon's departure on Senate Democrats for nominating Gianaris to the PACB.
In a letter to Cuomo on Saturday, Stewart-Cousins announced that she was nominating state Sen. Leroy Comrie in place of Gianaris, writing to the governor, "...it is clear that you do not intend to confirm my appointment of Senator Gianaris." Cuomo did not have a direct response but Rich Azzopardi, a senior advisor to the governor offered one: "Great," he said. "But it's a day late and $27 billion short."
For the rest of today's tech news, head over to First Read Tech.