New York State
Should accused sexual harassers be hired in politics?
Former state Sen. Jeff Klein is just the most recent accused New York pol to get a lobbying job. Some say that's wrong.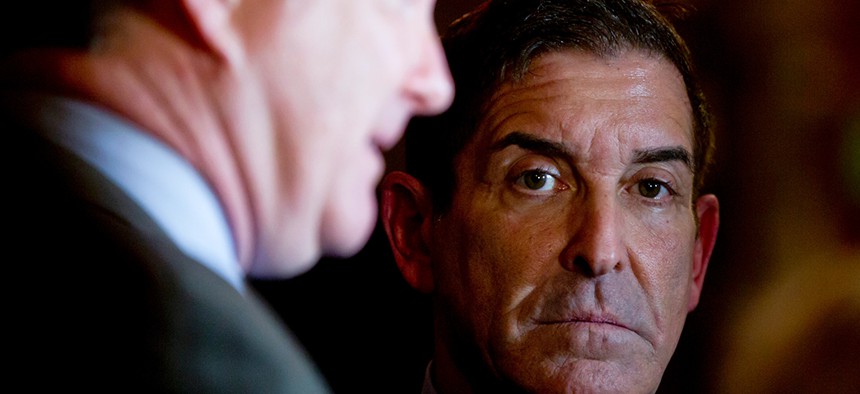 Former state Sen. Jeff Klein didn't need to wait long to find a job after being voted out of office. In January, just after his term ended, he was named the co-chair of New York operations for lobbying firm Mercury Public Affairs.
That a former legislator became a lobbyist is unsurprising, but it's controversial because Klein was accused of sexual harassment by a former staffer. In January 2018, Erica Vladimer told the Huffington Post that Klein forcibly kissed her outside an Albany bar while she was employed as a legislative counsel for the Independent Democratic Conference, which shared power with state Senate Republicans. Klein vehemently denied the charge before the Huffington Post story was published and released an investigation courtesy of a law firm that asserted his innocence. An investigation by the Joint Commission On Public Ethics is still ongoing.
Klein is returning to the state capital as state Senate Majority Leader Andrea Stewart-Cousins has announced sexual harassment hearings in the Legislature and legislators in each chamber are preparing to introduce new laws to deal with the issue. Klein's hiring is being criticized by anti-sexual harassment advocates as proof Albany culture hasn't changed, though they also see in it an opportunity to bring attention to legislation that could help harassment victims in the future.
Klein's new job is a reminder that New York state politics has tolerated legislators and lobbyists with allegations of sexual misconduct. Past accused politicos who have hung around include Michael Boxley, former counsel to then-Assembly Speaker Sheldon Silver, who was indicted on rape charges in 2003 after a 22-year-old legislative aide accused him of rape. He pleaded guilty to sexual misconduct, a lesser charge than the first-degree and third-degree rape charges he was indicted for, and got probation. In addition, Boxley had been accused of rape by another Assembly aide, Elizabeth Crothers, two years earlier, a charge Boxley denied. No charges were filed in that case, and Crothers said in 2003 that Silver's downplaying of the accusation was what set the stage for Boxley to commit another assault. Despite this, Boxley was employed by lobbying firm Brown & Weinraub for seven years, from 2011 to 2018, leaving of his own volition last year.
Sam Hoyt, an assemblyman whose affair with an intern resulted in the Assembly taking away his ability to employ interns in 2008, was brought on by the Cuomo administration to work for Empire State Development Corporation in 2011. Hoyt then left ESDC in 2017 after being accused of sexual harassment, a charge he was cleared of by the Joint Commission on Public Ethics in a decision that was criticized by good government advocates over the board's perceived lack of independence and qualifications to investigate sexual harassment.
Last month, The New York Times reported that New York City Mayor Bill de Blasio's former chief of staff Kevin O'Brien, who was forced to resign following accusations of sexual harassment, had also been fired from his previous job at the Democratic Governors Association for allegedly sexually harassing a colleague. (City Hall said they were unaware of his previous termination.)
"There is certainly a through line from Michael Boxley to Sam Hoyt to Jeff Klein when it comes to tolerating and excusing sexual harassment and assault perpetrators," Vladimer told City & State. Vladimer, Crothers and other self-identified sexual harassment or assault survivors in Albany have been working together as part of an organization known as the Sexual Harassment Working Group, an organization of seven former legislative employees in Albany who say they've experienced or witnessed sexual harassment and now advocate for better policies on the issue. "You have lobbying firms who care so little about this that they're hiring someone who has admitted to (sexual assault) and then, in the case of Klein, somebody still under investigation," Crothers told City & State. While JCOPE agreed to investigate Vladimer's accusation, the body never revealed a conclusion, and the investigation is going on to this day. "(Lobbying firms) decide 'Well, OK, it doesn't matter, we don't care as a firm. It's not going to affect our clients or our clients' interests, legislators will still meet with us,'" Crothers said.
Mercury defended its hiring of Klein. "We have full confidence in Jeff, who has been a tremendous addition to our team," Michael McKeon, a spokesman for Mercury wrote to City & State in an emailed statement after multiple requests for comment. "We trust the process will validate our confidence in him." Klein himself did not respond to a request for comment from City & State. Diane Savino, one of the founding members of the IDC and Klein's girlfriend since before Vladimer made her accusation, defended Klein at the time and reiterated that defense in an email to City & State. "I believe in due process and the presumption of innocence," Savino wrote. "I am available at any time to testify in front of JCOPE during their investigation, an investigation that then-Senator Klein asked for himself. I welcome the findings once their inquiry is complete. As I've already made clear before, I was present the night of this allegation and this incident never happened."
Assemblywoman Aravella Simotas and state Sen. Alessandra Biaggi, who defeated Klein in the Democratic primary last year, have sponsored a package of bills that would update New York's sexual harassment laws governing private and public sector workplaces in a number of ways, including, among other things, a law voiding confidentiality agreements that stop a victim from filing a complaint or filing for benefits like unemployment, requiring employers to inform victims that they can still speak to authorities like law enforcement or the state Division of Human Rights even if an employment contract contains a non-disparagement or non-disclosure provision, and extending the amount of time to report a sexual harassment incident to the state Human Rights Division from one year to three years.
The gaps filled in by legislation, according to Simotas, can't eradicate bad behavior entirely, but can at least put a system in place that will be more responsive to victims. "Are you going to make all the people who want to violate the law comply with the law? No," Simotas told City & State. "However, we can make sure we have systems in place that if there is a target of sexual harassment, they feel comfortable coming forward, that there's a process in place that can address the matter as expeditiously as possible."
Biaggi, who is chairwoman of the state Senate's newly invigorated Ethics Committee, also told City & State that the legislation she and Simotas are sponsoring reflect a more nuanced understanding of the way survivors may process their trauma. "One of the bills that really strikes me in a very real and important way is the statute of limitations bill," Biaggi said. "Statute of limitations as it relates to sexual harassment has not historically been trauma-informed, meaning when someone is in a situation where they feel that they've been harmed or abuse or harassed, they don't ultimately right away, talk about it or share it with somebody, it usually takes a lot of time," she said.
Simotas and Biaggi declined through spokespeople to discuss Klein's hiring.
After the SHWG spent last year pushing for sexual harassment hearings, Stewart-Cousins opened the year's state Senate session by promising to hold hearings on the issue and she plans to do so this month. Hearings, according to advocates, are another opportunity to bring some change to Albany's culture. "I think public hearings are so powerful and can help inform legislation, and help legislators and the public grasp it," Crothers said, explaining that after telling one legislator to imagine a relative or a spouse going through what she did, the idea of taking harassment more seriously "kind of clicked."
"Sometimes all it takes is just having those conversations with victims to truly understand the impact of your role as a bystander in this," Vladimer said.
While the Democratic leadership in the state Senate may be supportive of the SHWG's legislative agenda, most state legislators are unwilling to get behind its call for firms not to hire anyone accused of sexual harassment. But SHWG activists argue this kind of social sanction is where change really starts."If a lobbying firm were to stand up and say, 'We're not going to hire these (alleged) harassers, these alleged abusers,' if an elected official would stand up and say 'You know what, I'm not going to allow my staff to meet with these firms that hire these people,' that's how the culture changes," Vladimer said.
A spokeswoman for state Sen. David Carlucci (who in October wrote an op-ed apologizing for backing Klein when Vladimer told her story in 2018) and a spokesman for the Democratic conference in the Assembly did not respond to a request for comment. A spokesman for the Democratic conference in the state Senate declined to comment on the hire.
State Sen. Jessica Ramos, who was elected as part of the anti-IDC wave that swept New York last year, told City & State that Mercury should not have hired Klein. "As a woman, it's always fascinated me how when a survivor of sexual assault or sexual harassment comes out and speaks her truth, she is scrutinized, she's placed under the microscope, she's often not believed, and the alleged perpetrator walks away scot-free," Ramos said, adding that she found Vladimir's story credible. "There are no consequences for sexual harassment … It's disgusting, and we should be expecting better from a firm that does business with government."
A current lobbyist in Albany told City & State that while he didn't quite understand Klein's hire because of Klein's bad relationship with the current Democratic leadership in Albany, that Klein should be able to make a living despite the accusation against him. "I am more surprised that Mercury would hire Jeff Klein because of all of his burned bridges with his former colleagues and the governor's office, as opposed to an accusation by a former colleague," the lobbyist said, referring to the IDC's tensions with mainline Democrats, its disbanding and its former members getting routed in last year's Democratic primaries. "As somebody who was falsely accused of not only sexual harassment but sexual assault as well, I am deeply sensitive to the media's habit recently of rushing to judgement about somebody who is accused of something in what are often 'he said/she said' situations," he added. "I am not necessarily a big fan of Jeff's, but I am a strong believer in somebody being innocent until proven guilty. Why shouldn't he or anyone else be able to pursue a career as a consultant to use his knowledge and experience in government to help clients?"
When asked whether Klein or others in his situation should never be allowed to earn a living, Vladimer and Crothers told City & State the question ignores what happens to the victims, and that perhaps they should be exiled from politics and able only to work in other industries. "Do those who report sexual harassment or assault get job offers from lobbying firms?" Crothers asked. "It's not about if Jeff Klein should ever work again. Rather, it is should elected officials – and lobbying firms and their clients in Albany – welcome him? Meeting with him, allowing him to influence them and/or invite him to the party, perpetuates Albany's culture of tolerance."
Vladimer made a similar argument. "I'm not saying Klein should never get to work again," she told City & State, "but, in the words, of almost every elected official when I first told my story – shouldn't we wait until the investigation is resolved? Perpetrators just get to move on, find a soft landing, and be welcomed back into the fold with open arms. Victims go to therapy to heal and cope with the PTSD. Victims have to figure out a new career path, they lose friends, and are retraumatized every time another story of harassment abuse or assault is made public – because men like Klein are just allowed to work again."
While Ramos said that her position as a state legislator meant that she had to keep her door open "to all stakeholders," including Mercury clients, she did flatly say, "I will not meet with Jeff Klein." While not addressing the question of boycotting Mercury clients, Assemblyman Dan Quar,t who wrote an op-ed with Vladimer calling for sexual harassment hearings, told City & State that "hiring Klein in the middle of an ongoing JCOPE investigation invalidates the stories of survivors and enables the pervasive culture of sexual harassment in Albany. The message it sends to sexual assault survivors is simple: Your story does not matter."
Ramos also argued that Gov. Andrew Cuomo's widely panned joke in which he said he'd bring up reporters crowded around him outside his office "on charges under the #MeToo movement," demonstrated the lack of meaningful thought given to sexual harassment and assault in Albany. "What's happening in this country in the defense of women who have gone through these traumatizing events is not a joke," Ramos said. Leaders in Albany have to learn "how you can live in a world where other people are important too, where other people's struggles are important, where other people's dignity is to be recognized. That (comment) was very hurtful to me." The governor's office did not respond to a request for comment on his support for Simotas' and Biaggi's bills, his hire of Sam Hoyt or Ramos' criticism of his #MeToo comment.
Elected officials and lobbying firms are not the only ones who have shrugged off charges of sexual misconduct – voters sometimes do, too. Although he didn't win in 2013, former state Assemblyman Vito Lopez still garnered almost 40 percent of the vote in the Democratic primary when he ran for New York City Council, despite having resigned from the Assembly in disgrace earlier that year after years of sexual harassment alleged by multiple accusers and settlements paid by Lopez was brought to light (though Lopez denied the charges when he was censured by the Assembly).
Steve McLaughlin, currently the Rensselaer County executive, was elected despite being investigated during his time in the Assembly for both asking a colleague for nude photos and then leaking his accuser's name to other members of the Legislature, charges he was found guilty of and that McLaughlin denied while calling the Assembly investigators a "kangaroo court." Micah Kellner won a local race for state committee in 2014 despite resigning from the Assembly after an Assembly Ethics Committee investigation found he had sexually harassed two staffers, while Hiram Monserrate, who as a state senator was convicted of assaulting his girlfriend in 2009, was still elected district leader in 2018.
"I think it would be naive to say that in one fell swoop, all of this will be changed and that the public at large is going to decry these harassers and abusers and in all different industries," Vladimer said. "But a cultural shift that is going to happen is that the more we talk about (sexual harassment), the more people are going to realize this is serious, this is systemic ... It's happening because these institutions allow it to happen."