New York City
The bills that would stop another Amazon deal
An overview of bills submitted to the state Legislature and New York City Council in response to Amazon's HQ2 deal and issues that it raised.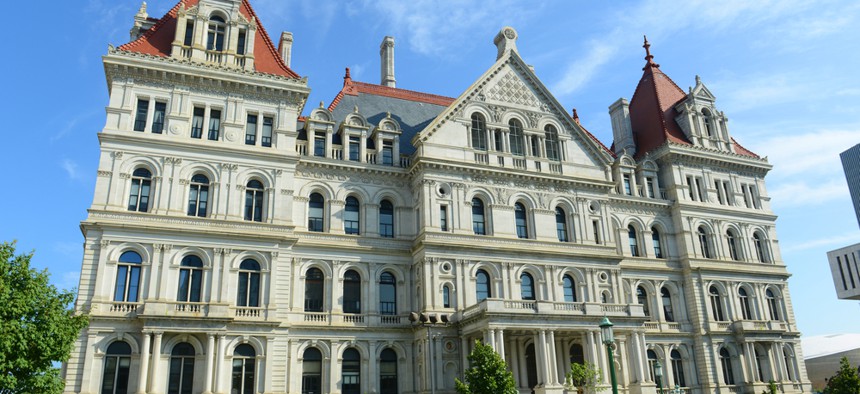 The Amazon deal is now dead, but the proposed laws it inspired remain. Ever since Amazon announced last November a deal with city and state officials to build a satellite office in Queens, critics blasted the secretive negotiations and the $3 billion in tax incentives that they produced. While there was nothing illegal about the deal, some elected leaders felt that some parts of it should be.
These include efforts to outlaw nondisclosure agreements in certain state contracts, ban financial subsidies designed for specific companies and a crackdown on how people can buy real estate based on their knowledge of undisclosed government deals. Taken together, they would make it much harder to ever make a deal again quite like the one that would have brought the e-commerce giant to Long Island City.
While some might celebrate that, additional restrictions on economic development deals could also hold back efforts by Gov. Andrew Cuomo and Mayor Bill de Blasio to diversify the city's economy from its current dependence on Wall Street.
Here is a run-down of bills submitted to the state Legislature and New York City Council in response to the deal and issues that it raised.
Nondisclosure agreements
State and local lawmakers were outraged when they found out that Amazon had required participants in its "HQ2" national contest to sign nondisclosure agreements. Gov. Andrew Cuomo has said that was necessary to keep New York City in the running for the project. But state Sen. Michael Gianaris, whose district includes Long Island City, disagreed. "The idea that we can have private corporate interests dictating to governments," he told the Daily News, "That they're not allowed to talk to the people and reveal what they're doing with their money, is insane on many levels." Just a few days after the deal was announced, Gianaris responded with new legislation that would ban nondisclosure provisions in future state and municipal contracts. As of Feb. 15, the bill remains in committee. Will it ever pass? Cuomo is not looking to do Gianaris any favors, such as signing legislation like this were it ever to come across his desk. City Councilman Brad Lander introduced similar legislation in December to restrict confidentiality agreements at the city level. Like Gianaris, he could have difficulty passing this bill if de Blasio sees it as unduly tying his hands in future development negotiations.
Inside real estate deals
Some Amazon employees and others privy to the deal leveraged their knowledge of the deal – before it was announced – to buy up real estate in Queens. TF Cornerstone, which would have developed part of the Amazon project, even signed a $300 million deal to develop a site nearby. "Insider trading is illegal in the stock market," real estate attorney Adam Leitman Bailey told The Wall Street Journal in December, "But in real estate it is not only legal, but celebrated with champagne." A bill proposed by Gianaris would change that by making it a felony, punishable by up to four years in prison. Like the bill dealing with nondisclosure agreements, this proposal is currently in committee and faces an uncertain future in the Legislature.
Company-specific subsidies
Cities across the country offered Amazon a broad range of tax breaks, grants and other incentives to lure the company, resulting in what critics said was a "race to the bottom" months before the winners were announced. In New York City's winning bid, most of the $3 billion in subsidies offered to Amazon were through state and local programs that already existed. But about $500 million came through a state capital grant that was specific to the Amazon deal. A bill proposed by Brooklyn state Sen. Julia Salazar (carried by Ron Kim of Queens in the Assembly) aims to ban such company-specific subsidies. The catch is that at least two other neighboring states would have to pass similar legislation in order for the ban to become effective. That seems right now to be a remote possibility, but fiscal conservative E.J. McMahon – research director at the Empire Center for Public Policy – says that the Democratic Socialist Salazar is on to something. "She could improve her bill," he wrote in a recent blog post, "By scrapping the 'compact' clauses and simply banning company-subsidies by the state of New York, period."
Online retail charge
Brooklyn Assemblyman Robert Carroll has proposed a $3 surcharge on packages ordered online as a way to raise $1 billion per year for the Metropolitan Transportation Authority. The bill might also help cut down on traffic congestion by disincentivizing deliveries. "We need less truck traffic," Carroll told The Wall Street Journal, "And the only way we're going to get less truck traffic is to incentivize people to go to the local grocery store or hardware store." To be sure, the bill is not a direct response to the Amazon deal – but legislators looking to stick it to the online retailer, or simply help New York City beleaguered subway systems get more funding, could help this bill move forward.
Powered By
NEXT STORY: Life after HQ2: now what?